David Freese may start for Dodgers in Game 3, even with right-hander Rick Porcello on mound for Red Sox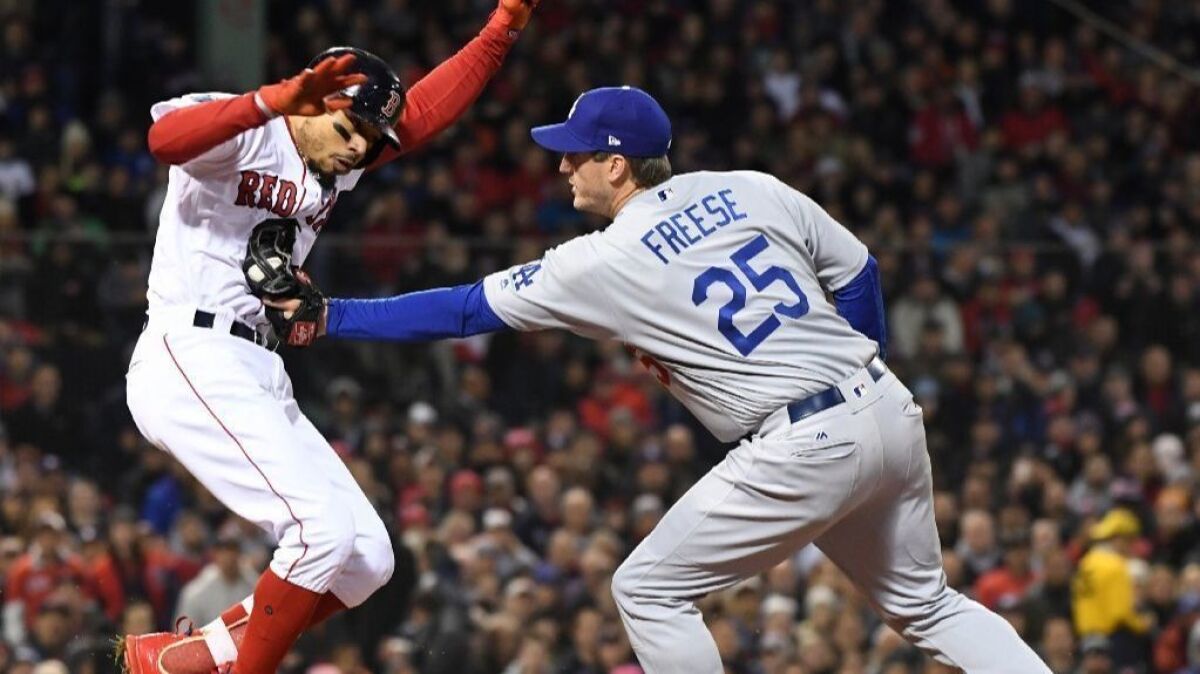 Through the first five months of the season, the Dodgers were a middling offense against left-handed pitchers. As a group, they ranked 19th in baseball with a .711 on-base-plus-slugging percentage. That mediocrity prompted the team to acquire David Freese, a veteran corner infielder.
In the final month of the season, as the Dodgers surged to their sixth consecutive National League West title, the offense was far more formidable against left-handed pitching. The team posted an .831 OPS against left-handers in September, which was third in baseball, and not far from the team's .860 OPS against right-handed pitchers that month.
"If you look at the entirety of the season, the lineup against right-handed pitching has fared much better," manager Dave Roberts said. "But if you look at the more recency, I think it's very comparable."
Not all the credit belongs to Freese. But he was a significant factor in the balance of the lineup. He hit .385 in September with a 1.130 OPS. His batting has not slackened in the postseason, as Freese has batted .400 with five RBIs in October.
And he might have played himself into the lineup against right-handed pitchers, too. The production is enough that the Dodgers will consider starting Freese at first base in Game 3 of the World Series on Friday at Dodger Stadium, even with right-hander Rick Porcello on the mound for Boston. The lineup will feature the young left-handed sluggers Cody Bellinger and Joc Pederson, who were mostly relegated to the bench at Fenway Park, where the Dodgers spotted the Red Sox a 2-0 series lead.
To make room for Freese, the Dodgers could shift Max Muncy, their usual starter at first, to second base, and sacrifice some defensive utility to keep his bat in the lineup. Muncy has only hit .194 in his first postseason. But he has still exceeded the production of other potential second baseman, like Enrique Hernandez (.094 batting average in October) and Brian Dozier (.133).
The Dodgers started Dozier in both games at Fenway Park, hoping to capitalize on his experience against Red Sox starters Chris Sale and David Price. Dozier went 0 for 4 with two walks.
Chris Taylor is also an option at second base. Taylor has hit well this October, with a .917 OPS in 11 games, but he has done most of his damage against left-handed pitchers this season.
Short hops
Red Sox manager Alex Cora indicated Mookie Betts would not start at second base during the games at Dodger Stadium. Using Betts at second would allow the Red Sox to play J.D. Martinez, their designated hitter, in the outfield. Martinez is still nursing a sore ankle from a spill at second base in Game 1. Cora would not commit to Martinez playing the field this weekend. … Rich Hill will start Game 4 on Saturday, Roberts confirmed Thursday. Despite his 2.85 earned-run average in 10 postseason appearances as a Dodger, Hill was relegated to the fourth game, while Hyun-Jin Ryu was selected for Game 2. Boston scored four runs in Ryu's 4 2/3 innings, although three scored with Ryan Madson on the mound.
Twitter: @McCulloughTimes
---
Get our Dodgers Dugout newsletter for insights, news and much more.
You may occasionally receive promotional content from the Los Angeles Times.