Who's going to start Game 4 for the Red Sox? It's a mystery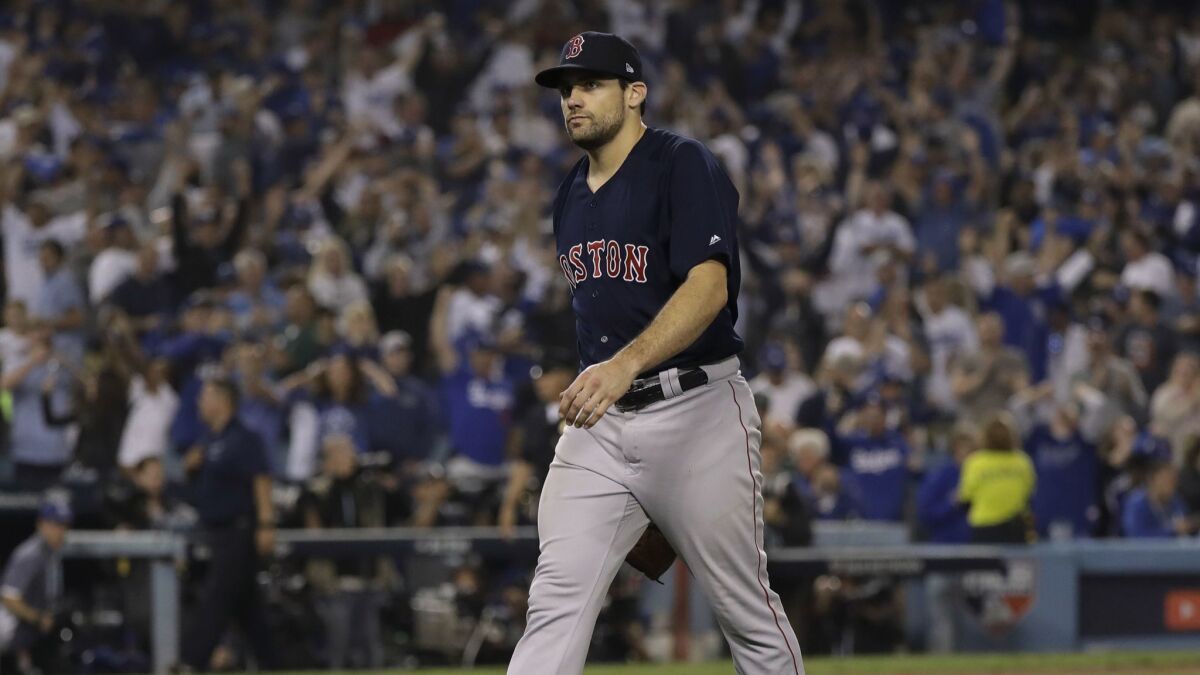 When a reporter repeated the question, Red Sox manager Alex Cora mustered a smile.
His uncertainty became inevitable when Nathan Eovaldi stepped onto the mound in the 12th inning Friday night, leaving Chris Sale and Drew Pomeranz as the only pitchers who did not enter the 18-inning loss.
Who will the Red Sox start at pitcher in Game 4?
"How do you spell that, TBA?" Cora said.
Eovaldi threw 97 pitches in relief, 36 more than Game 3 starter Rick Porcello, before Max Muncy's walk-off home run gave the Dodgers a 3-2 win. The Red Sox lead the World Series, 2-1, but approach Game 4 on Saturday with no starter and a depleted bullpen. First pitch is set for at 5:09 p.m. at Dodger Stadium.
And how do the Red Sox feel?
"Sore," Eduardo Nunez said. "But we fine, we're fine. We have no choice."
Cora approached each postseason game with an all-in approach, making the best managerial decision to win the game at hand. Friday was no different. Regular season starter Eduardo Rodriguez retired a batter, and Game 2 starter David Price threw 13 pitches. The long-term game plan was an afterthought in the hunt for a win.
On Friday, that tactic yielded an exhausted bullpen and a costly loss.
The Dodgers also used nine pitchers, and they announced after the game that their Saturday starter was also unknown, even though the scheduled starter, Rich Hill, did not enter Friday's game.
Aside from Clayton Kershaw's pinch-hitting appearance, no Dodgers starting pitchers entered the game after starter Walker Buehler's seven innings. The Red Sox's fatigue could prove detrimental the longer the series stretches.
Beads of sweat rolled down catcher Christian Vazquez's face as he spoke with reporters after a game that featured his first career appearance at first base — following 11 innings as a catcher for eight pitchers.
He stood on the torn-up field with his hands on his hips, his voice flat.
"It's going to be tough," Vazquez said. "Everybody is tired."
But the Red Sox are ignoring the fatigue, long outings and short rest. Nunez, who sustained an ankle injury Friday, said he would sleep, then reassess in the morning. Vazquez mentioned bypassing batting practice to recover.
Two wins separate the Red Sox from a World Series title.
"Everybody's gonna give everything on the field," Vazquez said.
Cora said he was considering Sale to start in Game 4 and would likely use a lefty. His options are not as limited as the 18-inning game, and the long list of pitchers' names included in the box score, would suggest.
Cora said a line formed outside his office after the game of pitchers asking him to be the Saturday starter. When he spoke to reporters before Friday's loss, Cora recalled receiving a text from Price the night before, saying, "I'm ready for tomorrow."
The Red Sox persist for the same reason Cora welcomes risk-taking in his managing: they are desperate to win. And only an exceptional effort can overcome their exhaustion.
"We're all in," Porcello said, "and we're all fighting. We're all willing to die out there."
---
Get our Dodgers Dugout newsletter for insights, news and much more.
You may occasionally receive promotional content from the Los Angeles Times.