This postseason is a different world for Yasmani Grandal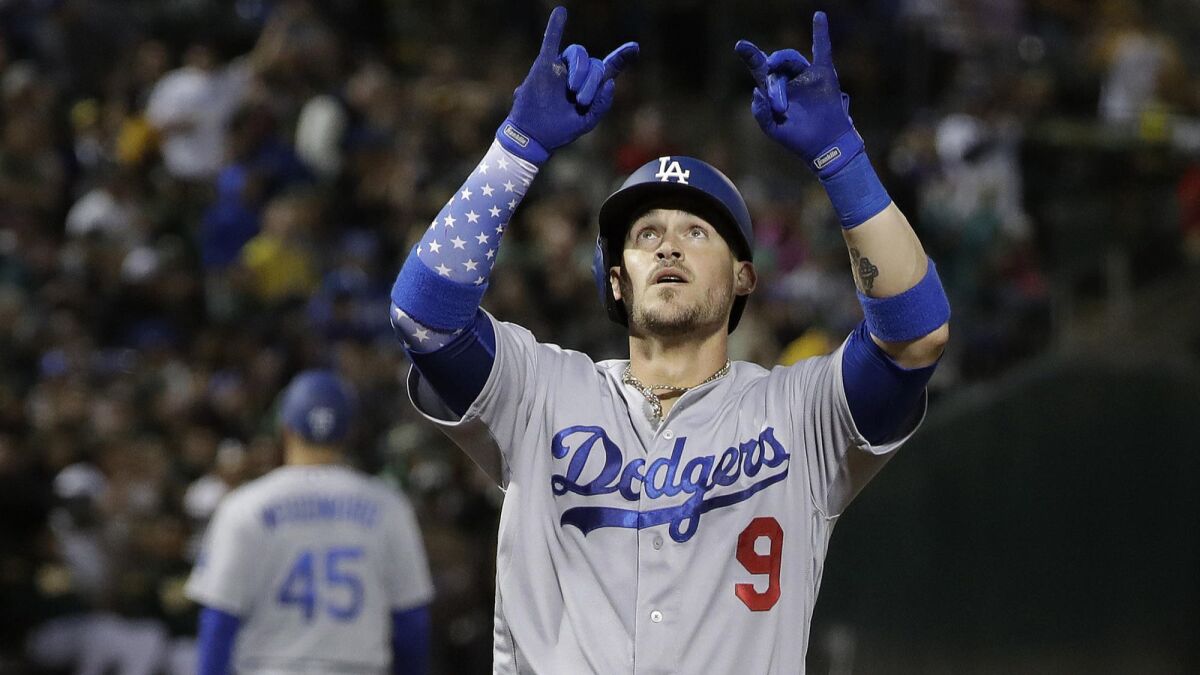 A year ago, Yasmani Grandal was a spectator on most nights. He had started a career-high 113 games behind the plate during the 2017 regular season, starting primarily against right-handed pitchers. Austin Barnes was behind the plate against left-handed starters. But by the time the playoffs rolled around, after Grandal's abysmal second half and Barnes' breakthrough campaign, the Dodgers made a decision: Barnes would be their primary catcher, no matter the pitcher's handedness.
Grandal started the first game of the National League Division Series against the Arizona Diamondbacks. He didn't play again until he started Game 4 of the National League Championship Series against the Chicago Cubs. Those were his only two starts. He appeared in two games off the bench in the World Series and finished the postseason 0 for 8 with three walks. He became an afterthought as his team went to Game 7 of the World Series.
This year, the 29-year-old Grandal's role will be different. He is the Dodgers' unquestioned everyday catcher again, supplanting Barnes, whose production nosedived in 2018. But which Grandal surfaces for the playoff run is unclear.
When Grandal is laying off close pitches and drawing free passes, he becomes a lethal weapon. When he doesn't, he becomes a lineup's weakest link. The middle ground is narrow. It is the underlying factor in his extreme streakiness. He can carry an offense or sink one for weeks. The 2018 season provided another six-month sample size.
"Just focusing on swinging in the strike zone instead of outside of the strike zone pretty much," Grandal said recently. "I mean, I've always been able to do it but last year it seemed like I was swinging outside of the strike zone more than in the strike zone. So in the offseason we looked at what was right, what was wrong, and pretty much zeroed on what we needed to do to change that."
Grandal's season can be split into six oscillating chapters. In his first 16 games, he batted .350 with a 1.026 on-base-plus-slugging percentage. Over his next 52 games, his batting average sunk to .183 and his OPS to .632. The next 24 games: .373 batting average and 1.281 OPS. He batted .152 with a .621 OPS over the next 42 games. And, finally, his final six games: a .391 batting average and 1.025 OPS.
Grandal compiled 89 strikeouts and 45 walks during the frigid stretches. When he was hot, he had 35 strikeouts and 27 walks. Dodgers president of baseball operations Andrew Friedman said there is no predictor for the streakiness. He couldn't explain it. Does he just hope Grandal catches fire at the right time, a possibility given how he finished the season?
"Yeah, that's our strategy," Friedman said with a grin.
And yet, after all the steep peaks and valleys, Grandal's final numbers illustrate elite production at his position. His 3.6 FanGraphs WAR was second among catchers, behind only J.T. Realmuto, who is regarded as the game's premier backstop. He ranked second in Baseball Prospectus' framing metric, providing further evidence of his reputation as a standout framer. His 24 home runs were second and his .466 slugging percentage was third. Most importantly, he had the highest walk rate.
"When you factor in the offensive bar at the position and just, I think, that position takes such a toll on your body, which is a big part of why the offensive bar isn't extremely high," Friedman said. "And he's obviously significantly above that bar…The overall production and value is really high."
The performance surfaced at an opportune time. Grandal is a free agent this winter. He'll enter the fray atop the free-agent catching crop and should garner a multiyear contract. A strong postseason would only help bolster his standing on the market.
"Obviously, I haven't been able to get a multiyear deal the last seven years so this is probably the year I was looking forward to the most," Grandal said. "But I came into spring training, just all I wanted to do was play. I don't think I added any extra pressure. I think when you put extra pressure on yourself, you're going to try to overdo things and when you do that, you're not going to succeed. My main focus was to do as much as I can to help this team win and I think focusing on that it helped me out there all year."
If the Dodgers lose Grandal this winter, they could turn to Barnes and Will Smith, a 23-year-old prospect who has spent the last couple of weeks with the big-league club. Further down the line, Keibert Ruiz, a highly touted 20-year-old prospect, projects as their starting catcher. For now, with another chance to win their first World Series since 1988, they'll turn to Grandal every day.
Twitter: @jorgecastillo
---
Get our Dodgers Dugout newsletter for insights, news and much more.
You may occasionally receive promotional content from the Los Angeles Times.