Ryu Hyun-jin signs with Dodgers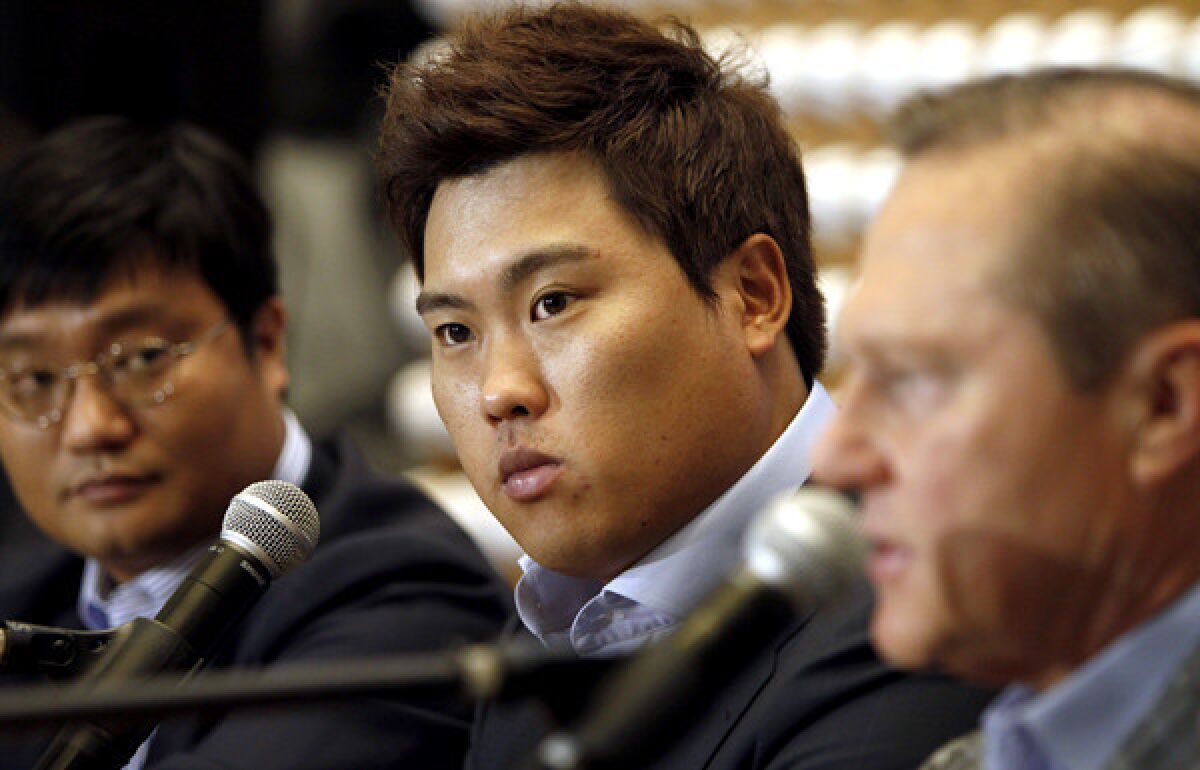 South Korean left-hander Ryu Hyun-jin has signed with the Dodgers, who expect him to be part of the rotation next season.
[Update: The deal is worth $36 million over six years. Ryu can opt out of his contract after five seasons if he has pitched 750 innings.]
The signing of Ryu comes a day after the Dodgers reached an agreement to sign free agent Zack Greinke for $147 million over six years.
Ryu and the Dodgers had until 2 p.m. Pacific on Sunday to reach an agreement. Had they failed to do so, Ryu would have returned to South Korea and the Dodgers would have been refunded the $25.7-million fee they paid for the exclusive rights to negotiate with him.
At a news conference at agent Scott Boras' office last month, Ryu said he was confident that he could make the transition to the majors. He will be the first player to ever go directly from the Korean league to the big leagues.
"Obviously, there's pressure in all levels of baseball," Ryu said. "But from my experiences in Korea, I have no doubt I could succeed in the United States."
This marks the Dodgers' second significant move in the international market since they were purchased by Guggenheim Baseball Management last spring. In June, the Dodgers signed 21-year-old Cuban defector Yasiel Puig to a seven-year, $42-million contract.
Ryu, 25, is 6-foot-2. He is said to throw in the low 90s.
He broke into professional baseball with the Hanwha Eagles at 19. That season, he won the triple crown of pitching. He was named the league's most valuable player and rookie of the year.
Ryu is 98-52 with a 2.80 earned-run average in seven seasons in Korea. He has won the league's strikeout title five times.
He pitched twice at Dodger Stadium in the 2009 World Baseball Classic, as he appeared in the semifinal and final as a reliever. South Korea was the runner-up of that tournament to Japan.
Ryu was also a member of South Korea's gold-medal-winning team at the 2008 Olympics in Beijing.
The Dodgers have had three Korean major leaguers in their history: pitchers Chan Ho Park and Jae Weong Seo, and first baseman Hee-Seop Choi.
Including Ryu and Greinke, the Dodgers have eight pitchers under contract for next season, the others being Clayton Kershaw, Chad Billingsley, Josh Beckett, Ted Lilly, Chris Capuano and Aaron Harang.
ALSO:
Shohei Otani to start professional career in Japan
Dodgers said to be close to deal with Zack Greinke
---
Get our Dodgers Dugout newsletter for insights, news and much more.
You may occasionally receive promotional content from the Los Angeles Times.