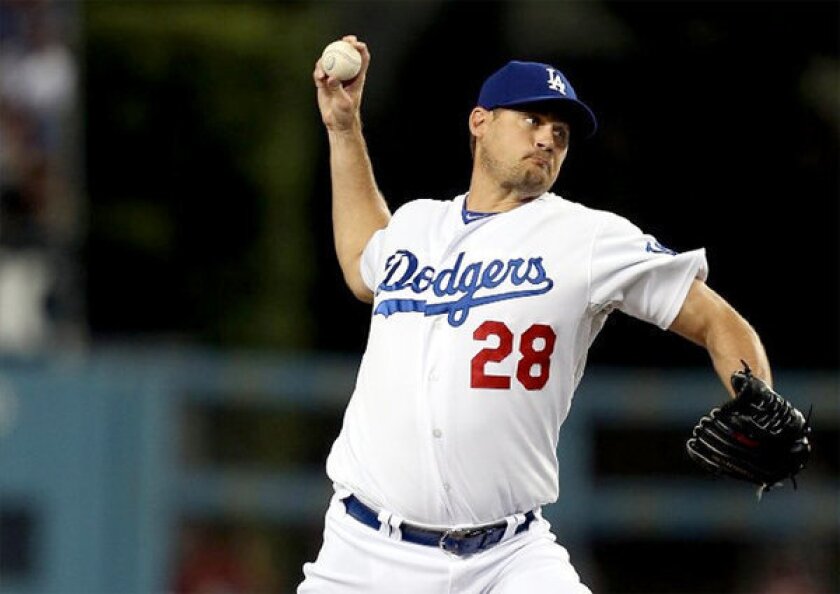 JAMEY WRIGHT, 38, reliever
Final 2012 stats: 5-3, 3.72 ERA, 1.51 WHIP, 7.2 strikeouts per nine innings, .279 opponents hitting percentage in 66 games.
Contract status: A free agent.
The good: Came out of the bullpen to pitch effectively early and late in games. His strikeout ratio was the highest of his 17-year career. Had a key 18-game period down the stretch in which he had a 1.53 ERA and walked only one.
Went 5-0 with a 1.71 ERA at Dodger Stadium. Allowed only two home runs in 67 2/3 innings. His 66 appearances were the second most of his career. Excellent clubhouse presence.
The bad: Allowed 9.6 hits per nine innings. Was 0-3 with a 5.50 ERA in road games.
What's next: His eighth consecutive year of having to make someone's team as a non-roster invitee?
The take: Even if his numbers didn't blow people away, there was a lot to like about Wright last season. He was versatile and consistent throughout. As injuries struck the bullpen, he became more of a late-inning guy and handled it well. He actually appeared in the eighth more than any other inning.
He gave up a few more hits than you would like, but more often than not, was able to pitch out of jams. He still hungers to win, having never appeared in a postseason game. He would like to return to the Dodgers, and General Manager Ned Colletti has said he's interested in having him back.
Wright no doubt believes his performance last season was good enough to earn a roster spot, but he did turn 38 on Christmas Eve, so there's no guarantee. Colletti may want to see how the rest of his bullpen fills out before offering him a spot on the 40-man up front. If not, it isn't like Wright hasn't shown he can go to camp and earn a spot.
RELATED:
Christian group names Clayton Kershaw a top 10 story for 2012
One night at Dodger Stadium, the young taught a lesson in giving
Daily Dodger in Review: Aaron Harang was mediocre, and that's OK
---