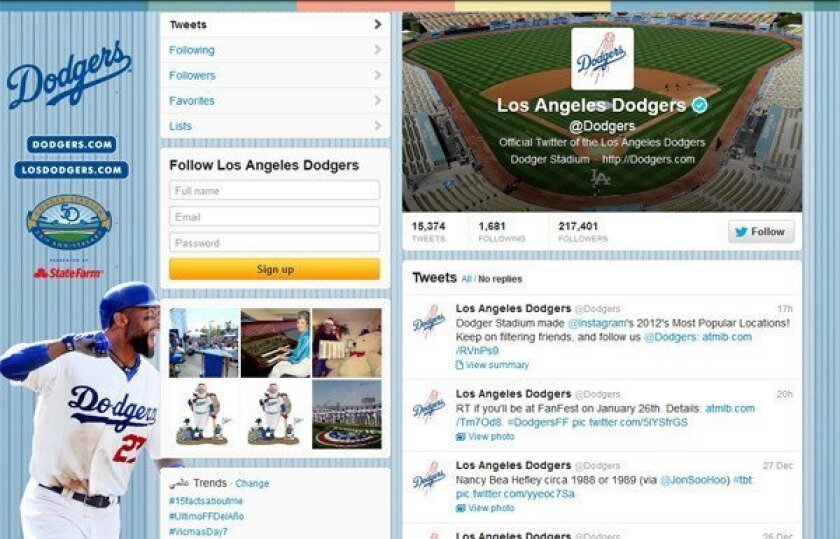 Are you a social media dynamo? Love Twitter almost as much as your little Dodgers? Forget how life existed until Facebook kept you in touch with your cousin from Poughkeepsie? Worry that Pinterest, Tumblr and Instagram already seem passé?
The Dodgers are thinking about you. They would like your social media interaction to, at minimum, include the Dodgers and, at maximum, center around blue.
And you could get rewarded for it!
That's right, it's better than frequent flier programs. You don't have to stay in a Marriott Courtyard in Visalia to earn points, you can do it from the comfort of your living room or workplace or wherever you've parked your derriere.
The Dodgers are currently considering a "Social Media Loyalty" program that "would give fans points for retweeting, replying, and helping the Dodgers gain followers."
Exactly how they would tabulate this is beyond me, and I'm a cutting-edge blogger kinda guy.
But the plan would be to have points redeemed for special offers, including tickets and merchandise. Guess they'll build up to a night spent sitting next to Dylan Hernandez in the press box.
The Dodgers broached this possibility in a survey they sent out to their Twitter followers last week that included all kinds of social media-type questions. The goal is to increase their action on Twitter and boost their numbers of followers. And the Dodgers already have more than 217,000 following their site, or one or two more than me.
Dodger Stadium is already the seventh most checked in site at Facebook, though it trails four other ballparks.
The Dodgers are looking at this right now, so everything remains in the discussion stage. Still, you know how quickly things happen in the Internet world. Their most ambitious plans have the program up and running sometime early next year and would engage multiple social platforms.
And it could prove to be only the beginning, of course. This rewards program could spread to other sites, and I'm pretty certain, envelope all modern capitalism. With the Dodgers leading the way. Hurry, before it's all taxed.
ALSO:
Daily Dodger in Review: Jamey Wright makes it happen again
Christian group names Clayton Kershaw a top 10 story for 2012
One night at Dodger Stadium, the young taught a lesson in giving
---