Dodgers decline options on Juan Rivera, Matt Treanor, Todd Coffey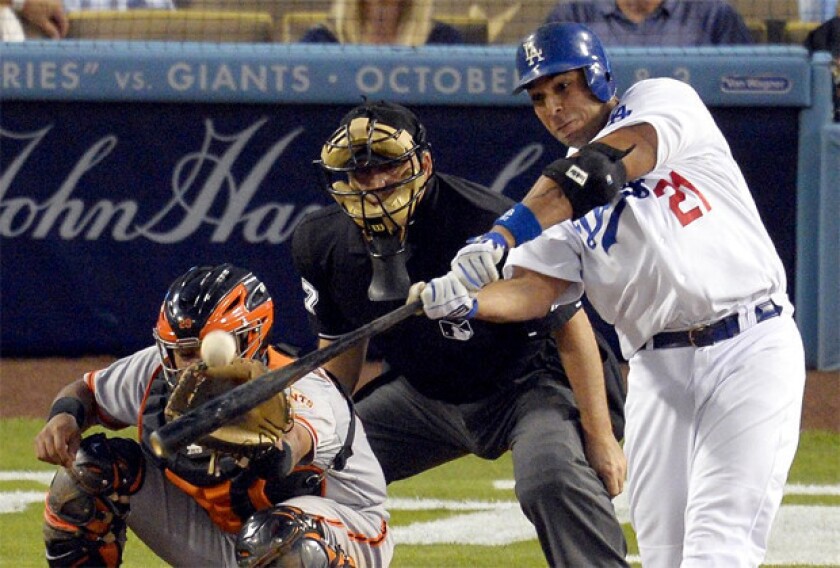 The Dodgers got busy real quickly after the World Series.
The day after the Giants swept the Tigers, the Dodgers declined their options on outfielder Juan Rivera, reliever Todd Coffey and catcher Matt Treanor.
Declining the options cost the Dodgers almost $1 million, but will take $7.45 million in 2013 salary off the books.
Rivera was scheduled to make $4 million next season, but instead the Dodgers will pay him a $500,000 buyout. Rivera hit .244 with nine homers and 44 RBI in 312 at-bats, with .286 on-base and .375 slugging percentages. He became less necessary with the addition of a full-time left-fielder (Carl Crawford) and first baseman (Adrian Gonzalez).
Coffey's season ended with Tommy John surgery, so the chances of his $2.5-million options being picked up were pretty much nonexistent. His buyout cost $300,000. He was 1-0 with a 4.66 ERA in just 19 1/3 innings.
Treanor was A.J. Ellis' backup catcher last season, and although solid behind the plate, his most memorable moment of the season was a strange blowup at Times columnist T.J. Simers.
Treanor would have made $950,000 next season, but instead will receive a $150,000 buyout. Treanor, 36, hit just .175, with .281 on-base and .282 slugging percentages.
General Manager Ned Colletti loves veteran backup catchers, but with the success of Ellis last season, the Dodgers expect to give Tim Federowicz an opportunity. Which is not the same as saying Colletti won't sign a veteran to a minor-league contract.
RELATED:
Giants fans can celebrate title and mock Dodgers!
Daily Dodger in Review: The early promise of Paco Rodriguez
So much for the legend of Carl Crawford, UCLA point-guard recruit
---
Get our Dodgers Dugout newsletter for insights, news and much more.
You may occasionally receive promotional content from the Los Angeles Times.