Daily Dodger in Review: The lost cause of Juan Uribe?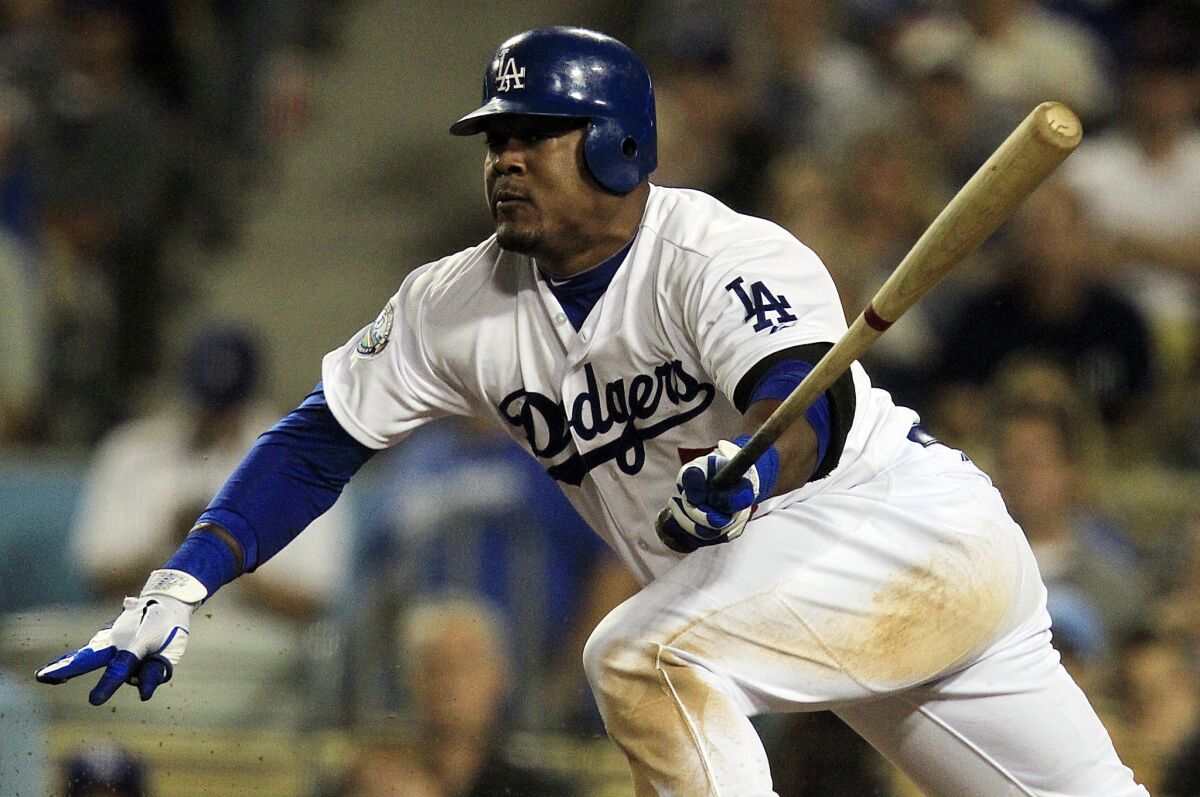 JUAN URIBE, 33, infielder
Final 2012 stats: I suppose we must -- .191 batting average, two home runs, 17 RBIs, with .250 on-base and .284 slugging percentages.
Contract status: Sorry, he's signed for another year at $7 million.
The good: He managed to smile a lot and not be a clubhouse disruption after getting buried. Went 4 for 4 and drove in three runs in an April 23, 7-2 victory over the Braves. Hey, you can look it up. Was actually the starting third baseman the first six weeks of the season (until injuring his wrist) plus most of June and July. Hit .267 in April. Still a decent glove.
The bad: Do they throw flags for piling on in baseball? Hate to even talk about this: It's the baseball version of "They Shoot Horses, Don't They?" Hard to remember a more lost looking player.
The numbers are all bad. He was advertised as a free-swinger, and guess they got that part right. It was hard to remember he was on the team by season's end. In the Dodgers' final 34 games, he made one plate appearance.
What's next: Hard to believe they bring him back, yet he is owed an additional $7 million and that's a lot of dough to just waive off. But right now, the Dodgers only have eight infielders they like better than him -- Hanley Ramirez, Mark Ellis, Dee Gordon, Luis Cruz, Jerry Hairston Jr., Nick Punto, Elian Herrera and Justin Sellers.
Plenty clamored that he should have been waived during the middle of the season, so you can imagine the current movement. The Dodgers simply have no real use for him. Manager Don Mattingly clearly, and understandably, gave up on the guy.
The take: But he's still here and, unless the Dodgers swallow hard, figures to come back. Mike Petriello suggested that they find another team's bad contract to swap for, but discovered that finding a decent fit is a tough go. He suggested Chone Figgins, who's been a equally disappointing bust in Seattle, but he's owed $8 million.
Maybe they can package him in a trade and eat most of his his salary, but who would really want him? It's pretty clear the Dodgers don't.
ALSO:
A.J. Ellis' third child born in front seat of speeding car
Dodgers' 2013 rotation: An abundance of what exactly?
Brandon League has a new three-year deal with the Dodgers
Get our Dodgers Dugout newsletter for insights, news and much more.
You may occasionally receive promotional content from the Los Angeles Times.