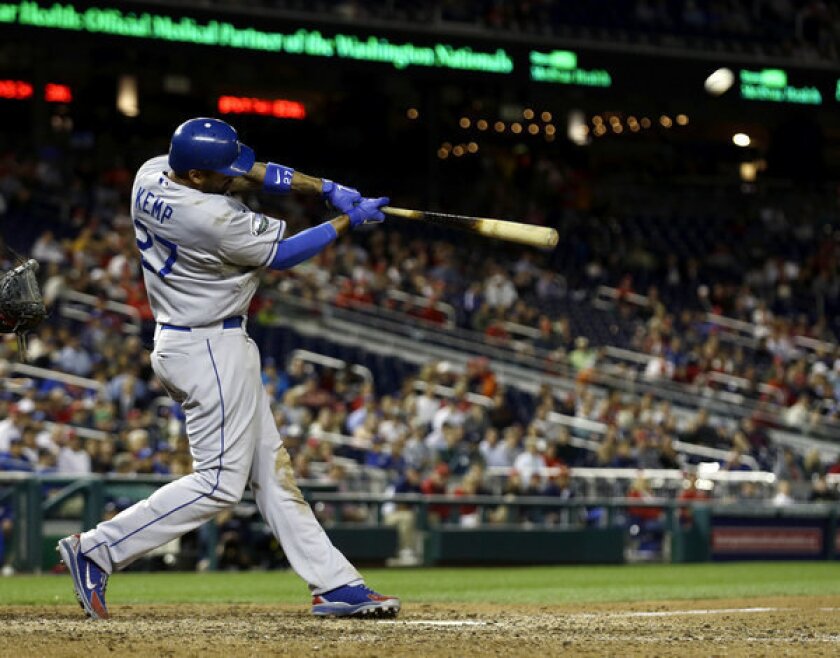 Washington Nationals closer Tyler Clippard said the ninth-inning fastball he threw to Matt Kemp on Wednesday night was similar to many pitches he has thrown in his career.
"That's a pitch for me that I've relied on a lot throughout my career, the elevated fastball," Clippard said. "I felt like I put it where I wanted to, just below the letters."
But Kemp launched the 0-2 pitch over the center-field wall at Nationals Park, lifting the Dodgers to a 7-6 victory and earning them a split of the doubleheader.
"I can't remember ever putting a ball in that spot and getting hurt like that in my whole career," Clippard said.
Clippard wasn't the only Nationals player tipping his cap to Kemp.
"Kemp is a great player," teenage phenom Bryce Harper said. "That's why he was MVP last year. I think with one swing of the bat he can change the ballgame. There's really nothing you can do about it."
(Kemp finished second in MVP voting last year to Ryan Braun of the Milwaukee Brewers.)
Kemp was also involved in what turned out to be a critical play in the fourth inning, when he scored a phantom run that increased the Dodgers' lead to 6-0. The blown call might have altered the outcome of the game, as the Nationals scored six runs in eighth inning.
The Dodgers had men on second and third base with two outs when Hanley Ramirez hit a grounder that was knocked down by Ryan Zimmerman at third base. Zimmerman retrieved the ball and tagged out Adrian Gonzalez and did so before Kemp touched home plate.
The umpires initially ruled that Gonzalez was out on a force play and didn't count the run. But Manager Don Mattingly came out of the dugout to remind them the bases weren't loaded. The umpires huddled up and decided the Dodgers should be up 6-0 instead of 5-0.
One problem: replays clearly showed Gonzalez was tagged out before Kemp touched the plate.
"I probably should've just been running forward and not looking back," Kemp said. "That was close. I don't know if I made it or not."
Told he didn't make it, Kemp smiled.
"Yeah, I don't think I did," he said. "We got lucky right there."
RELATED:
Dodgers have to be loving that extra wild-card spot now
Matt Kemp's home run saves the day for the Dodgers in win
Clayton Kershaw escapes unhurt after close call with broken bat
---