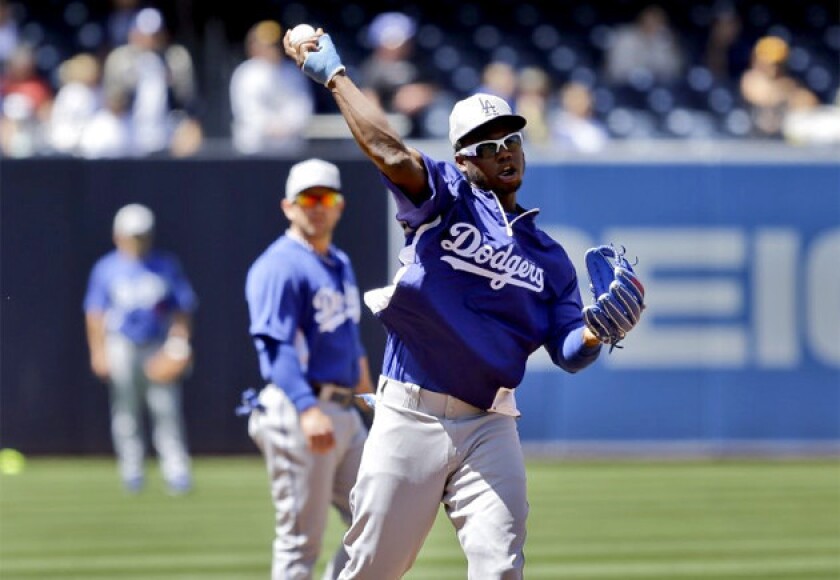 SAN DIEGO – Sidelined shortstop Hanley Ramirez said he expects to get the cast removed from his right hand this week.
With the cast stabilizing his surgically repaired right thumb, Ramirez is already taking grounders, throwing and hitting one-handed. He remains hopeful he could return to the lineup by the middle of next month.
"I've been doing everything," said Ramirez, who underwent surgery March 21 to repair a torn ligament in his thumb.
Ramirez said he doesn't know what he will and won't be able to do once his cast is removed.
"Let's see how everything feels when I get the cast off," he said.
Ramirez said missing opening day was difficult.
"It's my first time that I miss opening day," he said. "It's not easy."
Ramirez acknowledged that he sometimes gets antsy.
"What I do is go in the gym and work," he said.
Even though Ramirez was injured in the World Baseball Classic, he said playing for the tournament champion Dominican Republic marked the high point of his career.
"It's got to be," Ramirez said. "I won in the winter league a couple times, but it's not the same. This is a thing where the whole world was watching. It was like the World Series."
Ramirez has never reached the major league postseason.
"It's a way different feeling when you have a trophy in your hands," he said.
Ramirez has no regrets about playing in the tournament.
"It could have happened anywhere," he said.
ALSO:
Dodgers' Kenley Jansen has a healthy outlook
Here's the pitch: Dodgers' bullpen has yet to allow a run
Dodgers' Mr. Perfect, Clayton Kershaw, selected NL player of week
---