Hanley Ramirez, Hyun-Jin Ryu lead Dodgers past Rockies, 6-2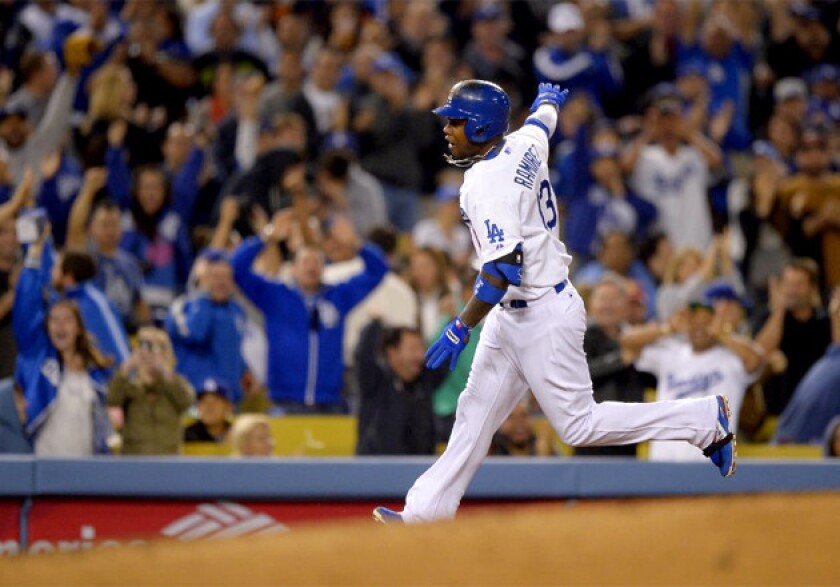 Let's go way out on a limb right now and conclude Hanley Ramirez enjoys the spotlight. That he's a guy who recognizes a moment.
In his first start of the season, which just happened to coincide with "Hanley Ramirez Bobblehead Night," the shortstop homered and doubled, leading the offense in support of a terrific outing by left-hander Hyun-Jin Ryu in the Dodgers' 6-2 victory over the Rockies.
A Dodger Stadium crowd of 47,602 saw Ryu strike out a career-high 12 and allow only three hits in his six innings, stepping up on a night he met South Korean pop sensation Psy after the game.
For Ramirez, though, the night offered something of a personal statement. After tearing his thumb in the final game of the World Baseball Classic, he underwent surgery and wasn't expected back for at least another two weeks.
But he recovered rapidly and convinced the Dodgers he was ready to start his season after only two rehab games. After striking out as a pinch-hitter Monday, Ramirez made his first hit memorable Tuesday.
Defensively he was more mixed. He cleanly fielded and threw the only ball hit to him through seven innings. But in the eighth Josh Rutledge hit a bouncer into the hole between short and third that Ramirez gloved and then seemed to struggled to grip, throwing late to first. It was ruled a hit.
He then made up for it with a nice diving stop on a Carlos Gonzalez bouncer up the middle, and, while still sprawled out, made a quick flip to Nick Punto at second to start a double play.
The Dodgers scored twice in each of the first three innings to take an early 6-1 lead. The way Ryu was throwing, the lead felt even larger.
Ryu gave up a first-inning solo home run to Gonzalez and then started dominating. He retired 14 of his next 15 batters.
The Dodgers gave him the lead in the bottom of the first after a Jerry Hairston Jr. broken-bat single and Punto base hit. Matt Kemp's single scored Hairston and an Adrian Gonzalez fly to left was deep enough to sacrifice Punto home.
The Dodgers added two more in the second off left-hander Jorge De La Rosa, this time Hairston and Punto teaming up to drive in runs with hits.
They pushed it to a 6-1 lead in the third, when, in his third at-bat of the season, Ramirez hit a towering solo home run to left. When he crossed homeplate, he gave the crowd his "I See You" look. Andre Ethier followed with a double, and Juan Uribe was walked intentionally to get to Ryu, which I suppose makes perfect sense, though it might be noted Ryu is currently hitting about 100 points higher than Uribe. Ryu laced a single to right to score Ethier.
Meanwhile, Ryu (3-1) was making short work of the Rockies. The only time they threatened came in the sixth, when Dexter Fowler beat out an infield single and Gonzalez walked. Michael Cuddyer laced a double down the right-field line to drive in Fowler.
Ryu got out of more trouble by striking out Jordan Pacheco, for his final strikeout. He threw 104 pitches in his six innings, allowing the two runs on three hits. He walked two.
---
Get our Dodgers Dugout newsletter for insights, news and much more.
You may occasionally receive promotional content from the Los Angeles Times.