Dodgers avoid arbitration, sign A.J. Ellis, Ronald Belisario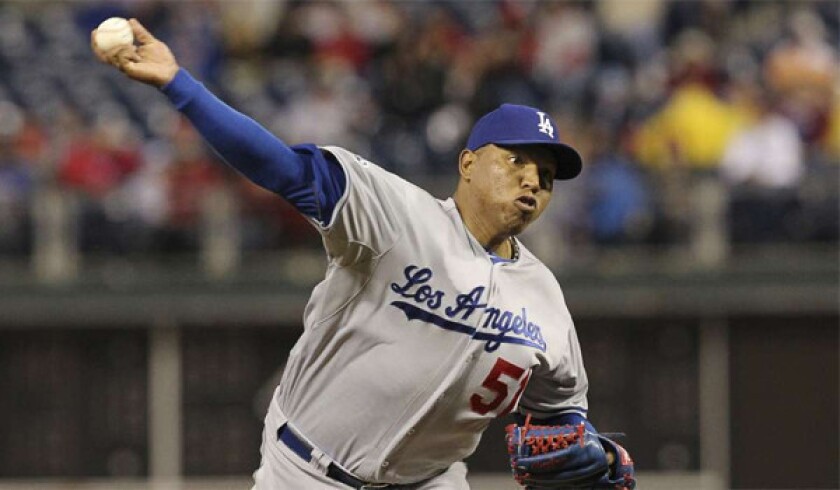 Harmony. Gee, the Dodgers really love you....
Those arbitration cases can get so messy. A club having to argue against its own player. Best to be avoided. Best to be done with as soon as possible.
Which is what the Dodgers did yet again Friday, coming to terms with their only two arbitration-eligible players, catcher A.J. Ellis and reliever Ronald Belisario.
Both were what are called "super twos," players with two years and at least 139 days of major-league service.
The Dodgers agreed to one-year deals with both, Ellis signing for $2 million and Belisario for $1.45 million.
Ellis, 31, might have signed for slightly more than some anticipated, but it's not like he did not earn it, or would not have received significantly more in an open market. In his first full season as the Dodgers' starting catcher, Ellis hit .270 with 13 homers, 52 RBIs, a .373 on-base percentage and .414 slugging percentage. Last season he earned $490,000.
The visa-challenged Belisario showed up to camp on time last year, after missing all of 2011, and had a remarkable comeback season. In 68 appearances he had a 2.54 ERA, 1.07 WHIP and 8.7 strikeouts per nine innings. He made $480,000 last season.
Friday would have been their deadline to either reach an agreement or exchange salary figures in arbitration.
The Dodgers have now managed to avoid going into an arbitration hearing since 2007 (Joe Beimel).
ALSO:
Daily Dodger in Review: The Jerry Sands promise moves on
Dodger Matt Kemp inks love to grandparents with massive tattoo
Hanley Ramirez playing in WBC is nothing but bad news for Dodgers
---
Get our Dodgers Dugout newsletter for insights, news and much more.
You may occasionally receive promotional content from the Los Angeles Times.