7 days into career, Dodgers' Yasiel Puig named NL player of week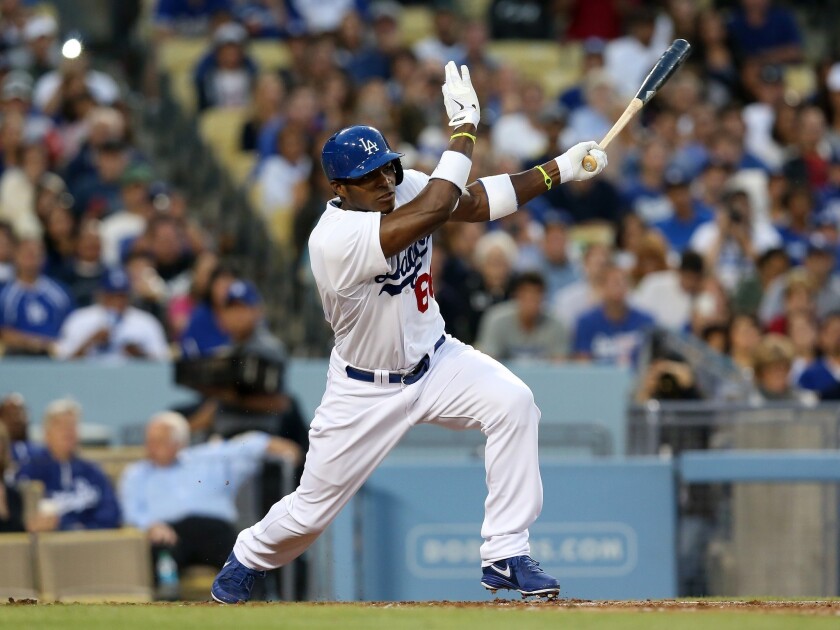 For what he did in his first week in the major leagues, Yasiel Puig on Monday was named the National League player of the week.
Puig batted .464 with four home runs and 10 runs batted in in his first seven games.
Perhaps more impressive than the numbers was how he looked doing it. Even to the untrained eye, it was obvious the ball came off his bat or out of his hand with extraordinary force.
The 22-year-old Cuban defector was called up on June 3 and made an immediate impact, as he was two for four and doubled off a runner at first base from the warning track to record the final out of a 2-1 victory over the San Diego Padres.
The next day, he hit two home runs in another win over the Padres, one that sailed halfway up the left-field pavilion and the other a line drive that scraped the top of the right-field wall.
Puig was hitless in four at-bats on Wednesday. Some radio and television reporters, evidently unaware of how the game of baseball works, were in such shock that they asked Manager Don Mattingly several questions about Puig's struggles.
"He's going to have nights when he makes outs," Mattingly had to remind them.
Puig rebounded on Thursday with another home run, this one a grand slam in a 5-0 victory over the Atlanta Braves. Thankfully, no one asked Mattingly why Puig failed to get hits in two of his four at-bats that day.
Puig hit yet another home run on Friday, his fourth. The RBI was Puig's 10th, which tied the record for the most in the first five games of a career. The others to drive in 10 runs as quickly were Danny Espinosa of the Washington Nationals in 2010 and Jack Merson of the Pittsburgh Pirates in 1951.
Puig also became only the second player in the modern era to hit four home runs in his first five games. The only other player to do it was Mike Jacobs of the New York Mets in 2005.
Puig was a combined five for nine in his last two games.
With Puig in the lineup, the last-place Dodgers were 4-3.
---
Get our Dodgers Dugout newsletter for insights, news and much more.
You may occasionally receive promotional content from the Los Angeles Times.