Adrian Gonzalez, Luis Cruz to rejoin Dodgers on Monday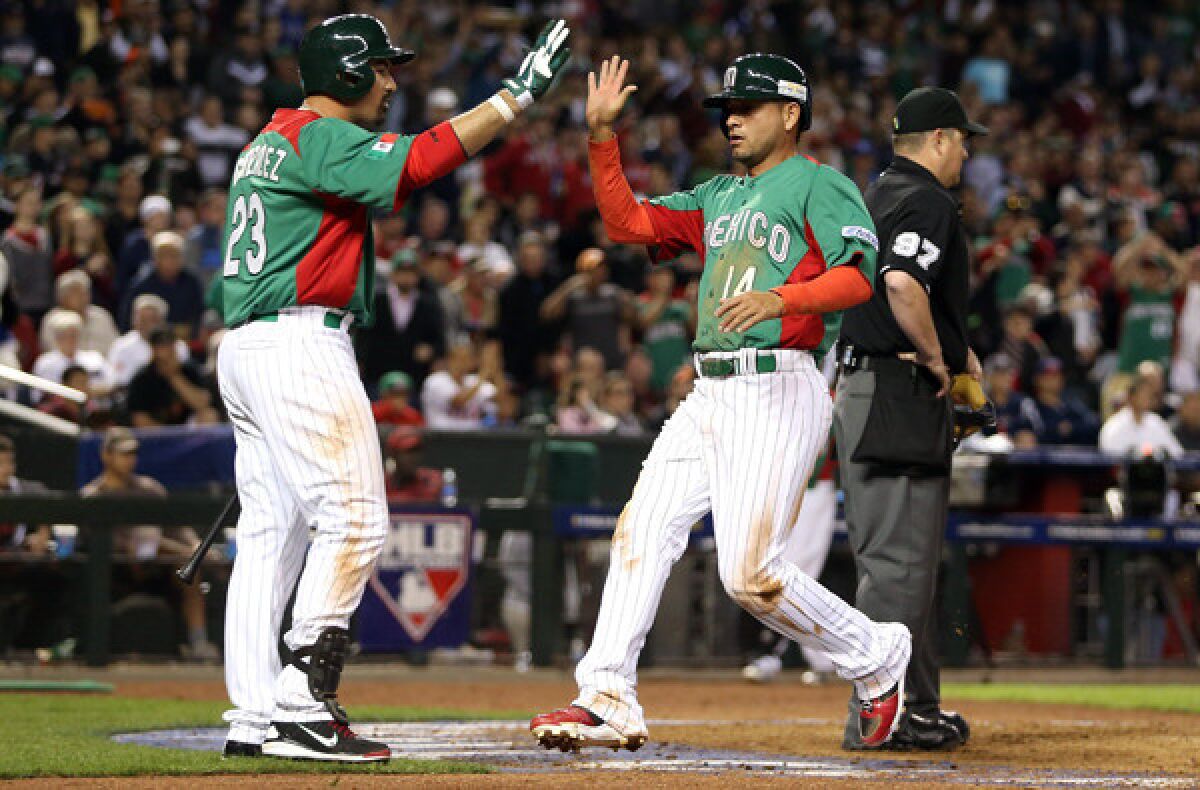 PHOENIX -- The Dodgers expect infielders Adrian Gonzalez and Luis Cruz to rejoin the team Monday, two days after Mexico was eliminated from the World Baseball Classic in a loss to Canada best remembered for an all-out brawl.
Dodgers Manager Don Mattingly said Sunday he received text messages from both players Saturday night. Cruz appeared to instigate the fight by signaling for Mexico pitcher Arnold Leon to throw at Canada's Rene Tosoni, and Cruz threw at least two punches in the ensuing fight.
Mattingly said he suspected the Mexicans were aggrieved by some hard Canadian slides but declined to explain why Cruz acted as he did.
"I'll let Luis describe how he felt," Mattingly said.
The WBC did not issue any suspensions, in part because Mexico is out of the tournament anyway. The players are not subject to separate discipline by Major League Baseball.
Mattingly jokingly said a visitor to Dodgers' camp Saturday wondered how a fine might have been implemented -- in United States dollars, Canadian dollars or Mexican pesos.
Mattingly said he appreciated that Canadian coach Larry Walker pulled Gonzalez aside during the fight and told him he was too important to risk injury. Mattingly said Rod Carew had done the same thing to him once during a fight between the Angels and New York Yankees.
"It seemed like a little bit of a melee," Mattingly said. "I'm surprised you didn't see jerseys pulled off the top of guys' heads like in hockey fights."
Mattingly also said that, within the next week or so, the Dodgers would remove three starting pitchers from the major league exhibitions and schedule them to minor league games.
With the Dodgers expected to use a starting rotation of Clayton Kershaw, Zack Greinke, Josh Beckett, Chad Billingsley and Hyun-jin Ryu, they want Chris Capuano, Ted Lilly and Aaron Harang to continue to prepare as starters -- primarily to interest teams looking to acquire a starting pitcher -- without infringing on the increasing number of innings the front five need to get ready for the season.
"If everybody is healthy, there are some tough decisions to make. And everybody's healthy," Mattingly said. "We'll still be trying to build [up] eight guys."
The Dodgers also said non-roster pitcher Matt Palmer would undergo surgery Tuesday to repair a torn meniscus in his left knee, with an estimated rehabilitation of six to eight weeks.
ALSO:
Ned Colletti is writing a different story these days
Hold off on any panic over Matt Kemp's poor spring start
Mr. Nice Guy Luis Cruz at center of Canada-Mexico brawl
Get our Dodgers Dugout newsletter for insights, news and much more.
You may occasionally receive promotional content from the Los Angeles Times.