Daily Dodger in Review: The successful debut of Hyun-Jin Ryu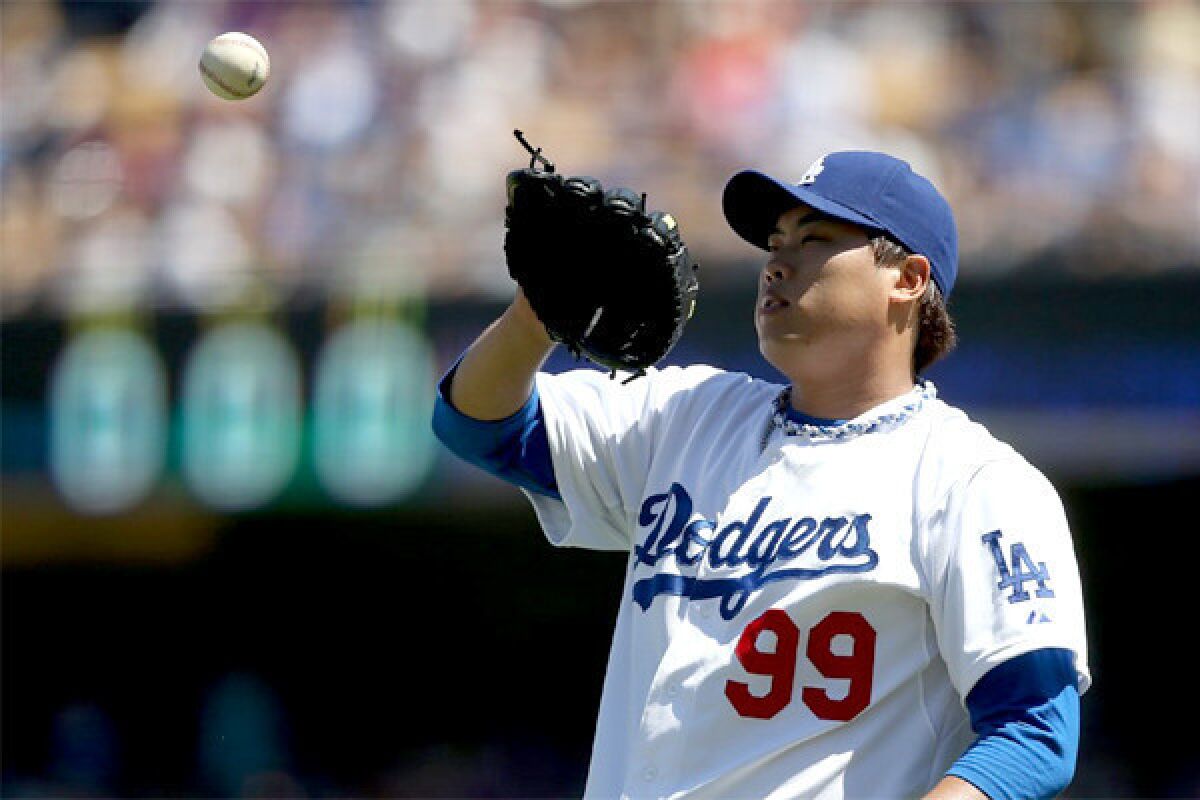 HYUN-JIN RYU, 26, starting pitcher
Final 2013 stats: 14-8, 3.00 ERA, 1.20 WHIP, .252 opponents batting average, 7.2 strikeouts per nine innings in 30 starts (192 innings).
Contract status: Year 2 of a six-year, $36-million deal.
The good: One of the top rookie pitchers in the National League. Had calm veteran's demeanor for someone going through the majors for the first time. Showed good command on a variety of pitches, changed speeds and worked both sides of the plate.
The left-hander was particularly effective at home, sporting a 2.32 ERA and 1.18 WHIP. Though there was some concern how he would respond to the number of innings thrown in major league season, he threw slightly better in the second half (2.87 ERA). Threw a pair of two-hitters. He even hit a little (.207, eighth for a pitcher).
The bad: Really not much to complain about. Struggled slightly in July (4.50 ERA). Oddly, left-handers (.270) hit better against him than right-handers (.245).
Back stiffness forced him to miss a September start and there was concern the Dodgers were not revealing an injury after he threw between starts and then lasted only three innings in his first playoff start against Atlanta. But he came back in his next start to hold St. Louis scoreless in seven innings.
What's next: He turns 27 in March and has five more years on his contract. The Dodgers hope he only benefits from experiencing the majors for the first time and does even better from here on.
The take: How could you not be a tad skeptical? No one had ever gone straight from the Korean Baseball Organization to the majors before. Plus, he had that rounded physique.
But Ryu had to deliver more than the Dodgers expected. He was a solid No. 3 starter, and at times, much more than that. Outside of his first playoff start, he acted like one cool customer.
He adjusted well to the situation, and how his stuff was that particular night. One start the curve was breaking, the next it wasn't, but the results looked pretty much the same.
He fielded, he hit, he pitched. Not a bad package for a rookie, albeit one with seven years of experience in Korea. Ryu probably has more clubs now pondering if there is any help to be found in the Korean league.
---
Get our Dodgers Dugout newsletter for insights, news and much more.
You may occasionally receive promotional content from the Los Angeles Times.