Don't look now, but the Dodgers' Yasiel Puig is in a bad slump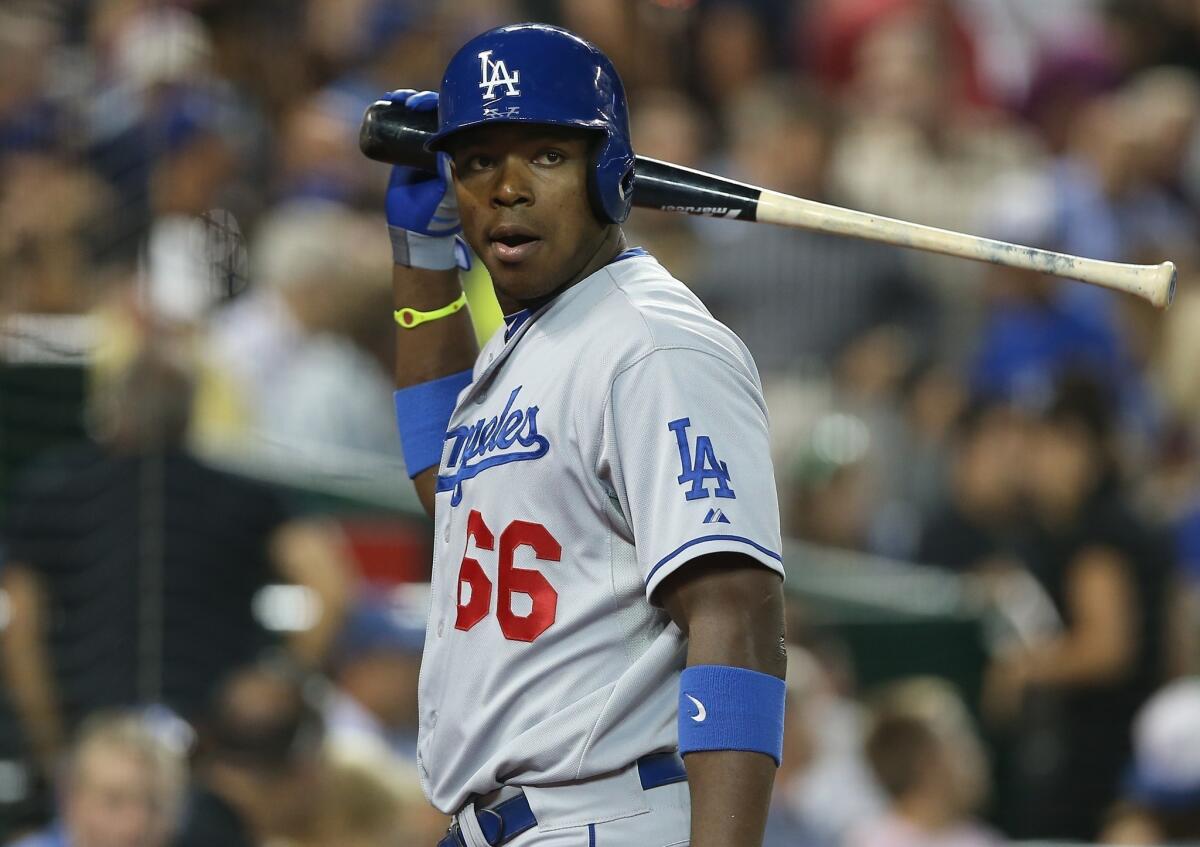 Not to put a damper on that Dodgers' pregame party, but they have a major player struggling.
The implausible Yasiel Puig.
The Dodgers' favorite man-child is slumping, at what you might say, is a bad time.
QUIZ: Dodgers postseason trivia
As the postseason beckons and the Dodgers put their final thoughts into forming a playoff roster without Matt Kemp and possibly without Andre Ethier, they have to wrestle with the prospect of a struggling Puig.
Puig has hit .146 (seven for 43) in his last 14 games, with three homers and five runs batted in. This has accelerated a downward trend for Puig, who's hit .233 (34 for 146) over his last 42 games.
No one on this planet believed Puig would sustain that torrid pace he started his career, or anywhere near; he hit .443 with a .745 slugging percentage in his first 27 games.
But a .233 skid wasn't expected either; overall he finished at .319 with a .534 slugging percentage. Now the Dodgers are down to two healthy starting outfielders and need Puig to regain his destroyer of baseballs hitting form.
Puig has batted leadoff in his last 10 starts, but Manager Don Mattingly said -- in the absence of Kemp and Ethier -- he's toying with moving him into the middle of the lineup.
"I've thought about that a little bit," he said.
The advantage in moving him back is potentially more RBIs. The drawback in moving him back is that one of the team's best batters could get less at-bats.
"I'm still thinking about that," Mattingly said.
A lot of thought goes into getting his bat in the most opportune spot when he's struggling so.
It's curious how the 22-year-old Puig answers to the postseason. He has shown a knack for responding to the game's biggest moments. For the Dodgers, this would be an excellent time for Puig to snap out of his slump and start responding.
Get our Dodgers Dugout newsletter for insights, news and much more.
You may occasionally receive promotional content from the Los Angeles Times.