Final: Dodgers avoid sweep, beat Rockies 8-4
The Dodgers avoided getting swept in Colorado this week, winning Wednesday's finale against the Rockies 8-4.
The Dodgers finished the road trip 6-3 and improved to 46-28 on the season.
They return home Thursday to open a four-game series against the San Diego Padres.
Final: Dodgers 8, Rockies 4
Julio Urías replaced after getting into jam in sixth, but Dodgers still lead
After mostly cruising through the first five innings, Julio Urías finally ran into a jam in the sixth.
He walked the leadoff batter. He gave up a pair of one-out singles, the latter plating a run. And with runners on the corner, only one out in the inning and his pitch count at 89, the left-hander was replaced in favor of Brusdar Graterol.
Graterol let one of his inherited runners score and faced a bases-loaded jam with two outs, but limited the damage there.
He returned to the mound in the seventh and pitched a scoreless frame.
End 7th: Dodgers lead 7-3
Dodgers lead big with rain threatening in the forecast
The Dodgers have extended their lead, getting an RBI single from Eddy Alvarez in the fourth and two-run home run from Will Smith in the fifth to open up a 7-1 advantage.
More importantly, they've also completed five full innings — meaning this game can be considered official in case of rain that is threatening in the weather forecast.
Over the past couple innings, there have been flashes of lightning in the distance and loud claps of thunder that echoed around Coors Field.
But for now, the skies are holding, with Julio Urías through five innings of one-run ball.
End 5th: Dodgers lead 7-1
Dodgers extend lead with three runs in the second
After scoring just four total runs in the first two games of this season, the Dodgers have four runs in just two innings tonight.
The team tacked on three more in the second inning. They loaded the bases on the walks from Cody Bellinger and Gavin Lux and a single from Jake Lamb.
Eddy Alvarez knocked in one run with a sacrifice fly.
Then Trea Turner sent a two-run double off the wall in right-center field.
Julio Urías, meanwhile, is through two scoreless innings, having stranded a couple early hits.
End 2nd: Dodgers lead 4-0
Despite continued off field drama, Freddie Freeman opens scoring with solo home run
Freddie Freeman's recent off the field saga continued Wednesday.
On the field, however, Freeman stayed hot, hitting the first pitch he saw for a solo home run in the first inning. It was Freeman's ninth blast of the season, and extends his hitting streak to 13 games.
Prior to the game, Freeman declined to comment on a report from Fox Sports Radio host Doug Gottlieb that claimed Freeman's agent, Casey Close, never told him about a final offer from the Atlanta Braves before Freeman signed with the Dodgers.
The first baseman said he would only talk about the Dodgers baseball.
End 1st: Dodgers lead 1-0
Dodgers 'very optimistic' Mookie Betts will return before All-Star break
DENVER — The Dodgers are hoping to get a big boost to their lineup in the next couple weeks.
Manager Dave Roberts on Wednesday said he is "very optimistic" that outfielder Mookie Betts will return from a cracked rib before next month's All-Star break, though noted it could initially be in a designated hitting role.
"Swinging of the bat is not as bothersome as throwing," Roberts said. "Hopefully that continues to progress and he'll be back with us sooner than later."
Betts has been out since sustaining his injury in a collision with center fielder Cody Bellinger on June 15. He swung a bat again for the first time on Tuesday, during his rehab back in Los Angeles, and Roberts said Betts reported feeling good afterward.
Roberts was hopeful Betts won't require a rehab assignment either.
"I think each passing day will kind of change my assessment," Roberts said. "So right now I would say no. But I just don't know how long it's going to be."
Without Betts, the Dodgers have continued looking for news way to compensate in the outfield. On Wednesday, that meant playing Jake Lamb in left field for his first start with the Dodgers, after being called up on Tuesday.
Here's the Dodgers full lineup for Wednesday's series finale. Julio Urías (5-6, 2.48 ERA) will take the mound against Rockies right-hander Germán Márquez (4-5, 5.58) as the Dodgers try to avoid getting swept at Coors Field.
ICYMI: Clayton Kershaw's All-Star path rockier after rough loss to Colorado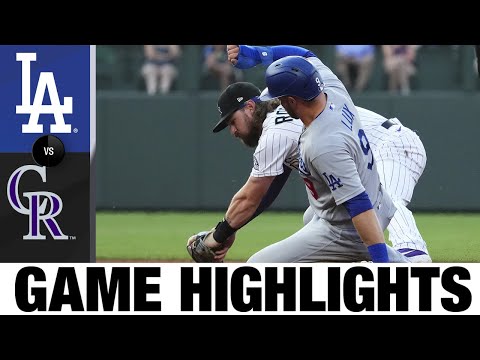 DENVER — On Monday afternoon, Dodgers manager Dave Roberts thought there was a possible path for Clayton Kershaw to start next month's All-Star Game at Dodger Stadium.
By the end of Tuesday night, however, those hopes took a serious beating in the left-hander's worst start of the season.
After giving up six runs in four innings in the Dodgers' 7-4 defeat to the Colorado Rockies, Kershaw didn't try to look for positives or put an upbeat spin on his 77-pitch outing.
"[I'm] going to just not overthink it," he sighed, "and just say I sucked today."