With no one home, Mookie Betts scores go-ahead run in Dodgers' win over Marlins
Dodgers cleanup batter Will Smith hit an eighth-inning grounder to the left of Miami third baseman Jon Berti with runners on first and third and one out in a tie game Friday night.
Berti didn't think he had time to throw to second to start a potential double play, so he turned and looked toward the plate, where … nobody was home. Literally.
Marlins catcher Jacob Stallings, thinking the play would be on the infield, had vacated the premises. He was straddling the dirt circle on the first base side of the plate when Mookie Betts, who led off the inning with a triple, waltzed home with the winning run in a 2-1 victory before 50,431 in Dodger Stadium.
Setup man Evan Phillips then retired the side in order in the top of the ninth with the help of a spectacular catch by center fielder Trayce Thompson to record the save in place of closer Craig Kimbrel, who had pitched in three of the previous five games.
Dodgers take 2-1 lead over Marlins in the eighth
Mookie Betts score on a fielder's choice off the bat off Will Smith to give the Dodgers a 2-1 lead in the eighth inning over the Miami Marlins.
Betts hit a standup triple on a well-placed dunk shot into right field to lead off the inning. Marlins reliever Dylan Floro then intentionally walked Freddie Freeman before Smith reached base and drove in Betts on a short hit to third.
Evan Phillips will pitch the ninth, looking for the save.
⚾ End of the eighth: Dodgers 2, Marlins 1
Justin Turner scores to tie game 1-1 in the seventh
A hustling Justin Turner scored from first on a double into the left-field corner by Trayce Thompson to tie the game 1-1 in the bottom of the seventh.
Thompson's hit came off Marlins reliever Steven Okert, who entered the game after Justin Turner led off with a single to center off starter Jesus Luzardo. Thompson managed to reach third on what was determined to be a throwing error by left fielder Jerar Encarnacion, who overthrew the cutoff man.
The inning ended with Gavin Lux grounding out to second base.
⚾ End of the seventh: Marlins 1, Dodgers 1
Marlins jump out to 1-0 lead on Jerar Encarnacion's double
Jerar Encarnacion hit a run-scoring double off Dodgers starter Tyler Anderson to give the Miami Marlins a 1-0 lead in the seventh inning.
Anderson gave up a leadoff double off the wall in right to Jacob Stallings before Encarnacion sent him home a sharp liner to left field. Anderson then got Jon Berti on a called third strike to end the frame.
Anderson has allowed just five hits over 99 pitches. Will he return in the eighth? More importantly for the Dodgers, who've been limited to three hits so far, find some offense against Marlins starter Jesus Luzardo?
⚾ Mid-7th: Marlins 1, Dodgers 0
Tyler Anderson continues to roll for the Dodgers in scoreless contest
The Dodgers are Marlins are locked in a scoreless tie in the sixth inning thanks, in part, to Tyler Anderson's efforts on the mound.
Anderson has allowed just three hits while striking out four and walking three on 75 pitches.
Will the Dodgers give him some run support? Mookie Betts nearly left the yard on liner to left field to open the bottom of the sixth, but it was gloved by Jerar Encarnacion at the warning track.
Marlins starter Jesus Luzardo has held up his end of this pitcher's duel, allowing just three hits and striking out six on 88 pitches.
⚾ End of the sixth: Marlins 0, Dodgers 0
Tyler Anderson starts strong; game remains scoreless
Tyler Anderson is off to a solid start despite getting into a bit of a jam in the third inning.
Charles Leblanc got the Marlins' first hit on a single to right field before Jerar Encarnacion drew a walk off Anderson. With runners on the corners, Jon Berti grounded out before Anderson struck out Miguel Rojas to cap the frame.
In the bottom half of the inning, Gavin Lux and Mookie Betts singled off Marlins starter Jesus Luzardo before Trea Turner struck out and Freddie Freeman grounded out to Luzardo to end the inning. Betts already has two hits — he hit a first-pitch double off the wall in left-center field in the first inning.
⚾ End of the third: Marlins 0, Dodgers 0
Dustin May to make long-awaited return from elbow surgery
A 17-game division lead entering Friday and a rotation that has thrived despite injuries to several key starters should allow Dustin May a relatively stress-free runway to return to the Dodgers and prepare for the playoffs over the final seven weeks of the regular season.
The hard-throwing right-hander completed a grueling 15-month rehabilitation from Tommy John surgery last weekend and will start Saturday night against the Miami Marlins at Dodger Stadium, May's first big-league game since he tore the ulnar collateral ligament in his elbow at Milwaukee on May 1, 2021.
"Looking at where we are in the standings, we don't have to lean on him — we can make sure he continues to build up and stay strong and stay healthy," manager Dave Roberts said before Friday night's game against the Marlins.
"We expect the performance to be there, but to not have to fight tooth and nail every single night when he pitches, it's certainly a luxury that we're all very grateful for."
May made his final triple-A rehab start last Sunday, throwing 70 pitches over five innings and another 10 in the bullpen. He went 1-0 with a 1.89 ERA in five games for Oklahoma City, giving up 14 hits, striking out 33 and walking six in 19 innings, the velocity of his two-seam fastball in its usual 97-98-mph range.
May should have at least seven starts to regain the form that made him one of baseball's most promising young right-handers before surgery.
"I definitely feel like it's going to help," May said earlier this week. "I feel like the more time I have up here to get my feet wet before October, that's beneficial."
The Dodgers announced Monday that ace Walker Buehler, sidelined for much of the season because of an elbow injury, would undergo season-ending surgery on Tuesday. Clayton Kershaw has been out for most of August because of a lower-back injury and isn't expected to return until early September.
But the Dodgers rotation, led by Julio Urías, Tony Gonsolin and Tyler Anderson, still entered Friday with a major league-best 2.73 ERA, almost a half-run better than the second-ranked Houston Astros rotation ERA of 3.12.
"I talked to Dustin, and he's not a savior," Roberts said. "I just want him to come out and pitch well. He just has to do his job. When Clayton gets back, he's got to do his job. So I don't look at it as pressure. It's just more of, we don't have a guy that we hoped would be with us.
"[Buehler] has been a big part of things we've done, but there's nothing we can do about it, and guys have just got to do their jobs."
The mental hurdles in recovering from Tommy John surgery can be as challenging as the physical ones, but May said his recovery process was "very smooth" and that he didn't baby his arm once he returned to game action.
"I wasn't really worried about setbacks or anything like that," May said. "Getting back in the swing of things, I wasn't going to hold back. I just said if I'm going to get hurt, it's going to happen, and there's nothing I can do about it. So I'm going to prepare myself the best way I can and go out there and compete.
"I'm excited. I couldn't have gotten any more prepared in the minor leagues than I did, so I feel like I'm in the best possible spot to come back and help the team."

Freddie Freeman pledges $500,000 for clubhouse at El Modena High School
Freddie Freeman has pledged $500,000 to cover almost half of the cost of a new 1,440-square-foot clubhouse for the baseball program at his alma mater, El Modena High School in Orange.
The Orange Unified School District will cover the rest of the $1.1-million project, which will include lockers, a team-meeting area, a coaches' office, a television and a storage area. Construction on the building, which will be in the right-field corner of the on-campus baseball field, will begin next summer.
Freeman, the former Atlanta Braves first baseman who signed a six-year, $162-million deal with the Dodgers in March, graduated from El Modena in 2007 and has remained close to the program and its coaches ever since.
"It's kind of indescribable, it's too good to be true," said Josh Kliner, who is in his 16th year as El Modena's head baseball coach and was an assistant when Freeman played at the school.
"Around here we're used to minimal means, and we've added some things to our school lately — upgrades to our facility, a new pool, some new buildings … having this added to our baseball field is going to be the icing on the cake."
Clayton Kershaw takes significant step in return from lower-back injury
Clayton Kershaw threw off a bullpen mound Friday for the first time since going on the 15-day injured list because of lower-back pain on Aug. 5, completing a 30-pitch workout that, barring setback, put the veteran left-hander on track for an early September return.
Dodgers manager Dave Roberts said Kershaw, who received an epidural injection Aug. 5, will probably throw another bullpen session next week, to be followed by a simulated game of three or four innings in late-August, "and then potentially an activation."
Though the three-time National League Cy Young Award winner, who has a long history of lower-back problems, hasn't pitched since exiting an Aug. 4 game in San Francisco after four innings, Roberts doesn't believe he will need a minor league rehabilitation start.
"To go through the MRI process and nothing new was found, to be asymptomatic, is very encouraging," Roberts said before Friday night's game against the Miami Marlins at Dodger Stadium. "We're pretty happy with where he's at and his workout today. I think it's right on par with what we were hoping for initially."
Kershaw, who is 7-3 with a 2.64 ERA in 15 starts this season, striking out 88 and walking 15 in 85 1/3 innings, said last weekend in Kansas City that the epidural provided immediate relief and that he he'll have enough time to build up the endurance required to pitch out of the rotation in the playoffs.
"I know what I have to do to be ready for October," Kershaw said, "and I definitely feel we have time to accomplish all that, which is great."
Here's the Dodgers' starting lineup vs. Marlins on Friday
Here's the starting lineup for the Dodgers against the Miami Marlins at Dodger Stadium on Friday at 7:10 p.m. PT:
How to watch and stream the Dodgers this season
Here's a look at the Dodgers broadcast and streaming schedule for the remainder of the 2022 regular season:
Dodgers return to baseball's mortal plane with series split against Brewers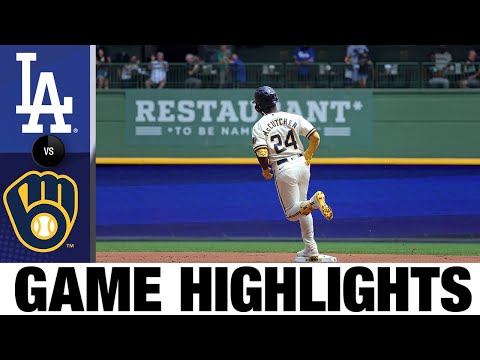 MILWAUKEE — After a scorching monthlong stretch coming out of the All-Star break, the Dodgers lineup didn't exactly go cold against the Brewers in Milwaukee this week.
But for the first time in a while, it certainly looked mortal, as the team settled for a four-game split against a potential playoff foe after a 5-3 defeat at American Family Field on Thursday.
"It's gonna happen," manager Dave Roberts said. "We've swung the bats well. But the old adage — good pitching beats good hitting."
Entering this week's series, the Dodgers' hitting had been more than just good.
Since the All-Star break, the Dodgers were averaging almost 6½ runs per game.