Clayton Kershaw gives up three runs, decides against PitchCom device in first spring start
PHOENIX — Clayton Kershaw's focus was divided during his first start of the spring on Friday.
For the most part, the left-hander simply tried focusing on his stuff, coming away from his three-inning, three-run outing encouraged by how he felt physically even if there was room to improve his performance.
"It was good to get back out there again," said Kershaw, who gave up two home runs but also struck out two and touched 93 mph with his fastball. "Obviously, got some stuff to work on. But over overall, it's a good first step."
Friday was also Kershaw's first time getting to experience Major League Baseball's new gameplay rules — most notably the introduction of a pitch clock and pick-off limit.
Kershaw didn't think either regulation made too much of an impact. He even tried to find subtle advantages in the new rules, such as holding the ball a little longer whenever the opposing hitter used their one time-out at the plate, or throwing over to first base several times to see if he could catch the base runner sleeping.
Kershaw acknowledged the new rules are "gonna be an experiment for a little while," and added that he caught himself looking at the clock "a lot" throughout the day.
"It obviously takes a little bit of focus off of what you're doing when you're thinking about the pitch clock," he said. "But I don't know if I'm gonna change that or not. We'll just have to see."
There was another new facet to Friday's outing, as well: Kershaw took the mound with MLB's new PitchCom device on his belt, a remote that enables pitchers to call their own pitches to catchers during games.
Kershaw said he was intrigued by the idea — which could be instituted in regular season games as soon as this year.
However, "once you get in that rhythm," he said, "I never used it once."
"Especially if you have a game plan for facing hitters and going through a scouting report like you do during the season, [the pitcher and catcher] will be even more on the same page," Kershaw added. "I don't really see myself using it. But who knows? Maybe."
Bobby Miller not expected to pitch any Cactus League games
PHOENIX — One of the Dodgers highest-ranked prospects likely won't see the field in a Cactus League game this spring.
Coming off his first full minor-league season in 2022, the Dodgers have given right-handed pitcher Bobby Miller a slower ramp-up this spring.
The 23-year-old former first round pick has yet to face live hitting, though that could happen as early as next week.
According to manager Dave Roberts, Miller isn't expected to pitch in any big league spring games during camp either.
"We wanted to get him in camp around our guys, training staff, team-wise," Roberts said. "But as far as slow-playing him a little bit, he's not gonna pitch for us in an A-game for us here."
Miller said he was aware of the plan entering the spring. Not only did he toss a career-high 112 innings between Class AA and Class AAA last year, but he also noted that he missed a couple weeks near the end of the season with an undisclosed issue.
"I knew I wasn't gonna be throwing against hitters right away," said Miller, who has thrown several bullpens and plans to begin pitching live batting practice next week. "I'm excited to get back out there. I feel great."
Miller is likely to start his season back in Class AAA, but could have an opportunity to make his MLB debut later in the season.
He is one of several young pitchers the Dodgers are counting on to provide starting rotation depth this season.
"I feel ready," Miller said. "I want to be a contributor to the big-league team. I want to stay there ... But a lot of it is in my hands, as well. I gotta take care of myself, gather myself mentally. Physically I'm there. Just got some work to do mentally."
Tony Gonsolin facing 'slow process' in recovery from ankle sprain
PHOENIX — It looks increasinly likely that Dodgers pitcher Tony Gonsolin won't be available for the start of the regular season.
Five days after spraining his ankle while walking across the infield during pitching fielding drills on Monday, Gonsolin remained limited Friday at Dodgers camp, leaving his status for opening day in doubt.
"It's gonna be a slow process," manager Dave Roberts said.
Gonsolin, who on Friday declined to talk to reporters about his injury, has made small strides since first getting hurt. After needing crutches earlier this week, he was back to walking around the Dodgers facility on Friday with a far less noticable limp.
He has also done some "simulated throwing," according to Roberts, to keep his arm fresh.
However, it's unclear how soon he'll be able to begin making real throws again, or whether he could need an MRI before then.
If Gonsolin does indeed miss the start of the season, Roberts said the open spot in the team's starting rotation would probably come down to Ryan Pepiot or Michael Grove instead.
'He looked natural over there.' Mookie Betts seamlessly adjusts to second base for WBC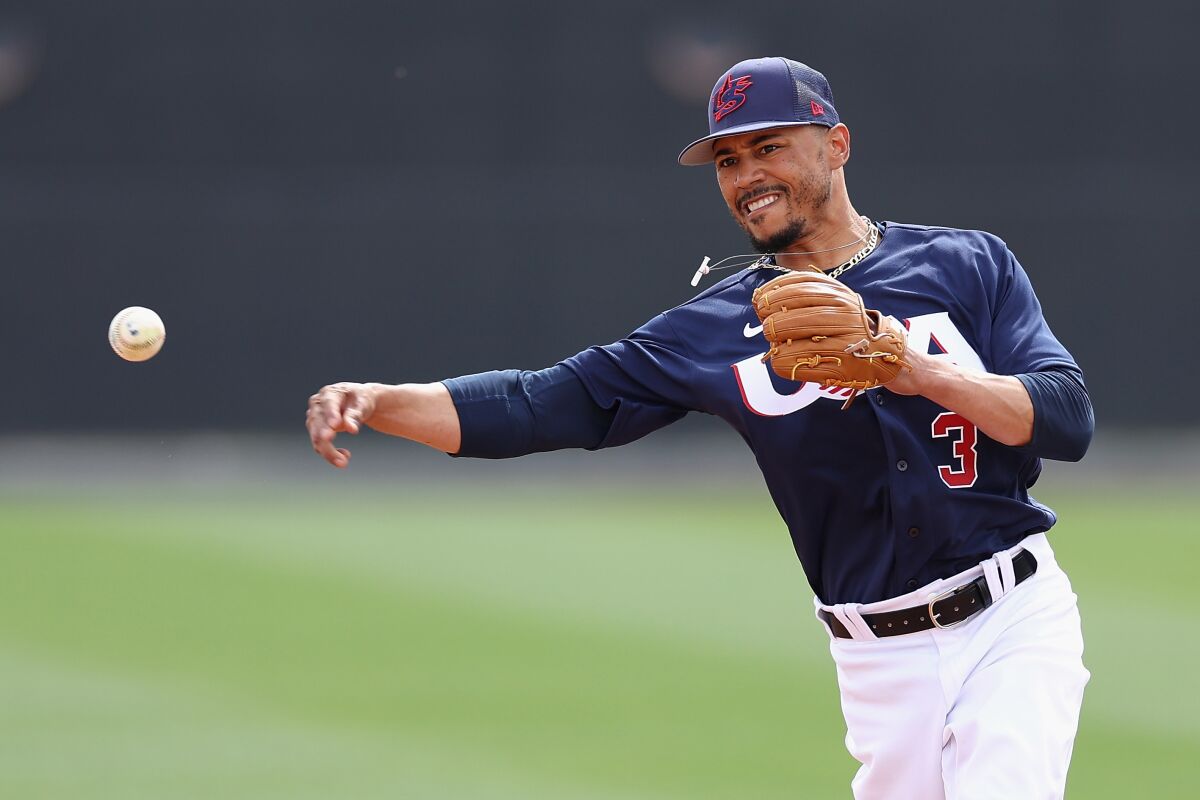 Team USA's starting second baseman Thursday took his position for some work a few hours before the first pitch against the Angels and looked the part.
He fielded groundballs with fluidity. He snapped throws from various arm angles. He shifted up the middle, over to the shortstop side of the bag, and back to shallow right field, all spots he could find himself in during the World Baseball Classic.
Mookie Betts appeared at home because second base was once home.
"It's in my roots," Betts, 30, said Thursday. "It's what I grew up doing and it's hard to kind of get rid of that."
Meet the four prospects spearheading the Dodgers' youth movement on the mound
It was right around this time of Dodgers spring training last year when Tyler Anderson came walking through the door.
The team didn't have an opening in its starting rotation. And Anderson, a veteran left-hander trying to prolong his career, was given no guarantees beyond a long-relief role in an already-stacked bullpen.
The move seemed minor, if not redundant, at the time.
But within a matter of weeks, Anderson's addition became one of the biggest factors in the Dodgers' 111-win campaign.
That's the nature of a Major League Baseball season. Starting pitchers almost always get hurt. Opening day rotations are virtually certain to change. And oftentimes, a team's performance can be defined by how much it can rely on its overall pitching depth.
Clayton Kershaw to face Angels in first Cactus League start of the spring
PHOENIX — Clayton Kershaw was supposed to be with Team USA this week, preparing for his first-ever appearance in the World Baseball Classic.
Instead, after being forced to withdraw from the event because of insurance issues, Kershaw will make his first Cactus League start of the spring on Friday instead, set to the Angels at Camelback Ranch at 12:05 p.m. Pacific.
While Kershaw is still in camp, several teammates — including both of the Dodgers big league catchers, Will Smith and Austin Barnes — are away for the WBC. That means Dodgers minor-league catcher Hunter Feduccia will be behind the plate for Friday's game.
Feduccia caught Kershaw for three innings in a B game last week.
"I like when guys are uncomfortable and you've got pressure or anxiety, and to see how they respond," manager Dave Roberts said of Feduccia. "But he handled it really well."
Here is the rest of the Dodgers lineup for Friday:
Cleared to swing again, Miguel Vargas doubles for first spring hit
MESA, Ariz. — Having finally been cleared to swing again after battling a hairline pinkie fracture the last couple weeks, Miguel Vargas didn't wait long to collect his first hit of the spring.
In his first at-bat of Thursday's 1-0 loss to the Oakland Athletics, Vargas fouled off the first pitch he saw — "I was 100% swinging at the first pitch," Vargas said with a laugh — then smoked a ground-rule double to left-center field gap in a two-strike count.
"We finally gave him the green light," manager Dave Roberts said. "It was good to see him go out there and finally be a complete player, being able to swing the bat."
Previously this spring, Vargas had only gotten on base via the walk, drawing four of them against pitchers who either didn't know he was barred from swinging, or simply failed to find the strike zone anyway.
Now, he's trying to get caught up offensively, finishing Thursday's game one for three with a strikeout before exiting along with other regulars in the middle of the sixth inning.
"I'm excited," Vargas said. "But I feel I have more gas in the tank."
Luke Williams gets opportunity at shortstop as Dodgers evaluate open roster spot
MESA, Ariz. — In eight seasons of professional baseball, from majors to minors and even the Australian League, Luke Williams has only played shortstop 36 times.
However, that isn't stopping the Dodgers from giving the non-roster invitee a crack at the position this spring.
With an opening day roster spot up for grabs in the wake of Gavin Lux's knee injury, the Dodgers are continuing to evaluate exactly how they will fill out their bench for the start of the season. Williams, whom the team claimed off waivers from the Miami Marlins this offseason, is one of the names in the mix.
While the 26-year-old Dana Hills High product has primarily played third baseman and the outfield in his major league career — which includes a .240 batting average in 137 games with the Marlins, San Francisco Giants and Philadelphia Phillies — the Dodgers want to see how he handles shortstop, as well, giving him a start at the position in their Thursday afternoon exhibition game against the Oakland Athletics.
"He's a guy that can play all over the diamond," manager Dave Roberts said. "The more you see him, the more you like."
In addition to Williams, the Dodgers' other in-house candidates to make the opening day roster seemingly include infielder Yonny Hernandez, veteran outfielders Bradley Zimmer and Steven Duggar, and prospects James Outman and Michael Busch.
There is a chance the team could still make an external addition before the end of spring, as well, though Roberts said his focus has been fixed on the players already with the team in camp.
"The organization is always vetting and seeing how we can get better," Roberts said. "But for me, my only focus is on the guys we have and how we're gonna make this work for us."
Injury updates: Daniel Hudson progressing, but still seems doubtful for opening day
The good news for the Dodgers is, reliever Daniel Hudson finally faced batters for the first time this spring on Wednesday, a positive sign in his recovery from an ankle tendinitis injury that popped up during the right-hander's rehab from a torn ACL.
The bad news is, even though Hudson got through the Wednesday session OK, manager Dave Roberts said he is "still a ways away" from live game action.
It means Hudson will likely be unavailable for the start of the season, leaving the Dodgers one key bullpen piece short as they map out their opening-day roster.
The hope is Hudson won't miss too much time to start the season, optimism that Roberts echoed Thursday.
"Him just getting his work in, I thought that was a plus," Roberts said. "Him coming out of it the day after feeling healthy was good."
In other Dodgers news on Thursday:

Tony Gonsolin's status for the start of the season remains unclear as he battles a sprained left ankle. Roberts said that while the swelling in Gonsolin's ankle has come down after he rolled it Monday, the pitcher still can't put much weight on it. Gonsolin was scheduled to do some "simulated throwing" Thursday to keep his arm fresh.

Clayton Kershaw will make his first start in a Cactus League game this spring on Friday, when the Dodgers host the Angels at Camelback Ranch.

Yency Almonte came through a pair of live batting practice sessions this week feeling good after a slow ramp-up at the start of spring. He is scheduled to pitch in his first Cactus League game Saturday.
Michael Grove impresses again in potential audition for big league roster
He's not the Dodgers most highly-ranked prospect, and he's likely not in line to make the team's opening day roster.
But the in wake of Tony Gonsolin's sprained ankle, which is threatening to impact his availability for the start of the season, a door may be cracked open for rookie right-hander Michael Grove this spring.
And on Wednesday night, he continued to put forth a strong audition.
In the Dodgers 2-2 tie against the Seattle Mariners, Grove spun three scoreless innings, striking out two batters while yielded just one hit.
"So far, so good thing spring," said Grove, who now has a 1.50 ERA in three Cactus League starts. "Body feels great, stuff is coming out well, and getting a chance to work on a few things in games."
Tony Gonsolin's ankle remains swollen, but fractures ruled out
Ahead of Wednesday night's exhibition game, Dodgers manager Dave Roberts had several notable injury updates:

Tony Gonsolin's sprained ankle is still swollen. He had a clean X-ray that ruled out any fractures, but still won't throw for at least several more days. An MRI exam could also be needed at some point if Gonsolin doesn't progress. His opening day status is to be determined.

"It's not something we feel really good about right now," Roberts said of Gonsolin's injury. "Right now we're just trying to do a full court press and getting the ankle back to full strength where he can bear weight."


Daniel Hudson and Yency Almonte are facing hitters in live BP today as they continue to ramp up in hopes of being ready for opening day.
Chris Taylor's phone might be the key to unlocking the secret to his past success
PHOENIX — There's a note-taking app on Chris Taylor's phone that the Dodgers outfielder opens all the time, a simple yet useful system he long ago developed to track his ever-evolving swing.
Within it, the 10th-year veteran has kept a catalog of hitting tips, from mental cues and mechanical feels, to coaching advice and personal observations.
Many of them go back years, originating from the career-altering swing changes Taylor made during his emergence with the Dodgers in 2017.
Ever since, he hasn't been afraid to edit the list, routinely jotting new thoughts and crossing out old ones — especially during times like these, as he sets out to rectify his dismal 2022 performance this spring.