PHOENIX —
It was right around this time of Dodgers spring training last year when Tyler Anderson came walking through the door.
The team didn't have an opening in its starting rotation. And Anderson, a veteran left-hander trying to prolong his career, was given no guarantees beyond a long-relief role in an already-stacked bullpen.
The move seemed minor, if not redundant, at the time.
But within a matter of weeks, Anderson's addition became one of the biggest factors in the Dodgers' 111-win campaign.
That's the nature of a Major League Baseball season. Starting pitchers almost always get hurt. Opening day rotations are virtually certain to change. And oftentimes, a team's performance can be defined by how much it can rely on its overall pitching depth.
While he waits for his October moment, Dodgers prospect Miguel Vargas, an infielder and outfielder, continues to pick up pointers from his veteran teammates.
It's why the Dodgers signed Anderson last year, then exhaled as he became an All-Star-caliber anchor for their banged-up staff. He was like a de facto insurance policy, and proved to be worth every bit of the $8-million premium it took to sign him.
This year, the team could have attempted a similar move.
Though they have five established starters, almost all of them have injury concerns or potential workload limitations. After both Anderson and Andrew Heaney left in free agency this offseason, the acquisition of another veteran swingman might have made sense.
The Dodgers, however, are going a different direction with their pitching depth this season.
They have a young core of four highly-touted prospects — Ryan Pepiot, Michael Grove, Gavin Stone and Bobby Miller — and are banking on some combination of them to help bolster the rotation throughout the season.
The first opportunity might be coming sooner than expected. After spraining his ankle while walking across the diamond during fielding drills this week, Tony Gonsolin's status for opening day is unclear. A door might be open for a spot start or two in his place early in the regular season.
And as a result, what was already an intriguing subplot to camp is taking on even more meaning, thrusting the quartet of promising but largely unproven arms into an increasingly bright spotlight just three weeks out from the March 30 opener.
"They're gonna get an opportunity," manager Dave Roberts said. "That's a good thing for them individually and also for the organization, to kind of promote from within."
---
Dodgers minor league pitching director Rob Hill beams with pride when discussing the growth of the team's four young arms.
When Hill was hired by the Dodgers ahead of the 2020 season, each one was just embarking on their professional careers — Grove as a 2018 second-round pick who'd only recently recovered from Tommy John surgery, Pepiot as a third-round pick the previous summer, and Miller and Stone as soon-to-be first- and fifth-round additions in that year's draft class.
Before long, it was evident their careers would follow similar trajectories. And like others around the organization, Hill quickly recognized they all might reach MLB-readiness around the same time.
"It's been really cool to watch their growth," Hill said. "It's almost like they got more boring, if that makes sense. They just really learned about their craft, about what makes them great. And they continuously and relentlessly pursued it. It's been really fun to watch."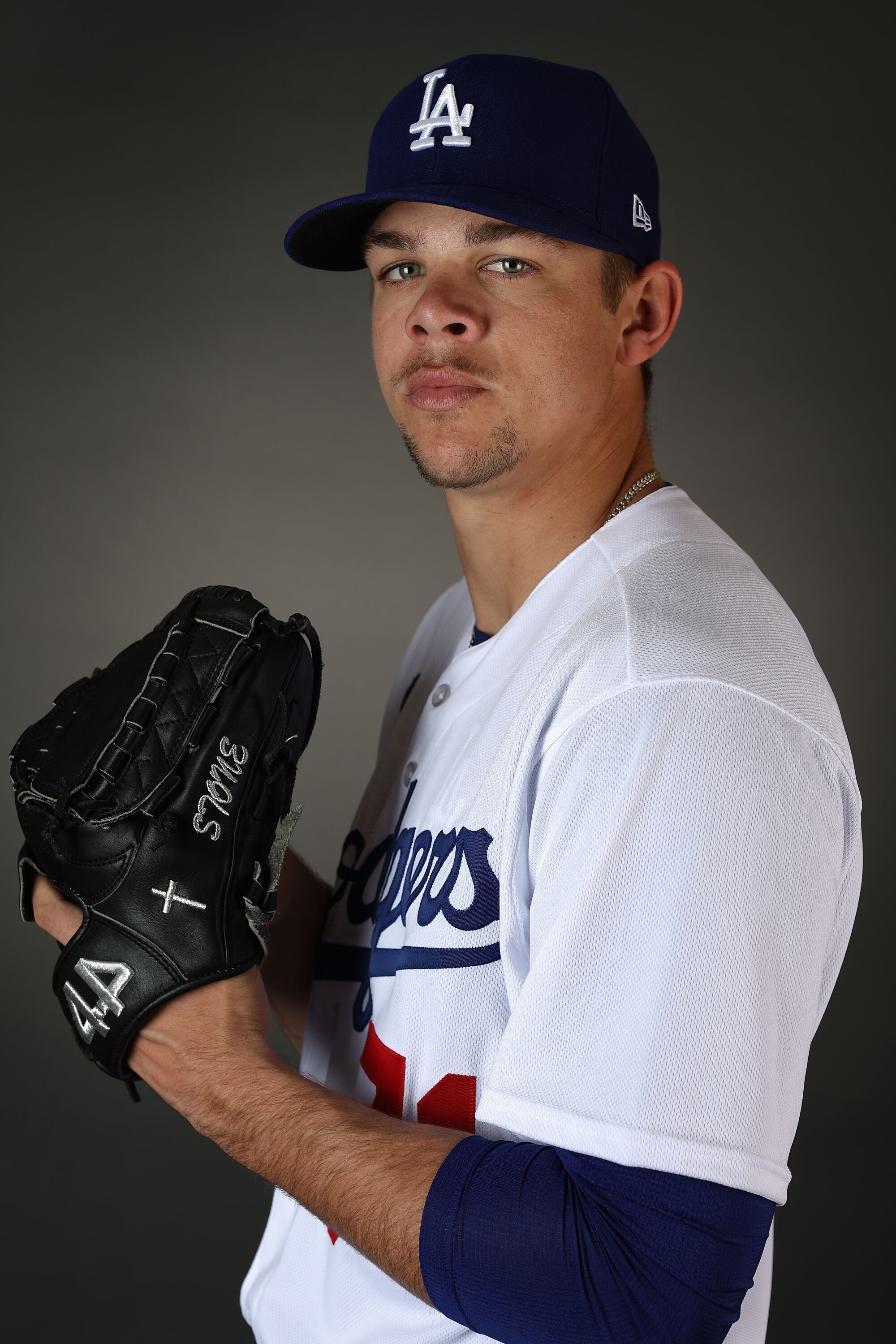 Pepiot and Grove have paced the group, getting their first taste of big league life with several call-ups last season.
Pepiot was summoned for three starts in May, one in July and three more in August. His surface level numbers were good, a 3.47 ERA in 36 ⅓ innings (he also made two long relief appearances in September). And there were flashes of his sky-high potential, brief moments when he mixed his deceptive tailing fastball and biting trademark changeup.
"When I was in the zone, I did have success," Pepiot said. "Seeing that, it gave me a little confidence boost."
It also provided some motivation to his offseason.
In most of his starts, Pepiot struggled with consistency and command. He lost too many pitches to his arm side of the plate. He couldn't find a good feel for a slider he'd tinkered with the previous offseason. And he finished the season unsatisfied with his delivery.
So, this winter, he tried to revamp his game.
He focused on cleaning up his mechanics, especially to better locate his two-seamer and changeup. He settled on a more traditional slider shape, with just enough right-to-left movement to keep hitters guessing.
The early returns have been promising, highlighted by one earned run in three Cactus League games and, more importantly, only one walk and nine strikeouts in six innings.
If Gonsolin's sprained ankle does drag past opening day, Pepiot seems likeliest to get the nod in his place.
"There's a confidence that comes with knowing the delivery he has landed on and is continuing to hone, will allow him to compete at a higher level," Hill said. "He's in a great spot with all those things."
Grove has made similar strides this spring.
After his own up-and-down debut campaign — he posted a 4.60 ERA in seven big league outings (six starts) after initially being called up straight from double A — the 26-year-old right-hander has displayed equally impressive offseason gains.
His fastball is up a couple of ticks, routinely reaching 96 mph after averaging 94.4 mph last year. He added more spin and movement to his slider and curveball, hopeful it will help him put more batters away in his next stint in the majors.
"I could have gone one of two ways," Grove said. "Throw [my breaking pitches] harder or get something that spins a little more and has a little bit more shape to it. I went with that route, and just toyed with my grip and made an adjustment that way."
Stone and Miller haven't made their major league debuts yet but could be ready at some point this season.
Chris Taylor struggled mightily at the plate for the Dodgers in 2022. He's hoping to find a better swing during spring training.
Miller, who hasn't pitched in a spring game yet because of a slower ramp-up in camp, might have the best raw stuff of any prospect in the organization.
His fastball flirts with triple digits. He can get whiffs with his slider, curveball and changeup. In his third triple-A start near the end of last season, he struck out 14 batters in six innings.
Stone, however, currently looks like the more polished of the two.
After being taken with the second-to-last pick in the pandemic-shortened 2020 draft and struggling in Class A during 2021, Stone burst onto the scene as the Dodgers' minor league pitcher of the year last season.
He led all minor leaguers with a 1.48 ERA, progressed all the way up to triple A (where he posted his best numbers of the year) and so far this camp has earned high praise from Roberts on down.
"There's a lot of talk of Gavin," Roberts said. "He's opened a lot of eyes."
---
There is an irrefutable risk to the Dodgers' pitching depth plan this season.
For all the promise and potential they have in their top four prospects — as well as other younger arms who could contribute if needed this season, such as Andre Jackson — they are still putting a lot of trust into pitchers with little to no major league track record.
They're gambling on a group that offers no guarantees.
And it is quietly looming as a potential linchpin for the team's fate this season.
The Dodgers did explore other possibilities this winter. They were linked with Seth Lugo before he signed with the San Diego Padres. They checked in with the Miami Marlins on Pablo López before he was dealt to the Minnesota Twins.
They could always explore the market around the trade deadline, though it's likely their offense could be a more pressing need in the wake of Gavin Lux's season-ending injury.
For now, they are putting their trust in the current starting five — Julio Urías, Clayton Kershaw, Dustin May, Noah Syndergaard and Gonsolin — and the fast-rising wave of talent behind them.
"You sort of assess the market and potential upside of going outside the organization versus what we had internally, and I think we nailed it," Roberts said, noting the Dodgers have successfully integrated such past prospects such as Urías and Walker Buehler into their rotation.
"I think the floor is higher than people perceive because of the talent of those minor league arms," Roberts added.
General manager Brandon Gomes echoed similar optimism, saying he expects the team's young pitchers to keep progress over the course of the season, regardless of how soon their big league opportunities arise.
"I think each one of them have different things they need to improve upon before becoming impact major leaguers, but they also have different, real strengths," Gomes said. "We'll see as things play out. I sense like we always have, we're going to be using quite a few pitchers. So I think they'll have the opportunity to go out and continue to develop and grow."
And there might be no bigger believer than Hill, who has watched them all blossom from raw newly-drafted projects to highly-anticipated prospects knocking on the door of big league opportunities.
"They've shown all the things that a big league pitcher needs," he said. "Staying on the field. Adaptability with the game plan, with pitching and delivery. And just the mental fortitude to make it work and stick through it. I think they all showed they can handle it."
This year, for better or worse, the Dodgers might not have to wait long to start finding out.
Get our Dodgers Dugout newsletter for insights, news and much more.
You may occasionally receive promotional content from the Los Angeles Times.