Young hitters James Outman, Michael Busch continue to impress in Dodgers win over Reds
GOODYEAR, Ariz. — The Dodgers got a glimpse of their potential future in back-to-back at-bats on Sunday in an 8-1 exhibition win over the Cincinnati Reds.
With one out in the top of the fifth, rookie outfielder James Outman doubled home two runs with a drive off the center field wall. Then, highly-touted infield prospect Micahel Busch followed with a two-run home run in the next at-bat.
Both hitters are vying for the final position player spot on the Dodgers opening day roster. And while both could very well start the season in triple A, they aren't making the decision easy on the club barely three weeks out from the end of spring.
"We've got a lot of good options at this point," manager Dave Roberts said.
After Sunday's performance, Outman is batting .391 this spring with four extra-base hits and eight RBIs.
"James is unique," Roberts said. "I put his mentality in the Will Smith bucket, as far as [being] unflappable."
Busch, meanwhile, is only boasting a .150 clip in Cactus League play after a slow start to the spring, but feels he's made strides with his mechanics in recent days, shortening his motion and being more on time at the plate.
Asked about the notion he still has to prove himself somewhat to the team, Busch didn't disagree.
"I think there's always that little bit of proving yourself," Busch said. "I haven't made it to the major leagues yet."
How soon that might happen for either player — Outman debuted briefly last August before finishing the campaign back in triple A — remains unclear.
While the Dodgers have an open roster spot in the wake of Gavin Lux's injury, they could choose to start the season with the pair of prospects in triple A and keep a more experienced veteran — such as Luke Williams, Yonny Hernandez or Steven Duggar, who also received praise from Roberts on Sunday — with the big-league team.
But at some point soon, opportunities for Outman and Busch seem to be coming.
"I'm just gonna stay ready," Busch said. "Just try to take it day by day, keep a good attitude, and get after it."
James Outman looking big-league ready, maybe even for opening day
PHOENIX — If James Outman doesn't begin the season on the Dodgers' big-league roster, it won't be because he didn't look ready.
On Saturday, the Dodgers outfield prospect extended his blistering start to Cactus League play, hitting a solo home run in a one-for-two performance that further showcased his improvements this spring.
Outman is batting .400 in 20 spring at-bats, with two home runs and six RBIs.
And with an open roster spot up for grabs in the wake of Gavin Lux's injury, Outman continues to press his case to make the Dodgers' opening-day team.
"Even before the home run, he just has an ability to conduct an at-bat," manager Dave Roberts said. "He spoiled a 2-2 pitch to then get to the pitch that he hit a homer. And even when he's not getting hits, he's making pitchers work and executing a plan."
The Dodgers are undecided on where Outman, who flashed his skill during a brief MLB debut last year, will begin this season.
Though the team has a need for another left-handed bat — even from an outfielder, thanks to the defensive versatility provided by Chris Taylor and Mookie Betts — the club also wants to give the 25-year-old regular at-bats early in the season.
That might be tough to achieve on the major-league roster, at least to begin the regular season.
But given the way Outman has played, it isn't out of the question.
"Is he big-league ready? I would say he is," Roberts said. "How we shake out, that's a different question. But yeah, he's doing everything he can do."
Noah Syndergaard pitches well again, shows another uptick of velocity
PHOENIX — Noah Syndergaard took another positive step in his spring preparation on Saturday, pitching 4 1/3 sharp innings in the Dodgers game against the Chicago Cubs.
Once again, the right-hander's velocity was tick up compared to his previous start. He hit 94 mph several times and was sitting 92-93 with his heater.
But more important to Syndergaard — who gave up one run on three hits and no walks while striking out four — was that he continued to feel "external" on the mound, trusting his revamped delivery and focusing only on executing pitches.
"Towards the end, I was kind of able to go on autopilot," Syndergaard said. "Being internal on the mound [and thinking too much about mechanics] has been my Achilles heel my whole career, so it's encouraging that everything's going in that direction, just focusing on external results."
Tony Gonsolin still facing 'awfully slow progression' from ankle sprain
Dodgers manager Dave Roberts didn't have much of an update on pitcher Tony Gonsolin on Saturday, other than to reiterate that the right-hander is facing an "awfully slow progression" in his recovery from a sprained ankle.
"With the ankle, if you can't really bear weight, then potentially you got to guard against an arm injury, not getting over your front side and all that stuff," Roberts said. "So we're going to be very cautious and mindful about it."
Roberts said Gonsolin has been able to play catch with plyo balls, but not much beyond that.
Barring a rapid improvement in the next week or two, it still seems likely Gonsolin won't be ready for the start of the regular season.
Noah Syndergaard takes the mound, while J.D. Martinez will play outfield
PHOENIX — Noah Syndergaard will make his third start of the spring Saturday afternoon in one of two games the Dodgers will play on their first split squad day of the spring.
While Syndergaard will stay at Camelback Ranch to face the Cubs — along with manager Dave Roberts and several other regulars, including Miguel Rojas, Max Muncy and J.D. Martinez — another group of Dodgers will travel to Scottsdale to face the Giants.
Jason Heyward, Miguel Vargas and Chris Taylor are among that traveling party, which will be managed by bench coach Danny Lehmann and major league field coordinator Bob Geren.
Syndergaard's outing will be the biggest focus of the day. After increasing his maximum velocity from 93 mph in his spring debut to 94 mph last week, the right-hander will be looking to add another tick or two as he continues to revamp his mechanics after an up-and-down 2022 season.
"He's assimilated really well with our guys," manager Dave Roberts said. "Velocity, all that stuff, is going to show in the results."
In another twist Saturday, Martinez will play left field in the game against the Cubs — the first time the newly signed slugger has played a defensive position in a game this spring.
"I think to get him on the grass will be good for him," Roberts said.
Asked if Martinez could see time this season in the outfield, where he has played previously in his career, Roberts said it was likely but wasn't sure about how often it might happen.
"I don't have an over-under yet," Roberts joked. "So we'll see."
Here are the Dodgers full lineups for Saturday:
Clayton Kershaw gives up three runs, decides against PitchCom device in first spring start
PHOENIX — Clayton Kershaw's focus was divided during his first start of the spring on Friday.
For the most part, the left-hander simply tried focusing on his stuff, coming away from his three-inning, three-run outing encouraged by how he felt physically even if there was room to improve his performance.
"It was good to get back out there again," said Kershaw, who gave up two home runs but also struck out two and touched 93 mph with his fastball. "Obviously, got some stuff to work on. But over overall, it's a good first step."
Friday was also Kershaw's first time getting to experience Major League Baseball's new gameplay rules — most notably the introduction of a pitch clock and pick-off limit.
Mookie Betts seamlessly adjusts to second base for WBC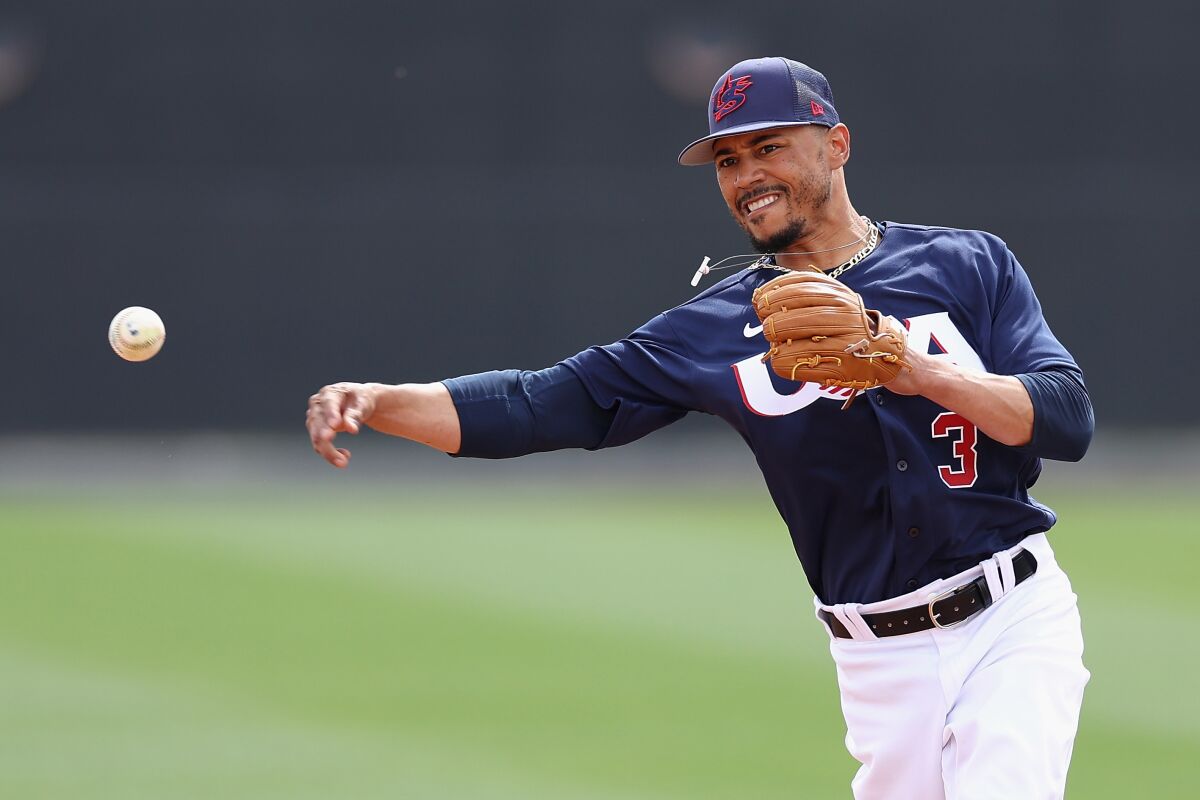 TEMPE, Ariz. — Team USA's starting second baseman Thursday took his position for some work a few hours before the first pitch against the Angels and looked the part.
He fielded groundballs with fluidity. He snapped throws from various arm angles. He shifted up the middle, over to the shortstop side of the bag, and back to shallow right field, all spots he could find himself in during the World Baseball Classic.
Mookie Betts appeared at home because second base was once home.
"It's in my roots," Betts, 30, said Thursday. "It's what I grew up doing and it's hard to kind of get rid of that."
Meet the four prospects spearheading the Dodgers' youth movement on the mound
PHOENIX — It was right around this time of Dodgers spring training last year when Tyler Anderson came walking through the door.
The team didn't have an opening in its starting rotation. And Anderson, a veteran left-hander trying to prolong his career, was given no guarantees beyond a long-relief role in an already-stacked bullpen.
The move seemed minor, if not redundant, at the time.
But within a matter of weeks, Anderson's addition became one of the biggest factors in the Dodgers' 111-win campaign.
That's the nature of a Major League Baseball season. Starting pitchers almost always get hurt. Opening day rotations are virtually certain to change. And oftentimes, a team's performance can be defined by how much it can rely on its overall pitching depth.
Julio Urías ready for his WBC moment as the 'face of baseball in Mexico'
PHOENIX — Julio Urías jogged off the diamond Friday, moments after Team Mexico took its team photo at Chase Field, and held up the front of his white jersey where Mexico was spelled out in red.
"Se ve bonito, ¿no?" he asked.
Doesn't it look pretty?
Urías has played in a Mexico jersey before. Many times. He was invited to participate for national teams throughout his childhood, traveling from his hometown Culiacán to star in various international tournaments. That stopped when he signed with the Dodgers as a teenager nearly 11 years ago.
On Saturday, for the first time since his youth, Urías, 26, will play for his country again when he takes the mound against Colombia in Mexico's World Baseball Classic opener. He'll step on the mound not just as Mexico's ace or an established star for one of Major League Baseball's flagship franchises. Similar to Shohei Ohtani for Japan, Miguel Cabrera for Venezuela, and Mike Trout for the United States, Urías will participate in this tournament as the face of baseball in his country.