Clayton Kershaw returns amid more troubling developments for Dodgers pitching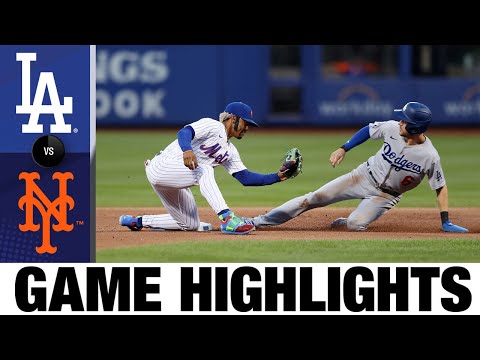 NEW YORK — When the Dodgers stayed quiet at the trade deadline, they did so with the expectation their banged-up pitching staff would get healthy over the final two months of the season.
On the first day of September, however, they still have about as many questions as answers when it comes to health on the mound.
On Thursday, they repeated a familiar sequence, getting both good and bad news on several key arms.
The good: Clayton Kershaw shined in his return from a back injury, pitching five strong innings before the Dodgers coughed up a lead and lost to the New York Mets 5-3 at Citi Field.
Final: Mets take series from Dodgers in 5-3 win
NEW YORK — For the first time since late July, the Dodgers have lost a series.
Despite leading by one following Clayton Kershaw's strong five-inning return from the IL, sloppy defense and shaky relief pitching fueled a pair of two-run rallies for the Mets down the stretch, giving them a 5-3 win in this week's rubber match at Citi Field.
The Dodgers scored just eight runs in these three games and went 4-for-20 with runners in scoring position.
They are now 90-40.
Final: Mets 5, Dodgers 3
Sloppy Dodgers defense helps Mets tack on two insurance runs in seventh
Gavin Lux was in the middle of another sloppy defensive sequence that helped the Mets extend their lead in the seventh.
After James McCann hit a two-out double, Brandon Nimmo lifted a pop up to shallow right field.
Lux went back on it from second base but then pulled up, seemingly expecting right fielder Mookie Betts to be there.
Betts, however, was nowhere close, with the ball dropping between the two players to score one run and extend the inning, with Starling Marte adding an RBI single in the next at-bat.
End 7th: Mets lead 5-2
Clayton Kershaw exits, then Mets take lead against Chris Martin
After shaky command cost him a run in the first inning, Clayton Kershaw finished his day with four perfect innings after that.
In all, the left-hander struck out six, gave up just one hit and lowered his ERA to 2.59 with his five-inning showing, only leaving the game because of a pitch count of 74.
Not long after Kershaw made way, the Mets got back in the game.
In the sixth, leadoff hitter Starling Marte got aboard with an infield single after Gavin Lux made a soft throw to first.
Then Francisco Lindor ripped a game-tying RBI double to gap in right-center, before stealing third and scoring on a Darin Ruf sac fly.
End 6th: Mets lead 3-2
Clayton Kershaw in a groove through four innings
Since his bases-loaded walk in the first, Clayton Kershaw has hit his stride.
The left-hander has retired 10 batters in a row, including six via strikeout. He's let just one ball leave the infield during that time.
With his pitch count at 67, it appears he will get the fifth inning, as well.
End 4th: Dodgers lead 2-1
Dodgers go in front with Chris Taylor bases-loaded single
Dave Roberts put Chris Taylor in the lineup Thursday, even against a tough right-hander, in hopes it would help the slumping outfielder find a breakthrough at the plate.
His first at-bat certainly wasn't pretty, but it got the job, with Taylor slicing a two-strike bases-loaded single down the right field line to put the Dodgers in front.
Justin Turner, who began the rally with a one-out double, scored easily from third. Behind him, however, the Dodgers committed some poor baserunning.
Gavin Lux was running home from second when he seemed to get a brief stop sign from third base coach Dino Ebel, then was waved home again. Trayce Thompson was close behind Lux at that point and thought the send was for him. Lux scored, but Thompson was thrown out at the plate.
Mid 2nd: Dodgers lead 2-1
Clayton Kershaw walks three in first inning, including with bases-loaded to give Mets lead
Clayton Kershaw's command was not sharp in his first inning back from the injured list.
The left-hander walked three batters during a 25-pitch frame, including a bases-loaded free pass to Mark Canha on just five pitches to plate the day's opening run.
In his first 15 starts this year, Kershaw had walked three or batters in an entire game just once.
The walk to Canha was his first with the bases loaded since 2015.
End 1st: Mets lead 1-0
Brusdar Graterol on injured list; Tony Gonsolin not yet progressing
NEW YORK — The Dodgers were hoping, by this point of the year, their banged up pitching staff would finally be getting healthy.
Instead, they suffered another blow on Thursday.
Just a few weeks after returning from the injured list with a shoulder injury, reliever Brusdar Graterol went back on the IL Thursday with right elbow inflammation.
Graterol said his elbow started bothering him after his most recent outing in Miami on Sunday, and that he is scheduled to get an MRI on Friday.
Manager Dave Roberts said the team is expecting to get Graterol back at some point, but acknowledged there is "moderate concern" with the reliever's latest injury.
"He's obviously a strong, physical guy," Roberts said. "But to kind of have him in and out, healthy and not healthy, is a little disconcerting."
Roberts didn't have encouraging news about injured starting pitcher Tony Gonsolin either.
The right-hander, who went on the injured list this past weekend with a forearm strain, still hasn't resumed pitching and is set to get an MRI on Friday.
"We'll see where it goes, I just don't know," Roberts said. "I said initially it's only going to be two starts. That's still our hope. I'll leave it at that ... It just hasn't progressed."
Short hops
Roberts provided updates Thursday on several other injured Dodgers relievers. He said Yency Almonte (elbow) came through a bullpen session on Wednesday well, and is on track for a mid-September return. So too are Tommy Kahnle, Danny Duffy and Victor González, who are all out on rehab assignments right now.
Clayton Kershaw returns from IL to start series finale
NEW YORK — After missing almost a month with his second back injury of the season, Clayton Kershaw will make his return from the injured list Thursday as the Dodgers try to take the rubber match of a three-game series against the New York Mets.
Kershaw enters with a 7-3 record and 2.64 ERA, though hasn't pitched since his back tightened up during a start on Aug. 4 in San Francisco.
Manager Dave Roberts said the left-hander will likely pitch four to five innings against the Mets, and that his back isn't a major concern over the final month of the season — despite his history of injuries.
"We chalked it up to a flare up," Roberts said. "With the epidural [shot] he took, we just feel like that's gonna be enough to get him through the season strong and healthy."
Though the Mets will pitch right-hander Chris Bassitt ( 11-7, 3.34 ERA) in the series finale, the Dodgers did not start left-handed hitters Cody Bellinger and Joey Gallo.
Why?
"I just felt that both those guys need a day," Roberts said, with Gallo currently in a 0 for 16 skid and Bellinger just one for his last 13.
Roberts also said the team wanted to give Trayce Thompson an opportunity against a righty — Thompson has had strong reverse splits this year — and Chris Taylor more time to try to work through his own slump of late.
Here is the Dodgers lineup:
Dodgers struggle against ace Jacob deGrom in loss to Mets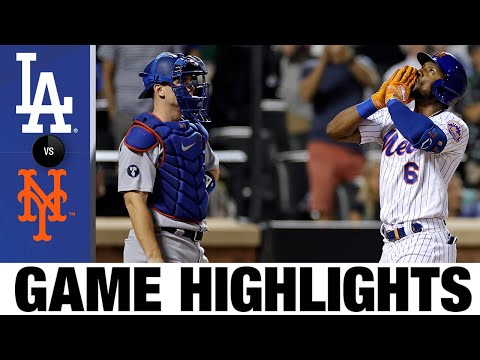 NEW YORK — Dave Roberts billed it as a potential postseason pitching matchup.
If so, he better hope the Dodgers do a whole lot better against Jacob deGrom in October.
In a 2-1 loss to the New York Mets on Wednesday night, the Dodgers could never fully crack the two-time Cy Young Award winner.
They were hitless over the first four innings. They didn't score their first run until the sixth. And, for a team that entered the night leading baseball in most offensive categories, it looked largely overmatched for one of the only times this year.