In response to Dodgers' Pride Night removal, Sisters vow: We will continue 'to serve and uplift'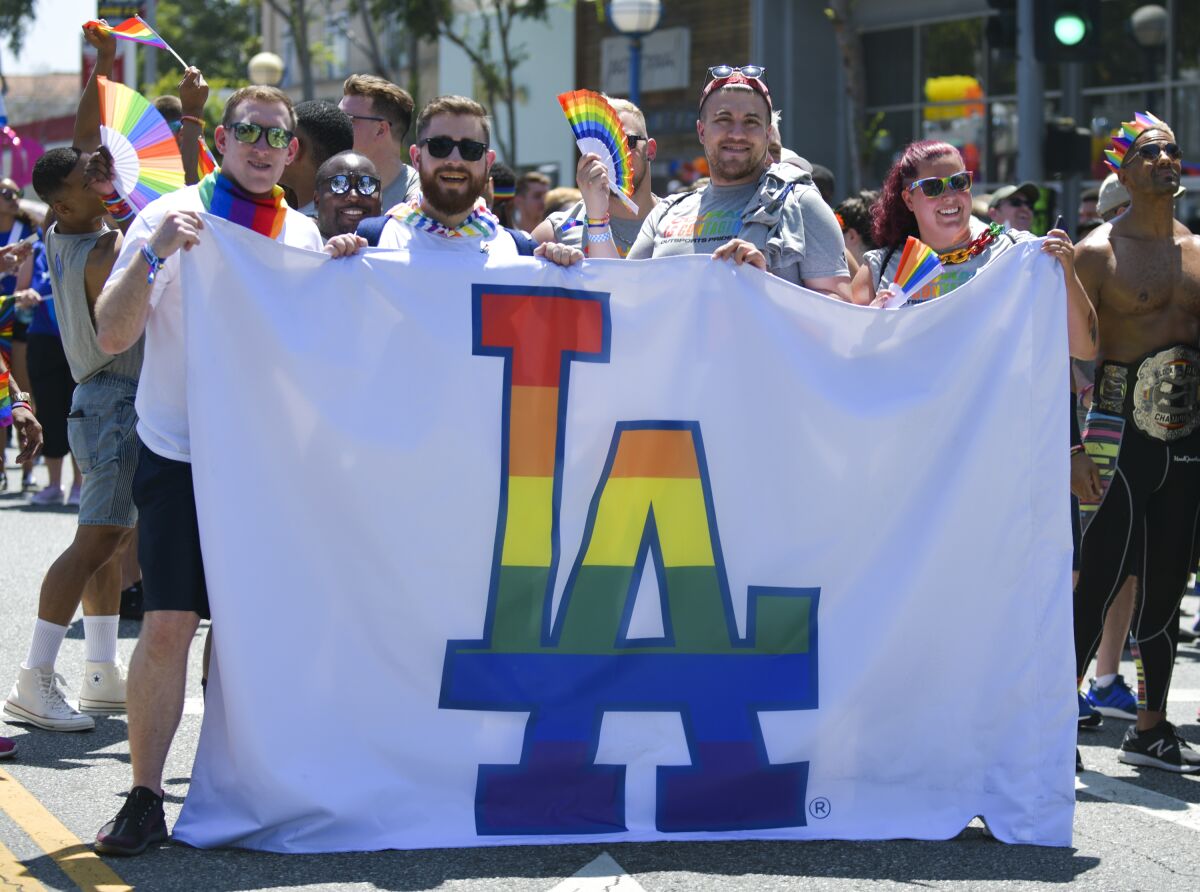 LGBTQ+ Pride Night at Dodger Stadium has been a rainbow-colored expression of inclusion popular with many fans. At the moment, that won't include one particular group at the Dodgers' 10th annual Pride Night on June 16 for a game against the San Francisco Giants.
The Dodgers announced that the Sisters of Perpetual Indulgence, a charity, protest and satirical performance organization that uses humor, drag and religious imagery to call attention to sexual intolerance, no longer will be honored with the team's Community Hero Award in a pregame ceremony because of pressure from conservative Catholic organizations.
However, the Dodgers underestimated the backlash from their decision not to honor the group and team officials are discussing a compromise, according to two people aware of the team's thinking who requested anonymity because they weren't authorized to speak publicly about the situation.
"As it stands now, we'd lose our Pride Night," one person said. "I don't know how we'd come back from that."
The Los Angeles LGBT Center demanded the Dodgers reverse course or cancel Pride Night altogether. The ACLU posted on Twitter, "In unity with @SFSisters, we will not participate in Pride Night," and L.A. County Supervisor Lindsey Horvath tweeted, "If they're not invited, I'm not going. Celebrating Pride is about inclusion. Do better."
L.A. City Councilmember Eunisses Hernandez, whose district includes Dodger Stadium, posted on Twitter: "Los Angeles must be a place where everyone feels empowered to express themselves, and this move undermines that."
The Dodgers responded to criticism for their decision to exclude the Sisters of Perpetual Indulgence from their June 16 Pride Night by reversing course.
The pushback from LGBTQ+ supporters came a day after the Dodgers and the Major League Baseball commissioner's office were the target of email campaigns by conservative Catholics who objected to the Sisters of Perpetual Indulgence getting an award. The Dodgers, in turn, decided not to honor the group.
"Given the strong feelings of people who have been offended by the Sisters' inclusion in our evening, and in an effort not to distract from the great benefits that we have seen over the years of Pride Night, we are deciding to remove them from this year's group of honorees," the Dodgers wrote Wednesday in a statement.
One of the people with knowledge of the Dodgers' thinking said a campaign by conservative Catholics to call the Dodgers and voice concerns made a difference.
"They caught people off guard, we had to handle the phones and get yelled at on the front lines," the person said. "It sends everyone in a tizzy."
Brian Burch, president of the Catholic advocacy organization CatholicVote, expressed outrage shortly before the Dodgers did their about-face.
The Dodgers faced serious consternation after the franchise announced it would no longer honor satirical LGBTQ+ group the Sisters of Perpetual Indulgence during its annual Pride Night event.
"No other religion would be treated this way — and if the Dodgers truly care about fighting bigotry and promoting inclusivity, they will retract their invite to this disgusting, offensive and dangerous hate group," Burch said in a statement.
Eric Pruitt, co-founder of the L.A. chapter of the Sisters of Perpetual Indulgence, responded to the Dodgers' decision with an email that read in part: "Our mission is to uplift our community and all marginalized groups, especially the ones ignored by larger organizations, spiritually oriented or otherwise. We are queer nuns serving our people just as nuns of other cultures serve theirs.
"... We are grateful and proud when other organizations choose to acknowledge our service, yet our own focus remains on the work of removing suffering and promulgating joy. While we may no longer appear on Dodgers Pride Night, we will be out on the streets of Los Angeles continuing to serve and uplift our community."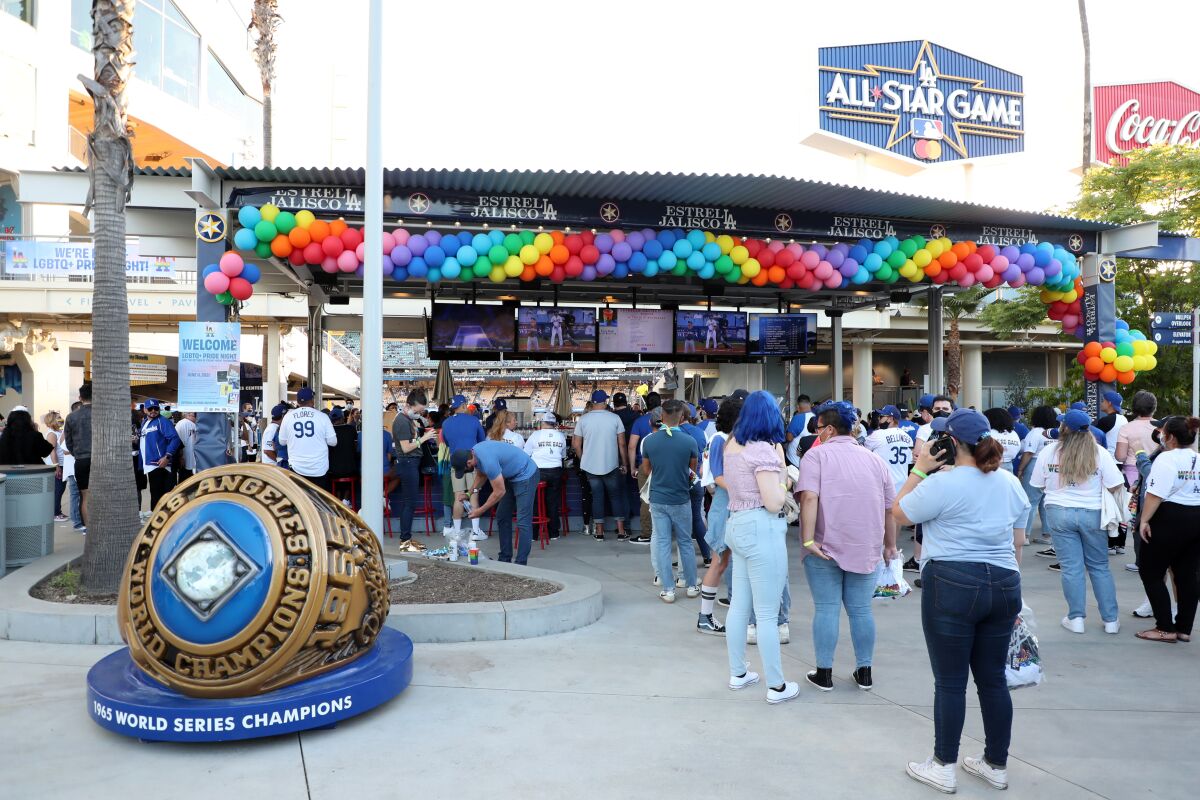 It's not the first time the team — and Major League Baseball — has responded to public opinion. After years of prodding from the LGBTQ+ community, the Dodgers in 2022 recognized the late Glenn Burke — a former Dodger and the first major leaguer to come out as gay — during Pride Night festivities.
MLB in 2021 pulled the All-Star Game out of Atlanta in protest of a new voting law in Georgia favored by Republicans.
The Dodgers' Pride Night plans sparked national debate after R.M. Vierling, a Catholic priest with a large social media following, posted on Twitter that he had written to MLB Commissioner Rob Manfred about "this outrageous insult to Catholics" and listed Manfred's email address online.
"Our huge list of email subscribers came through, and we are grateful for their input," Vierling tweeted Wednesday. "We also want to thank Commissioner Manfred, and the Dodgers, for doing the right thing. ... Justice was done in the end. There is no room for anti-Catholic bigotry in any gay or trans celebratory event."
Sen. Marco Rubio (R-Fla.) also sent a letter to Manfred protesting the Dodgers' plan to honor the group.
California's boycott on state-funded travel to anti-LGBTQ states closes down communication rather than opening it up.
The Sisters of Perpetual Indulgence began as three men dressed as nuns in habits in 1979 in San Francisco's Castro District. Their first fundraiser earned $1,500 for San Francisco's Metropolitan Community Church Cuban Refugee Program.
The group grew into a nonprofit described in its mission statement as the "leading-edge Order of queer nuns" devoted "to community service, ministry and outreach to those on the edges, and to promoting human rights, respect for diversity and spiritual enlightenment. ... We believe all people have a right to express their unique joy and beauty and we use humor and irreverent wit to expose the forces of bigotry, complacency and guilt that chain the human spirit."
Finding themselves in the center of a political and cultural maelstrom, the Dodgers tried to balance what has become an extraordinary annual celebration of the LGBTQ+ community with the sentiments of another large constituency: Catholics.
Gov. Gavin Newsom has barely used an LGBTQ clemency initiative he launched in 2020 to pardon gay Californians who were "subjected to discriminatory arrest and prosecution."
Erik Braverman, the team's senior vice president of marketing, communications and broadcasting, is gay, was married last summer at Dodger Stadium and arranged for the team to partner with L.A. Pride to make Dodgers Pride Night one of the most popular in baseball.
L.A. Pride had refrained from commenting until Thursday evening when the organization that the second weekend in June will host L.A. Pride 2023 tweeted that it will not participate in the Dodgers' Pride Night due to exclusion of Los Angeles Sisters of Perpetual Indulgence.
Many Dodgers employees were upset that the team responded so quickly to criticism by announcing that the Sisters of Perpetual Indulgence would not be honored, according to a staffer who requested anonymity because the person was not authorized to speak with media about the issue.
"[Pride Night] has become a meaningful tradition, highlighting not only the diversity and resilience within our fan base, but also the impactful work of extraordinary community groups," the team's statement said. "We are now aware that our inclusion of one group in particular — the Sisters of Perpetual Indulgence — in this year's pride night has been the source of some controversy."
Get our Dodgers Dugout newsletter for insights, news and much more.
You may occasionally receive promotional content from the Los Angeles Times.