'He's kind of the stopper.' Clayton Kershaw helps Dodgers end their skid
CINCINNATI —
Of the many missing ingredients that have afflicted the Dodgers' struggling pitching staff, one has started looming large among the rest.
The team's starters haven't pitched nearly deep enough into games.
And, as evidenced by their 22nd-ranked team earned run average, it has led to a slew of cascading side effects.
"It's important," manager Dave Roberts said about starting pitching length. "With relievers as volatile as they are, to put them in stressful games every night, to have to use certain guys every night, it gets taxing."
Diego Cartaya entered the season as a consensus top-15 prospect. As with nearly every prospect at this stage, questions about Cartaya's professional future linger.
That's what made the 6-0 defeat of the Cincinnati Reds on Thursday so refreshing for the Dodgers.
It wasn't just that the club stopped its losing streak at four games, or managed to avoid a series sweep at Great American Ball Park after being walked off the previous two nights.
Instead, in what has been an all too rare occurrence this season, they got seven strong innings from their starting pitcher, riding Clayton Kershaw's nine-strikeout gem to a much-needed, stress-relieving, staff-resetting win.
"That's why he is who he is," Roberts said of the three-time Cy Young Award winner. "That's why he has the respect of everyone in the league."
Indeed, Kershaw's outing was hardly out of his own personal norm. He has completed at least six innings in nine of 13 starts this season, and gone seven innings in five of them.
Thursday was also the third one in which he didn't allow a run, capping the performance by collecting his 2,900th career strikeout.
In his 16 MLB seasons, Kershaw has 82 starts of six shutout innings or more. And in his 32 outings of seven-plus innings and nine-plus strikeouts, the Dodgers have a 31-1 record.
"Our job as starting pitchers is to pitch deep into games, get those seven-, eight-inning games, reset the bullpen," said Kershaw, who ensured Roberts after the sixth inning he was good for one more frame even with his pitch count at 88.
"It all starts with starting pitching, it does," Kershaw added. "It might be a little biased to say, but at the end of the day, if you have got good starting pitching, you're going to be in the game. And the way our offense is swinging the bats, we just need to do our job. It felt good to do my job today."
The problem for the Dodgers: Few of their other starters have followed the future Hall of Famer's lead.
Excluding Kershaw, the rest of the team's rotation is averaging fewer than five innings per appearance. Julio Urías, their opening day starter, has pitched into the seventh only twice. Tony Gonsolin, an All-Star last year, hasn't done it once.
Granted, some of the numbers have been skewed by Noah Syndergaard, who was having a dismal season before being placed on the injured list Thursday with a finger blister (though the move will serve just as much as a mental reset for the struggling right-hander).
Still, for a Dodgers team that is playing without Dustin May, counting on two rookies in their rotation, and battling inconsistency in the bullpen, more Kershaw-esque outings from other veteran arms could help rectify their unexpected pitching problems.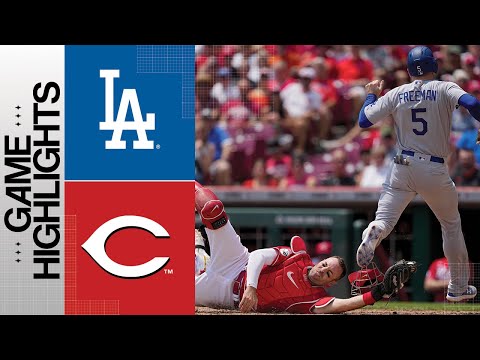 "It seems like every time Clayton is taking the mound, it's a must-win or he's gotta go deep and cover innings," Roberts said. "For him to get through seven and for us to use one reliever today" — Tayler Scott pitched the final two innings of the Dodgers' fifth shutout — "it was enormous."
Kershaw wasn't alone in arresting the Dodgers' season-long losing streak.
David Peralta had four hits and two RBIs, raising his batting average since May 8 to .344.
"It was a matter of time until everything started coming the way I wanted," said Peralta, who started the season in an extended slump.
Freddie Freeman also had two RBIs on two hits. Chris Taylor matched his home run total from last season, collecting his 10th of the campaign on a solo fly. And Austin Barnes added an RBI, his first run driven in and extra-base hit in a month.
Many were skeptical Jonny DeLuca would one day play major league baseball. The outfielder is set to make his debut with the Dodgers on Wednesday.
Barnes also escaped a potential injury in the ninth. Despite getting drilled by a pitch in his hand following an intentional walk to James Outman with two outs — Kershaw was not a fan of that sequence, calling the decision by Reds manager David Bell "pretty ridiculous" given the game was all but over — Barnes said X-rays came back clean.
"It didn't feel too good," Barnes told reporters in front of his locker. "But it seems like it's all right."
The catcher then quickly turned the conversation back toward Kershaw, praising a performance the Dodgers are hoping the rest of their staff can emulate more consistently, as they continue to seek improvements on the mound.
"He's kind of the stopper for us," Barnes said. "We had a couple tough losses, obviously. It's a long season. Games like that are going to happen. You've got to keep moving. And to get momentum back on our side with what Kersh did was good."

Get our Dodgers Dugout newsletter for insights, news and much more.
You may occasionally receive promotional content from the Los Angeles Times.