Corey Perry and the Ducks end 14-year relationship with contract buyout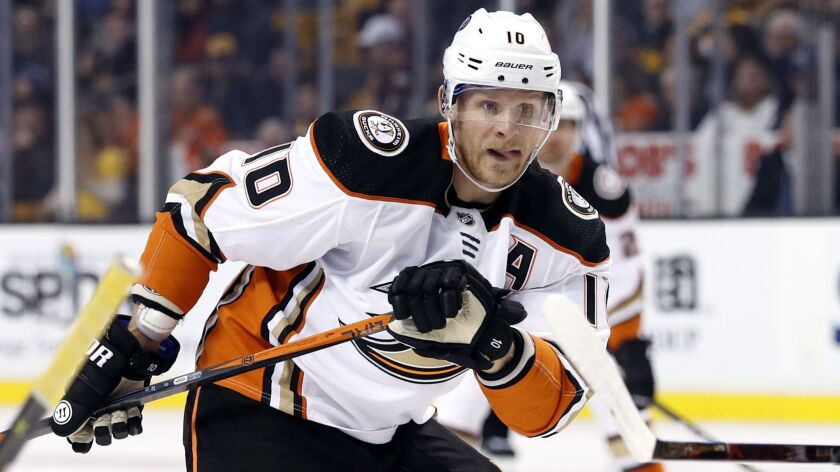 Ducks general manager Bob Murray could see the inevitable decision over Corey Perry unfold right in front of him.
Murray assumed coaching duties late last season, and it became uncomfortably known that the former franchise cornerstone winger no longer fit into the Ducks' plans. Murray procrastinated as long as possible before he decided to buy out the final two years of Perry's contract. The announcement Wednesday marked the end of an era as the Ducks parted ways with their only Hart Trophy winner and all-time leader in games played.
"This is one of the hardest things I've done," Murray said. "It's tough. This guy has epitomized what we have been for 14 years: Do whatever it takes to win, and that's how we've been. Again, it's a very tough call, but it became very apparent, at the end, to me, down on the bench that … this would just be very difficult, for Corey and for us, to have him here."
The Ducks had until June 30 to buy out the 34-year-old Perry, who represented an $8.6 million salary cap hit in each of the next two seasons. Murray explored trades, off a short list of teams, but nothing materialized and a buyout became the realistic, albeit last-resort option, for a player once considered to be a premier power forward.
Murray said it became obvious that other teams were content to wait for the Ducks to buy out Perry and pursue him as a cheaper free-agent option. Murray worked with Perry's representatives on a move elsewhere but ultimately "it wasn't going to happen," Murray said.
The Ducks will pay $2 million next season, $5 million in 2020-21 and $2 million annually through 2022-23. Perry was entering the final two seasons of an eight-year, $69 million extension signed under Murray in 2013. Murray acknowledged the buyout will impact the team financially, especially if the new salary cap isn't as high as anticipated.
"You can't go jumping into any long-term deals right now," Murray said.
The Ducks needed to open a roster spot for a host of young forwards as the club re-invents itself under new coach Dallas Eakins. Perry's game was largely based on an east-west style and cycling the puck down low, which does not jell with how the Ducks want to play. Perry has not reached 20 goals since 2016 and only played in 31 games last season because of a torn meniscus and ligament injury that required surgery on his right knee.
Beyond the logistics, though, the move was a major, symbolic shift for the franchise. Drafted with longtime linemate Ryan Getzlaf in 2003, Perry helped the Ducks win the 2007 Stanley Cup, and his 50-goal season propelled him to the Hart Trophy as the NHL's most valuable player in 2011. He is the second player in hockey history, with former teammate Scott Niedermayer, to win a Cup, an Olympic gold medal, World Championship, World Cup, Memorial Cup and World Junior Championship title.
"We consider Corey's career to date to be Hockey Hall of Fame worthy, based on his accomplishments with the Ducks and his six separate team championships," Ducks owners Henry and Susan Samueli said in a statement. "But we are most proud that winning a team championship at every level never changed who he is — a selfless and dedicated individual committed to enriching the lives of youth and those in need."
The Ducks released a video tribute to Perry, a sentimental gesture for a player that antagonized opponents for so long with his agitation and anchor-like presence around the net. Murray expects to see Perry get back to that form soon in the NHL.
"I firmly believe he can be the cherry on the ice cream sundae that puts a team over the top, because of his competitiveness and his willingness to do whatever [it takes] to win," Murray said. "We're just not there. You have to let people grow into that. But I still think he can do it, and I'm hoping he does."
Twitter: @curtiszupke
---
Get the latest on L.A.'s teams in the daily Sports Report newsletter.
You may occasionally receive promotional content from the Los Angeles Times.