The Anaheim Ducks High School Hockey League produces its first NHL draft pick: 18-year-old Slava Demin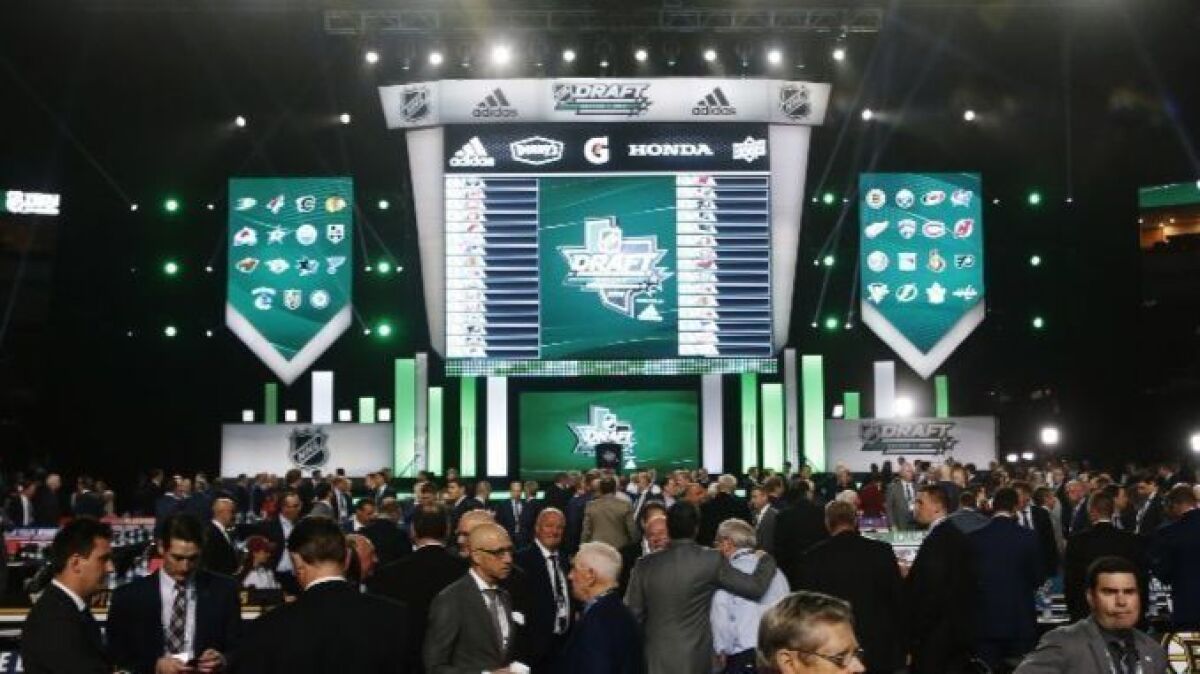 A signature moment in a hockey player's career is when he gets drafted.
The memories of everything that led up to that day, the early morning practices and the long bus rides taken as a kid, bubble to the surface.
Slava Demin was like most teenagers in that sense when he was chosen by the Vegas Golden Knights as their fourth-round pick, 99th overall, at last month's NHL draft. But he was unlike the majority of future NHL players in reflecting on his hockey development. While most prospects rise through youth leagues in Canada or Europe, Demin, 18, remembered cutting his teeth in Orange County, in a high school league that began with one team 11 years ago.
"Looking back, I'm really glad I took that opportunity," said Demin, a defenseman who became the first alum from the Anaheim Ducks High School Hockey League chosen in the NHL draft.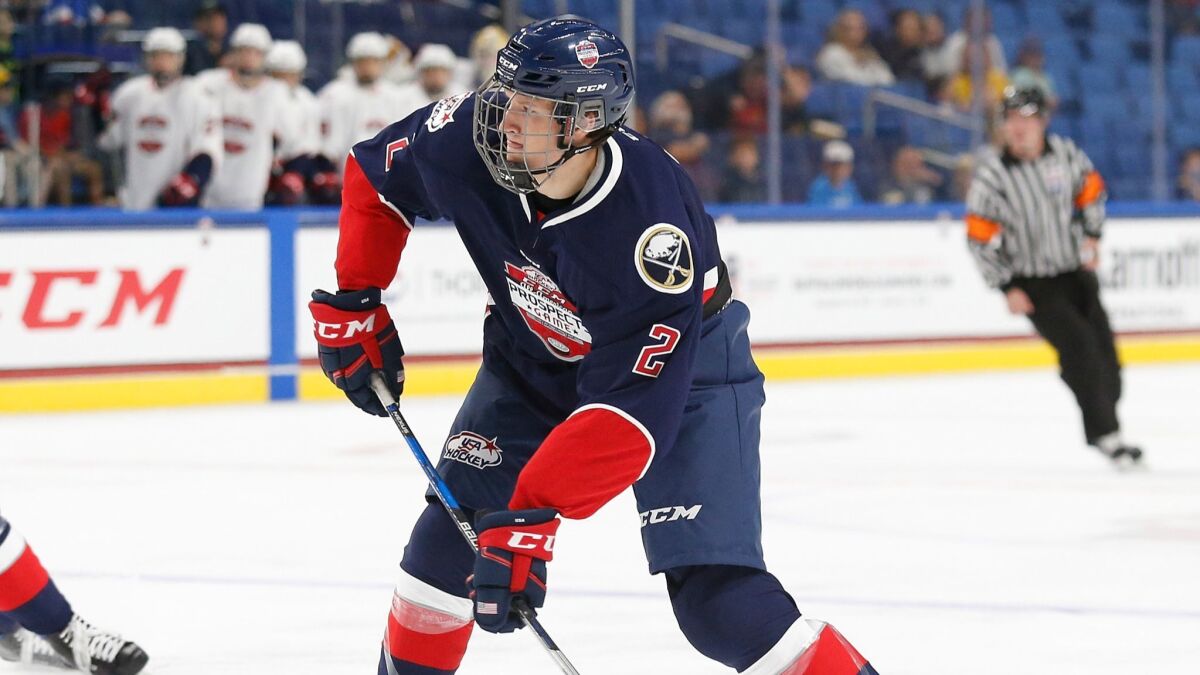 "I thought it was huge. The year before, I got injured and my season got cut in half. Especially going to a team that [had older players], it was really good for my development. A lot was expected of me; I think it just really helped me round out my game."
Demin played for Los Alamitos High for two years before he followed the more conventional path of junior hockey, with the Wenatchee Wild of the British Columbia Hockey League. He was the fourth-highest scoring defenseman in the league last season and will play collegiately for Denver in the fall. His selection in the draft was reflective of the caliber of player locally, and for the Ducks' league.
"It's the hard work that everybody puts in, the coaches and players, and proof that somebody from our own backyard can make it to the NHL," said Art Trottier, vice president of the Ducks' RINKS program.
The high school league began in 2007 with one team, JSerra, and has expanded to 51 teams, some that travel for tournaments in Minnesota and Las Vegas. The RINKS program also facilitates the Jr. Ducks, with whom Demin won an under-16 state title and a bantam state title.
"Ten, eleven years ago we were missing that youth segment in Southern California [because] kids would have to go away to get noticed," Trottier said. "The quality of hockey is growing every year."
That local wave has been building for about a decade. Brian Salcido was the first Southern California born-and-trained player to play for the Ducks, in 2009. The next year's draft saw local products Emerson Etem and Beau Bennett chosen in the first round. Area players now dot training camp rosters as invitees for the Kings and Ducks, and the grassroots movement will continue with the opening of a four-rink practice facility at the Great Park in Irvine in December, one of which will accommodate 2,500 people.
"You always see that high school hockey is huge in Minnesota and North Dakota, but the game has definitely grown in California," said Chase De Leo, a Ducks forward from La Mirada. "You see guys like Emerson Etem and Beau Bennett get drafted. Ever since then it's been getting bigger and better. … You want to see it expand and grow."
That growth was perfectly encapsulated last month when De Leo was acquired in a trade with the Winnipeg Jets for Nic Kerdiles, from Irvine, in a swap of NHL players from Southern California. The two are friends and both played for the L.A. Selects youth team.
"It's pretty crazy when something like that happens," De Leo said.
It's not farfetched to think that De Leo and Kerdiles could one day face Demin in the NHL. The 6-foot-2, 190-pound Demin skates well and rates high for maturity. One scouting publication ranked him 50th among prospects before the draft and noted that Demin plays defense "in his own end like a 10-year NHL veteran."
"The thing with Slava — it starts with his skating," said Bob Lowes, assistant director of player personnel for Vegas. "He's a high-end skater. We talk about puck recovery and puck retrieval. He's able to get to pucks and break out. He's able to get some separation, and if he gets out of position, he's able to get back into position."
Demin is used to adapting and learning quickly. Born a year after his parents, Dmitriy and Natalia, moved to San Jose from Russia because of a job offer for Dmitriy, a software engineer, Demin began skating at 3 and "it kind of went from there. We would go to public skates and wheel around."
The family moved to Cypress when Demin was 8 and, after he initially played with and against older players in the ADHSHL, he began his BCHL career as a 16-year-old against 19-20-year-olds. He helped Wenatchee win the BCHL championship last season and has international experience, having played for the U.S. at last year's Ivan Hlinka Memorial Cup.
Demin models his game after Erik Karlsson, Mattias Ekholm and Roman Josi, but he naturally follows Russian players and was somewhat torn during the Stanley Cup Final. He like how good a story Vegas became but he also felt for Alexander Ovechkin of the Washington Capitals.
"Obviously I'm Russian and he's a big icon in Russia," Demin said. "It's pretty cool for him to win the Stanley Cup. He's worked really hard for it."
Demin remembers seeing Ovechkin play when he attended San Jose Sharks games as a kid. He's never met Ovechkin. If that happens, it might be in the NHL.
First things first. Demin hasn't even put on a Golden Knights jersey for a photo op. He didn't attend the draft because he was enrolled in a class in Denver, so he found out at home. But it still hit home.
"It was a pretty surreal feeling," he said. "You kind of grow up dreaming about it for 18 years, and the moment comes and you're shocked."
A day after the draft, the ADHSHL tweeted out congratulations to Demin with a photo illustration of his past and future: It used logos from the ADHSHL and the Golden Knights, imposed over an action shot of Demin in his Los Alamitos High Griffins jersey.
Twitter: @curtiszupke
Get the latest on L.A.'s teams in the daily Sports Report newsletter.
You may occasionally receive promotional content from the Los Angeles Times.