A webbed defeat for Ducks, who fall to Blackhawks, 5-3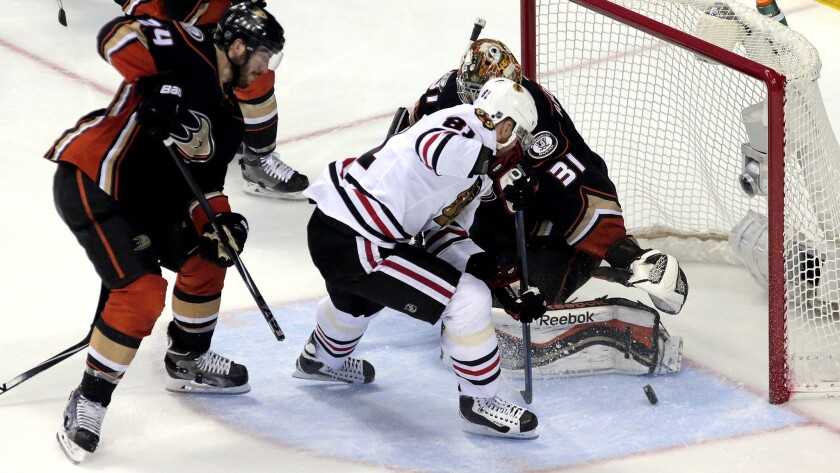 The lessons the Ducks were supposed to have learned from past Game 7 losses were instead reinforced Saturday by the Chicago Blackhawks.
Earning a chance to win their third Stanley Cup in six seasons, the Blackhawks raised their level of play in a 5-3 victory to clinch the Western Conference championship at Honda Center. Meanwhile, the Ducks wilted.
"They played better than us tonight," Ducks center Ryan Getzlaf said after his team became the first in NHL history to lose three consecutive Game 7s at home.
"I'm not telling you they're a better team than us. I'm telling you they played better than us tonight, played good enough to win."
The Ducks have all summer to dissect their Game 7 deficiencies. The Blackhawks will be opening the Stanley Cup Final on Wednesday in Tampa against the Lightning.
Chicago withstood getting outhit, 341-224, in the series and responded with sharp execution when it mattered most.
The championship mettle of Getzlaf's opposing captain, Jonathan Toews, showed as he scored the game's first two goals in the opening 11 minutes, 55 seconds.
"It was our best game of the series, continuing with that pressure," Toews said.
Ducks defenseman Cam Fowler, who battled back tears after committing two giveaways and finishing with a minus-two rating, acknowledged, "They came to play."
Fowler was on the ice for both of Chicago's second-period goals, the lead bulging to 4-0 on a goal right-footed past the goal line by Blackhawks forward Marian Hossa 13:45 in.
"I made a couple plays I wish I could've had back," Fowler said. "Those are hopefully things I can learn from, and try to do better next time."
The Ducks, after posting 31 come-from-behind victories this season, had little chance at a rally this time after scuffling for scoring chances throughout most of the first two periods until Ryan Kesler broke through with 1:09 left in the second.
"You put yourself down four goals in a Game 7 … the comeback kids can only come around so often," Fowler said. "Credit to them. They were the better team tonight.
"It's miserable, an awful feeling, we let a lot of people down. We had a special thing going. For it to be over is a pretty surreal feeling."
Not only has Anaheim lost four consecutive Game 7s dating to 2009, they've blown 3-2 series in the past three seasons. Ducks Coach Bruce Boudreau dropped to 1-6 in Game 7s.
"We truly believed we were a different team," Boudreau said. "We'll have to live with that for the summer."
By the end of the summer, the roster could be reshaped.
The Ducks' list of unrestricted free agents is led by forward Matt Beleskey, who made it 5-3 by scoring with 42 seconds left in the game, and defenseman Francois Beauchemin, who turns 35 next month. Young forwards Jakob Silfverberg and Emerson Etem are restricted free agents.
"We took ourselves a round further, but, ultimately, that Game 7 we've got to be able to finish," Getzlaf said.
Toews went to the net early, a good place to be considering Anaheim goalie Frederik Andersen was struck by a flood of 18 goals in the final four games.
Toews saw a blue-line shot from Blackhawks defenseman Niklas Hjalmarsson skid through and bounce off the goalie's left leg pad, whipping in the rebound for a 1-0 lead 2:23 in.
"When the first goal goes in on the first shift, it's not easy to get yourself back going again," Getzlaf said.
Then, an intercepted Silfverberg pass left him to desperately reach for Chicago's Brandon Saad, a hooking penalty. On the power play, Toews struck again for his ninth postseason goal. Defenseman Duncan Keith, who closed the series with five assists in the final two games, assisted, as did forward Brad Richards, who's now 7-0 in Game 7s.
Chicago is 11-4 in elimination games since 2009.
"We're comfortable in big games and we showed it tonight," Chicago forward Patrick Sharp said.
Words weren't needed to document the Ducks' collapse. The somber look on Ducks forward Patrick Maroon's face, the anger of a stick-slamming Beleskey and the quiet of the 17,375 in attendance said everything.
"We expect more — better results," Maroon said.
"This is going to be in the back of my head all summer long. We wanted a better season, to chase after the Stanley Cup. That's what we play for, what we dream of. You've got to take the opportunities in front of you. Two games — not one, two — we had the opportunity."
Asked when he'll get over the loss, Kesler said, "I can't put a timetable on it. Probably never."
lance.pugmire@latimes.com
Twitter: @latimespugmire
---
Get the latest on L.A.'s teams in the daily Sports Report newsletter.
You may occasionally receive promotional content from the Los Angeles Times.