Andrew Cogliano's iron-man streak will end with two-game suspension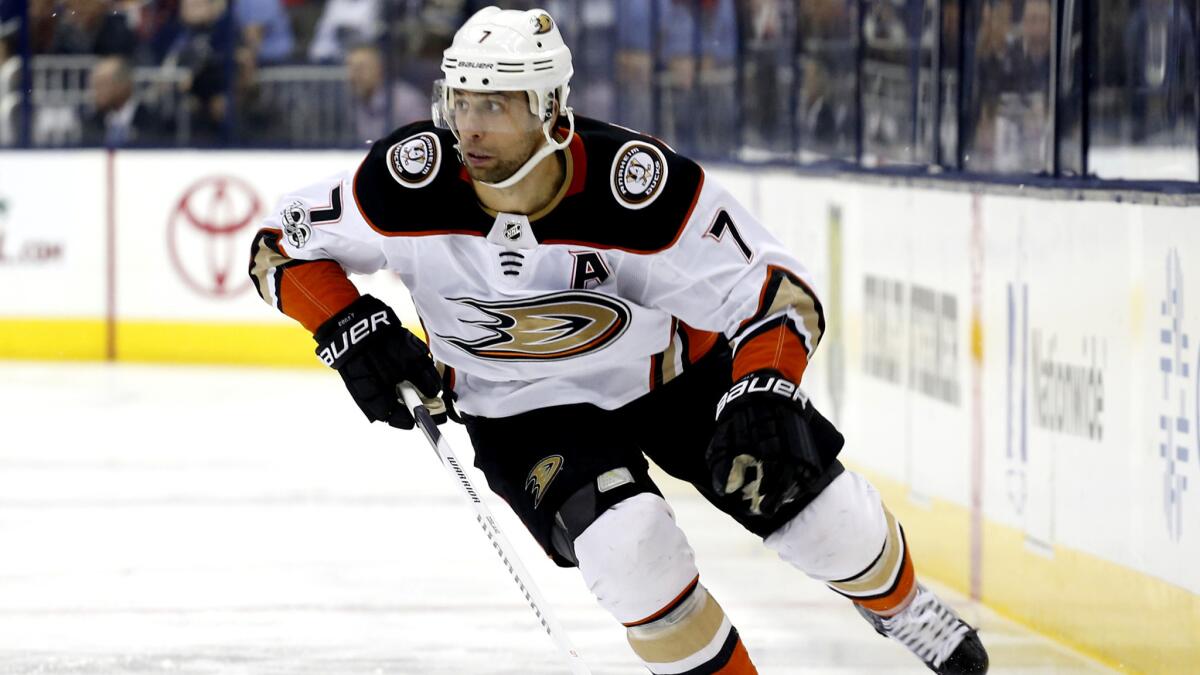 Andrew Cogliano's iron-man streak is over in the most surprising of ways.
The Ducks winger, a four-time nominee for the NHL's Bill Masterton Trophy for sportsmanship, was suspended Sunday for two games because of an illegal hit on Adrian Kempe during the team's 4-2 victory over the Kings one day earlier.
Cogliano not only made contact with Kempe well after he passed the puck, but he delivered the check forcefully with his left shoulder planted into the Kempe's head.
The supplemental discipline brings Cogliano's streak of 830 consecutive games played — the fourth-longest In NHL history — to a conclusion.
He's eligible to return Friday for the Ducks' rematch against the Kings.
It's the first time in Cogliano's career that he's been suspended, and his clean history was taken into account during his hearing with the NHL Department of Player Safety.
"I was going to drive to the net and then I didn't see it coming, so I was surprised," said Kempe. "I'm glad I'm [OK]. I feel good today.
"Obviously it's a big rivalry. Everyone wants to play physical. You expect that from some guys. Sometimes it happens."
Kempe wasn't injured on the play, and it resulted in a minor penalty for interference.
And now the Ducks will be short-handed again as they head into a Monday afternoon contest against the Colorado Avalanche.
The Ducks finally had their full complement of players Saturday (minus Patrick Eaves, who is battling Guillain Barre Syndrome).
The suspension comes in the first game after Cogliano was signed to a three-year contract extension with an average annual value of $3.25 million.
The 30-year-old is one of the team's core players and has been since he was acquired in a summer 2011 deal with the Edmonton Oilers for a second-round draft pick.
Cogliano plays on the team's second line and his ferocious forecheck and frenetic style of play create headaches for the opposing team.
He's also one of the Ducks' best penalty killers and his 14 short-handed goals since joining the club rank second in the NHL during that time.
Cogliano, who had never missed a game during his 11-season NHL career, has 18 points in 44 games this season.
Get the latest on L.A.'s teams in the daily Sports Report newsletter.
You may occasionally receive promotional content from the Los Angeles Times.