Column: The outlook for Daniel Sprong and his new Ducks teammates is getting sunnier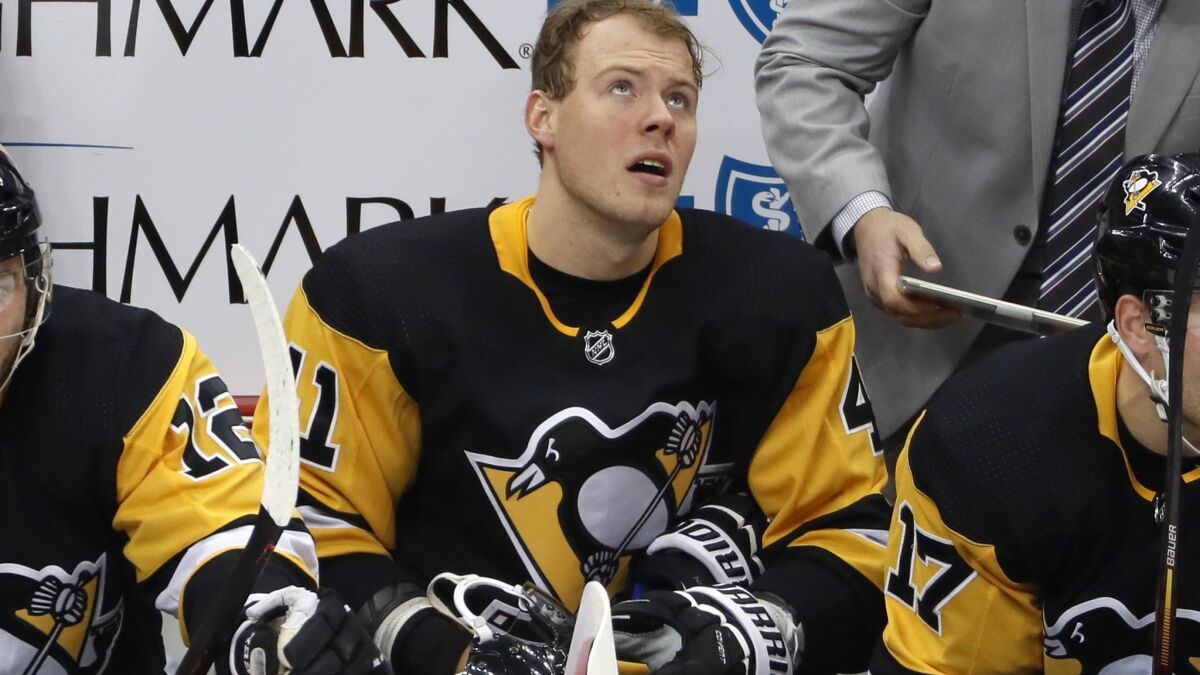 When he woke up Tuesday, the morning after he had been traded from the Penguins to the Ducks, forward Daniel Sprong immediately knew he wasn't in wintry Pittsburgh anymore. "I saw the sun for the first time in a month. I guess that's a good sign, get to see the sun still exists," he said.
The Ducks hope he will soon see the goal light being illuminated after he puts the puck in the net.
Deep and mobile on defense with the development of rookies Josh Mahura and Jacob Larsson, the Ducks felt comfortable trading defenseman Marcus Pettersson to the Penguins for the speed and scoring potential of 21-year-old Sprong. He has produced in juniors — he had three 30-goal seasons — and in the American Hockey League, where he scored 32 goals and 65 points in 65 games for Wilkes-Barre/Scranton (Pa.) last season. Negotiating that last big step to the NHL has been a challenge: In 42 games over three seasons he has four goals and nine points with an average ice time of 9 minutes and 40 seconds per game. This season he was averaging 8:33 and had four assists in 16 games.
It's a low-risk move for the Ducks, who rank near the bottom of the NHL in scoring.
"Right now there's too much pressure on our defense and goaltending. We need to find a way to score more goals," general manager Bob Murray said in a statement. "He will get an opportunity here to show what he can do."
Penguins general manager Jim Rutherford still had faith in Sprong, a second-round draft pick in 2015, but coach Mike Sullivan didn't. That led to a change of scenery for Sprong and, he hopes, a second chance. "I think when you play four, five minutes a night, you ask any guy, there's not much you can do sitting on the bench the whole third period," said Sprong, who skated alongside Nick Ritchie and Adam Henrique in practice Tuesday. "You're not getting out there, it's tough to do things. Those are the cards I was dealt. But it's a new beginning here, a new opportunity, and I'm excited."
Sprong said he knew center Carter Rowney, also a former Penguin, and had played against forward Kiefer Sherwood, but otherwise had to go through a lot of hasty hellos. He appreciated that Henrique and Ritchie constantly communicated with him during practice to prepare him for his Ducks debut Wednesday against Chicago. "They're two big guys, two big bodies that are very skilled," Sprong said. "Of course, hard-working guys as well, talking to me a lot on the ice to make me feel comfortable. I just try to play my game and build some chemistry off the start. See where it goes."
Sprong arrives at an interesting point in the Ducks' season. Their stunning 6-5 comeback victory over the defending Stanley Cup champion Washington Capitals on Sunday extended their winning streak to four and put them in first place in the Pacific Division for a few hours. The lead will change often before the season ends, and no team appears capable of sprinting away from the pack. Calgary's goaltending is suspect. So is San Jose's, and the Sharks haven't figured out how to best use defenseman Erik Karlsson's scoring skills. Edmonton is still sorting out its problems on defense. Vegas has been playing better but isn't on the magical mystery tour it enjoyed last season. The Kings' scoring woes have been even worse than the Ducks' and they'd need a miracle to get back into playoff contention.
The door is open for the Ducks — if they don't trip over themselves. Except for the excellent goaltending of John Gibson and Ryan Miller they've been wildly inconsistent. "If we had the formula to eliminate all of that we'd have used it. I don't know if anybody has that formula in team sports," coach Randy Carlyle said. Performances like their rally at Washington, which sent them home with eight of a possible 10 points on a tough trip, are reminders they have the potential to dominate. But do they have the will?
"There's no reason we can't. It's a matter of getting that consistency in our game where we're playing period in, period out," team captain Ryan Getzlaf said, noting they were flat in the early going at Washington and sabotaged their cause by taking penalties before their resilience kicked in. "We were in a pretty tough spot after a long stretch at home where we didn't play well on any kind of consistent basis. So we've built over the last five games an ability to play at a higher level for a longer period of time. We're definitely not where we want to be but better than when we left. It's a long year. As long as we can hang around and put together stretches, we've just got to grind away and get our lineup going the way we want it to, all the time."
Sprong can play a part in that if he can recapture his scoring touch. "For sure there's a lot of guys that have great resumes, a lot of guys that have been in this league for a long time and guys that I watched playing when I was still in junior, so it's pretty cool to see that," Sprong said of his new teammates. "I'm excited to be here and play my game and help in any way I can."
The sight of the red light going on behind the net would make the Ducks as happy as Sprong was to see sunlight and blue skies.
UP NEXT
vs. Chicago
When: 7:30 p.m. Wednesday.
On the air: TV: NBCSN; Radio: 830.
Update: The Blackhawks, who fired three-time Stanley Cup-winning coach Joel Quenneville on Nov. 6, have lost four straight games and are 3-8-2 under new coach Jeremy Colliton. Ducks defenseman Cam Fowler (facial fractures) is scheduled to resume exercise this weekend. If all goes well he will skate in seven to 10 days, and if that goes well he might return in mid-January. Ducks winger Patrick Eaves has a broken rib that triggered his recent back spasms and is out indefinitely.
Follow Helene Elliott on Twitter @helenenothelen
Get the latest on L.A.'s teams in the daily Sports Report newsletter.
You may occasionally receive promotional content from the Los Angeles Times.