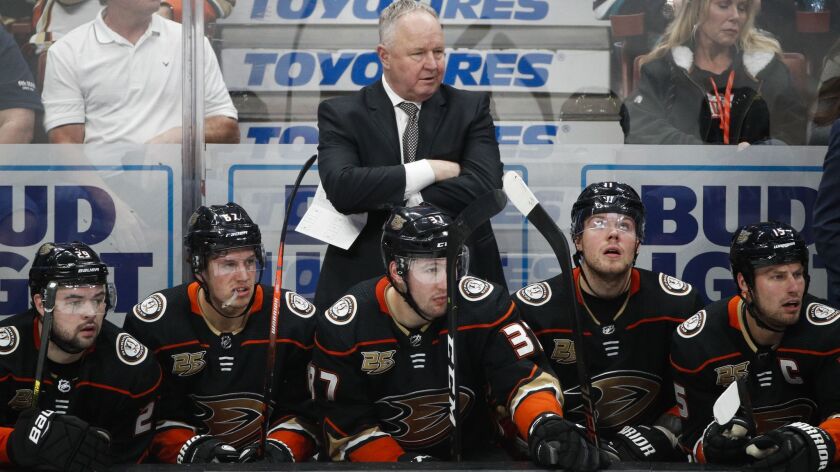 The Ducks entered the All-Star break with just two victories in their last 16 games. At this juncture, it's painfully obvious that the team general manager Bob Murray constructed isn't built to win now; the team's window to win a Stanley Cup has effectively closed.
Ryan Kesler is once again battling an arthritic hip; he's no longer a force on offense, no longer a terror to play against on the other side of the ice. The Ducks don't have a player with more than 12 goals. Their last performance heading into the bye — a 5-1 loss to the St. Louis Blues at home — was perhaps their worst outing of the season.
Cam Fowler, one of the team's leaders, called it one of the worst games he has been a part of. So even though the Ducks are somehow just one point outside of the final wild-card spot in the Western Conference, don't count on them making the playoffs. Even if they somehow squeeze into the postseason, it would be a surprise to see them make any real noise.
Here are five questions facing the Ducks as they enter the final two-plus months of the season:
Will the Ducks be sellers at the trade deadline?
If Murray is pragmatic, he'll unload what assets he's accumulated in exchange for younger, speedier players and/or draft compensation. He said he's not looking at a total rebuild, but it's likely the Ducks will retool. So who's safe? No one, really.
Their best trade chips are players such as onetime All-Star forward Rickard Rakell, Fowler and Jakob Silfverberg, who's a pending unrestricted free agent. Murray told reporters he'd like to re-sign Silfverberg, an effective two-way player, but if those talks don't move quickly, he could be moved to a contender.
Aging veterans Corey Perry and Kesler carry a cap hit next season of $8.25 million and $6.875 million, respectively, making them more difficult to move.
Will the Ducks give more prominent roles to their developing forwards?
Sam Steel, Max Jones and Troy Terry are all up in the NHL after spending the majority of this campaign with the Ducks' AHL affiliate in San Diego. All three forwards flourished in the minors. Steel, a first-round pick in 2016, registered 26 points in 34 games. Terry, who signed with the Ducks last season after starring at University of Denver, has 39 points in 35 games. Max Jones, another 2016 first-round pick who was selected six spots ahead of Steel, has 24 points in 35 contests.
The injection of youth and speed is exactly what the Ducks are searching for this season and beyond. If the players are put into top-six roles over the duration of the campaign, Murray and coach Randy Carlyle should have a better idea of just how close they are to realizing their potential.
Will John Gibson win the Vezina Trophy?
The Ducks' lone All-Star this season has simply been stellar. Gibson's .919 save percentage is even more impressive when you consider both his workload (43 games, only two behind Vegas Golden Knights goalie Marc Andre-Fleury who leads the league) and the lack of help the Ducks' blue line gives him.
Gibson has been hung out to dry too many times to count. Josh Manson has struggled this season (as has the entire defense) and opposing forwards have found the critical areas of the ice with ease. Too often forwards are allowed to hang around the crease with little resistance, but on most nights, Gibson has been stout enough to give the Ducks a chance to win.
The 25-year-old deserves a close look at Vezina Trophy honors as the game's best goalie when awards are voted on, but he'll face an uphill battle if the Ducks fail to qualify for the postseason. The Tampa Bay Lightning's Andrei Vasilevskiy and the Dallas Stars' Ben Bishop also bolster strong cases and each possesses more wins than Gibson's 17.
Will someone step up and emerge as a dependable goal scorer?
Rakell led the team last season with 34 goals. This season, he's battled injuries and has just eight in 38 games. Ondrej Kase was proving himself a scoring threat, but he'll miss the remainder of the season with a torn labrum. Perry has yet to play this season as he recovers from knee surgery, but he's far from the 50-goal scorer he once was.
So who will step up? The Ducks will have to hope Steel, Terry and Jones add some punch up front.
Will Carlyle keep his job this season and beyond?
The Ducks lost 12 consecutive games (0-8-4) at one point and Carlyle's job is sure to come into focus. During that stretch, Carlyle was questioned about his job security before he snapped at a reporter.
Murray has since given his coach a vote of confidence, and it appears Carlyle will finish the season. If the team were going to make a move behind the bench, it would have made sense to do so during the break.
But will Carlyle still be in Anaheim next season? He's an old-school coach who prefers a tough-nosed brand of hockey in an ever-evolving league predicated on speed and finesse. There's plenty of support for Dallas Eakins, the head coach of the San Diego Gulls who once coached the Edmonton Oilers.
The Ducks will have to perform over the final stretch if there's any hope of Carlyle keeping his job next season and beyond.
UP NEXT
AT WINNIPEG
When: 4 p.m. PST
On the air: TV: Prime Ticket; Radio: 830
Update: This is the opener of a five-game trip for the Ducks, who sit one point out of a playoff spot in the Western Conference. Nine of the Ducks' 13 games in February will be on the road. The Jets beat the Ducks 4-3 in overtime in Anaheim on Jan. 13.
---