Ducks' goalies coach takes unusual path to NHL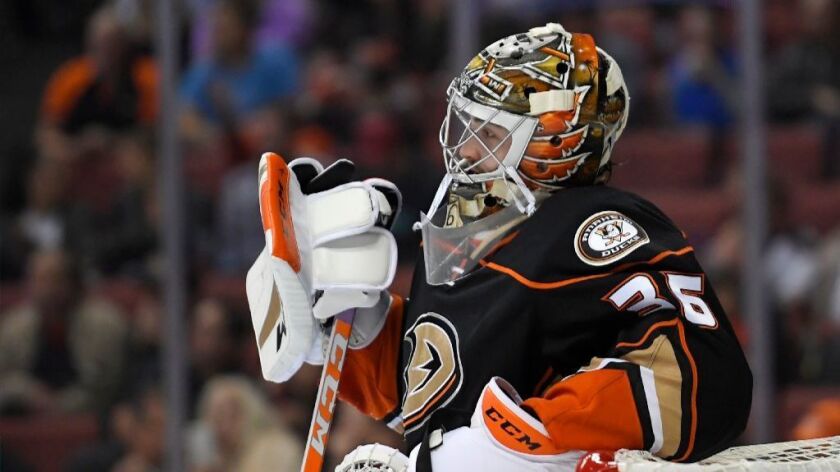 When they were goaltender coaches for the Ducks, Pete Peeters and Dwayne Roloson would sometimes don a mask and goalie pads and face shots in practice. They are former NHL goalies, so it was natural for them to fill in when a Ducks netminder was unavailable.
Will the newest Ducks goalie coach follow suit?
"Not going to happen," Sudarshan Maharaj said. "Not in this lifetime."
Let's just say he veers from tradition.
Maharaj was promoted in the summer to replace Roloson following three seasons in the organization and six seasons with the New York Islanders. He doesn't have a traditional background — he has Indian heritage, was born in Trinidad and never played in the NHL. But he's entrusted to oversee Ducks goalies John Gibson and Jonathan Bernier for a franchise whose short history is steeped in goaltending, which he knows is integral to success.
"Regardless of what [the movie "Racing Stripes"] says, you can't win the Kentucky Derby on a zebra," Maharaj said. "I was fully aware of the level of talent of our guys. No question. I'm not intimidated by that, but seeing it as a real positive."
The NHL gig completes an uncommon path by Maharaj, from his Caribbean roots to his upbringing in Toronto, where his family moved to when he was 6. He fell in love with hockey like any other Canadian, idolized former Philadelphia Flyers goalie Bernie Parent and became a goalie at the prodding of his brother, Deen.
Maharaj experienced racism through sarcastic comments, but those lines were smoothed some by sports. The Toronto neighborhood kids, in true hockey fashion, nicknamed him "Sudsie" — because they couldn't pronounce his name correctly — and Maharaj's love of goaltending and teaching (he has also worked with at-risk youths) translated to a coaching career.
One of his students was Kevin Weekes, a former NHL goalie and an analyst for NHL Network. Weekes cites Maharaj for his "utmost grace, utmost passion and utmost patience" in guiding his career, from his encouraging, late-night text messages to teaching him the butterfly style of goaltending.
"A lot of goaltending is the emotional, psychological and mental part," Weekes said. "There are so many aspects to being a goalie, and Sudsie understands them all."
Weekes, whose parents are from Barbados, also identified with Maharaj's background. He describes Maharaj as the consummate teacher, and that's a common thread from his pupils.
"Sudsie's very positive and he's very hard on detail, which is great for a goalie," Bernier said.
Bernier said it was "definitely a big advantage" knowing that Maharaj would be in the fold upon coming to Anaheim in a July trade. Maharaj coached Bernier during the World Junior Championships and is in his fourth year working with Gibson.
Maharaj practically pinches himself that he plays a part in continuing Anaheim's goalie pipeline, which includes Jean-Sebastien Giguere, Jonas Hiller and Frederik Andersen in their primes. He shook his head when asked about taking the net like Peeters and Roloson because, even though he played goal in college and professionally in Sweden, it's been about seven years since he's faced shots of any kind, let alone from NHL shooters.
It was in Sweden that Maharaj believes he was the target of racially motivated firebombing of his car. Asked about barriers he's faced to reach this career point, Maharaj said, "Hockey is a microcosm of society, and many of the issues that are issues in society you'll run into at times with hockey. But, like anything else, if you really want to progress and advance, you can't look at the hurdle but you have to look at the finish line.
"In my case, I've always kind of tried to look at the finish line. You just have to step a little higher over some hurdles than others."
DUCKS NEXT UP
AT NASHVILLE
When: Saturday, 5 p.m. PST.
On the air: TV: FSW; Radio: 830.
Update: The Ducks took Friday off as they rest from back-to-back games and prepare for their third game in four nights. Nashville has won consecutive games for the first time this season following a rough start that included a 6-1 loss to Anaheim. Goalie Pekka Rinne is 3-0-2 in November.
---
Get the latest on L.A.'s teams in the daily Sports Report newsletter.
You may occasionally receive promotional content from the Los Angeles Times.