Column: Ryan Kesler is energized by fans' taunts and fires up Ducks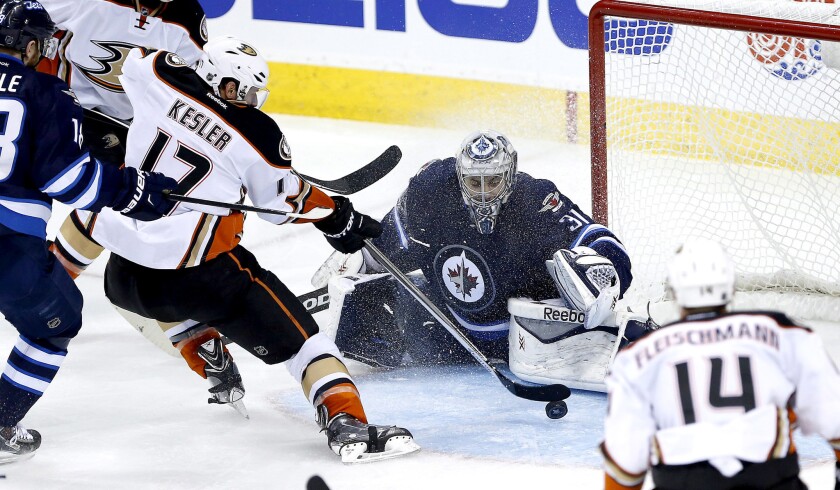 From Winnipeg, Canada —
The more the Winnipeg crowd booed him, the more Ryan Kesler smiled and gained strength in his legs to go everywhere, be everywhere, all over the ice and in the Jets' nightmares.
"It energizes me. Obviously you hear it. It's great," he said. "Obviously I'm doing something right. I fed off it and it helped my game."
The more fans heckled him, the more determined the veteran center became to fulfill the Stanley Cup mission he had in mind when he joined the Ducks in a trade from Vancouver last summer. Led by Kesler's two-goal performance the Ducks on Wednesday took the first step on the trail of the Stanley Cup by finishing off the Jets with a 5-2 victory at MTS Centre, gaining time to heal their many bruises before facing the winner of the Calgary-Vancouver series.
This series was not as easy or as smooth as the word "sweep" suggests. It was rugged and dramatic — Wednesday's game was the only one in which the Ducks carried a lead into the third period — and the loyal fans here made the return of NHL playoff hockey an event that will long be remembered. The Jets have a fine future, but the Ducks' future is now because of Kesler, who centered their second line and became public enemy No. 1 in the city where he spent part of his minor league career.
"It's a building I know from back in the day," he said. "It's nice to come back and be successful."
The Ducks would not have been as successful without his tireless efforts. Kesler battled. He went to the hard areas of the ice. He collected three goals and five points in four games, made his linemates better, and won 63.3% of his faceoffs in a complete performance that completely illustrated why the Ducks wanted him and gave a hint of how far they might go with him on their side.
"It's why we got him," right wing Corey Perry said. "We knew what he could do. He's a heck of a hockey player, and when you have him on your team it's better than playing against him, I'll tell you that much. He's a pest out there; he can make plays, and he did it all series."
General Manager Bob Murray said Kesler's play spoke for itself, but there's more to it.
"He gives us two lines," said Murray, who traded forward Nick Bonino, defenseman Luca Sbisa and two draft picks to Vancouver to get Kesler and a third-round pick in this year's entry draft. "It's tough to play against us now. The pressure's not on only a couple of guys anymore."
Sharing the burden made it lighter and makes the Ducks a more dangerous team.
"I'm really comfortable with our group. I thought we had a good team last year, and I thought we took a lot of strides," Ryan Getzlaf said. "We have guys with some more experience. A little more depth now. I'm really happy with where our group is at after that first round."
Getzlaf and Perry have long been nicknamed "the Twins" for their long friendship and long-standing status as linemates, but Murray suggested Perry's real twin is Kesler because both thrive on being booed by opposing teams' fans. "They're so similar, it's unbelievable," Murray said.
Perry liked that notion. "We like to be the bad guy or the villain or whatever you guys want to call it and use that to our advantage," he said. "It's been like that for the both of us for our whole careers. It's been fun."
Getting this far was fun for Kesler, but he considers this only the beginning.
"You can relish it tonight. But it's one series. We didn't come here to win one series. We came here for the whole thing," he said. "It's one step. We've got another step and we've got three more to go, and we've got to focus on step two now."
With Kesler at his best, the Ducks are capable of a long playoff run. "If we keep playing like that, for sure," he said.
That's as sure as the chances he will be booed wherever the Ducks play next, the rest of this playoff run.
Twitter: @helenenothelen
---
Get the latest on L.A.'s teams in the daily Sports Report newsletter.
You may occasionally receive promotional content from the Los Angeles Times.