Ducks finally get past Kings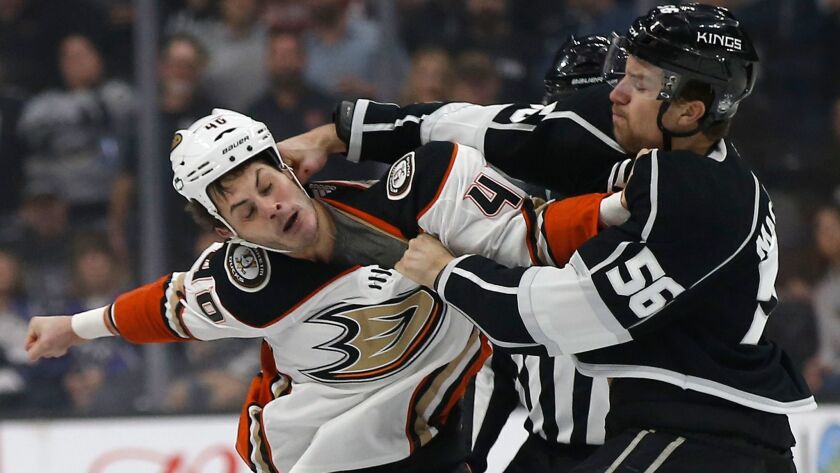 Sensory overload was probably an apt description for the latest Kings-Ducks installment.
It didn't take long for a night dedicated to something standing still — a statue of former Kings broadcaster Bob Miller outside Staples Center — to turn into bodies and fists in motion. The teams got reacquainted Saturday with three fights in the opening three minutes of their game.
For a series always ripe with animosity, it was right on cue. But then the Ducks took the emotion out of it when they plugged up center ice and used Ondrej Kase's two goals, one by Ryan Kesler and an empty-net score by Corey Perry for a 4-2 victory, their first in three tries against the Kings this season.
It happened with the Ducks' healthiest lineup yet in a sign of an interesting second half. The Ducks pulled to four points behind the Kings in the Pacific Division.
"We're out of excuses now with the lineup," Ryan Getzlaf said. "It's a matter of going for our push now. ... [The Kings] have been playing great hockey. They're a measuring stick for our group. When you're talking up the road, the division, those things, we've got to be able to win these games."
The announced 18,443 spectators saw Miller being honored and the Kings' three All-Stars on display. One of them, goalie Jonathan Quick, had an unusually rough night encapsulated by him losing the puck behind the net that Nick Ritchie fed to Kase for an open-net goal and 3-0 lead.
The Kings, the best third-period team in the NHL, followed suit with goals by Nick Shore and Anze Kopitar to pull to 3-2 with fewer than seven minutes remaining. Kopitar's 18th goal was a one-timed shot off a loose puck originally created by Alex Iafallo's pass.
But like many of the Kings' losses, they chased too late.
"Our first 40 minutes were not to the level that we want to play," Kopitar said. "Third period, we're playing catch up. We're playing with desperation, which we should do the first two periods."
Minutes after the in-house Miller ceremony, the Kings and Ducks held a series of fights equally well-staged. Kurtis MacDermid and Jared Boll started it off. Ducks defenseman Kevin Bieksa, who memorably felled Andy Andreoff in the Nov. 25 game, held their rematch. Nick Ritchie then fought Kyle Clifford and landed a punch that sent Clifford to the ice on Clifford's 27th birthday.
"Obviously, those are guys that wanted to make a statement coming out of the break," Getzlaf said. "It was good to see on both sides."
But the game then settled in, and the Ducks got comfortable with first-period goals on shots that Quick normally stops. Kase's steep-angle attempt from the right side made it through an off-balance Quick at 6 minutes 14 seconds of the first period and counted as Kase's career-high 16th point.
"I just tried to shoot," Kase said. "I think it was a little bit lucky."
On the power play, Kesler's wrist shot with Kings defenseman Derek Forbort as a screen went high on Quick for a 2-0 Ducks lead at first intermission.
"I thought we had a lot of guys that showed up ready for the physical challenge, we had some guys that didn't and it cost us," coach John Stevens said. "We cannot win in a game like that unless we have everybody."
While the Ducks were healthy against the Kings for the first time this season, the Kings were without defenseman Jake Muzzin for the second consecutive game because of an upper-body injury.
Twitter: @curtiszupke
---
Get the latest on L.A.'s teams in the daily Sports Report newsletter.
You may occasionally receive promotional content from the Los Angeles Times.