Ducks look forward to a healthy roster in the new year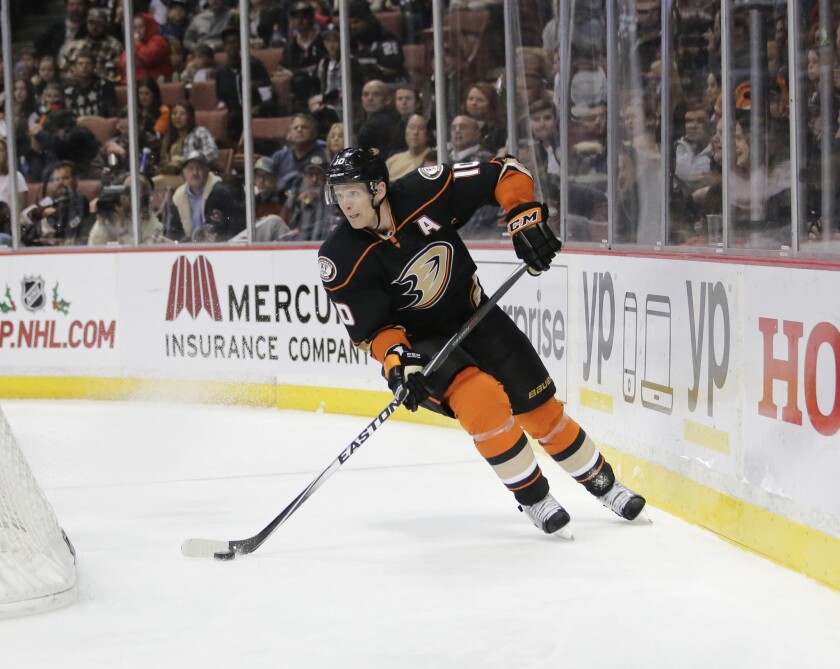 Without health, you're supposed to have nothing.
That hasn't been the case with the Ducks, who lead the NHL in points with a 23-8-5 record while enduring more than 180 man-games lost. They have been affected by a mumps outbreak, broken fingers, fractures in a hand and foot, a sprained knee ...
Sure, they've more than survived, but for the Ducks, enough is enough.
So, the first thing on their holiday wish list is full health.
Corey Perry suffered a double-whammy, missing five games to mumps before suffering a knee sprain that has had him sitting. The right wing has missed 13 games after he opened the season with a staggering 11 goals in 13 games.
Defensemen Ben Lovejoy and Francois Beauchemin have each missed more than 15 games with broken fingers. Beauchemin also had mumps.
And the loss of rookie goalie John Gibson to a groin injury forced Frederik Andersen to play in 20 consecutive games.
Andersen's 12-4-4 record affirmed his No. 1 spot on the depth chart, but it also leaves the team leery, knowing that last season's top goaltender, Jonas Hiller, swooned late after a heavy workload.
Make no mistake: This team's eyes are on the Stanley Cup, and the ailments remain a source of concern.
On Friday — following his team's tired showing in a 6-2 loss in Ottawa — Ducks Coach Bruce Boudreau's injury update began with this preface:
"How big of a list do you want to go?" he asked.
Forward Kyle Palmieri was out until Nov. 16 with a high-ankle sprain and returned with a five-goal vengeance before suffering a shoulder injury last week in Toronto. He had an MRI, but there is no timetable for his return. Defenseman Eric Brewer is out with a broken foot.
"I'm hoping they're all ready to push everyone else for ice time," Boudreau said. "But we're not putting a guy out there who's not 100%."
That's why the Ducks delayed the returns of Beauchemin and Perry. They missed Monday's 3-2 overtime victory over their nearest Pacific Division pursuer, San Jose, who dropped eight points behind.
Perry and Beauchemin are due back Saturday in Arizona, but Boudreau said that leads to another holiday wish — avoid the sigh of relief.
"When you start saying, 'Here come the guys back, the cavalry's here,' all of a sudden everybody lets up, and, boom, you don't have success," Boudreau said. "Initially, it's going to be the message: that these guys are back, but that doesn't make it nice and rosy.
"Teams will be trying harder against us again. And the guys that have been in for these [sidelined] guys have been trying very hard."
Another wish is for the newest Ducks to produce as had been hoped. Other than center Ryan Kesler (12 goals, 15 assists), the acquisitions by Ducks General Manager Bob Murray have been spotty at best.
Forward Rene Bourque has just one goal in 16 games. Veteran forward Dany Heatley is point-less. Veteran goalie Ilya Bryzgalov surrendered six goals to seventh-place Ottawa on Friday. Brewer is injured, and defenseman Colby Robak has gotten the chance to play only because of roster shortage.
It's led to inconsistent efforts. The Ducks lost 6-2 in Toronto, beat Montreal, 2-1, then were routed by the Senators.
"I hate playing really good, then allowing six goals when we should never allow more than three," Boudreau said.
The absent bodies disrupt power-play and penalty-kill lineups, too, and Anaheim ranks in the bottom half of the league in both categories.
"We're struggling on both of them. Sometimes, it's confidence. Sometimes, it's a lack of Corey Perry," Boudreau said. "You're missing the best scorer in the National Hockey League. It hurts your power play."
Practice became a wilted effort this month because the need to rest certain guys reduced the effectiveness of drills.
"In short practices, the special teams take a back seat to systems," Boudreau said.
The Ducks know one present they're getting — the arrival of January.
Not only does Anaheim expect to be far healthier next month, but also they play only 11 games in the 31 days, with eight at home and two others in California.
"We'll have an awful lot of time to work," Boudreau said.
Follow Lance Pugmire on Twitter @latimespugmire
---
Get the latest on L.A.'s teams in the daily Sports Report newsletter.
You may occasionally receive promotional content from the Los Angeles Times.