Ducks score late in third period and 14 seconds into overtime to beat Oilers 2-1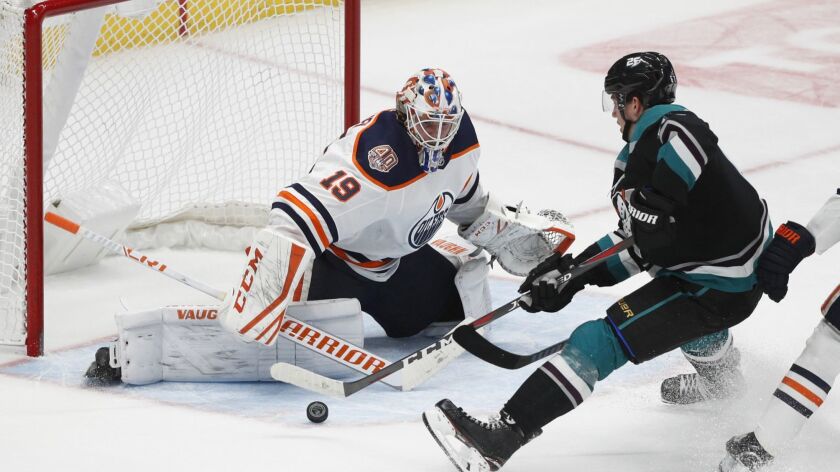 Brandon Montour's stretch pass found Rickard Rakell's stick, and then it was off to the races.
Rakell and fellow speedster Leon Draisaitl dashed to the net; the Ducks winger won out but Edmonton goalie Mikko Koskinen denied him. Not so fast.
Rakell, on his second effort, slipped the puck past Koskinen to lift the Ducks to an improbable 2-1 overtime victory over the Oilers on Friday afternoon before 16,497 at Honda Center.
"I got a little head-start there and I didn't have to stop for the pass so I just had to skate right into it," said Rakell, who ended a goal-scoring drought at nine games. "It was sure nice to see it go in."
The goal 14 seconds into the extra period was the Ducks' second score in fewer than 31 seconds.
With John Gibson (27 saves) on the bench for the extra attacker, the Ducks scored with 16.2 seconds remaining in regulation. Nick Ritchie was standing on the edge of the crease when Marcus Pettersson's shot through traffic bounced to his stick.
"Hopefully [the comeback victory] is something we can count on leapfrogging us ahead," said Ritchie, who scored his first goal of the season.
"There wasn't much going on the whole game. It was pretty tight out there. Not too many really good chances either way. … Big two points for us moving forward."
Dramatic, come-from-behind wins are sometimes exactly what a struggling team needs to turn its fortunes around.
The Ducks have points in four straight games. They go into a five-game trip on a two-game winning streak, just the third occasion this season where they've strung together consecutive victories.
"It takes 60-plus minutes to get points in the NHL, and tonight was a prime example," coach Randy Carlyle said. "It wasn't a hockey game we would say we executed at a very high level. … Hopefully we feel good about ourselves, but if you look inside of it, our execution needs to get to another level.
"We've played better and lost games. This is the cruel part of sports. Sometimes you can play well and don't get points you deserve."
Even if the Ducks didn't execute on offense until the end, they did an admirable job of limiting the dangerous duo of Draisaitl and Connor McDavid.
The pair was held to five combined shots and Draisaitl (26 points in 22 games) was held off the score sheet entirely. McDavid, who has 32 points in 22 games, assisted on Ryan Nugent-Hopkins' third-period goal.
Despite all the struggles this season, the Ducks are in third place in the Pacific Division and in position for the postseason.
Consecutive victories over division rivals help, but now they must continue their success on the road.
---
Get the latest on L.A.'s teams in the daily Sports Report newsletter.
You may occasionally receive promotional content from the Los Angeles Times.