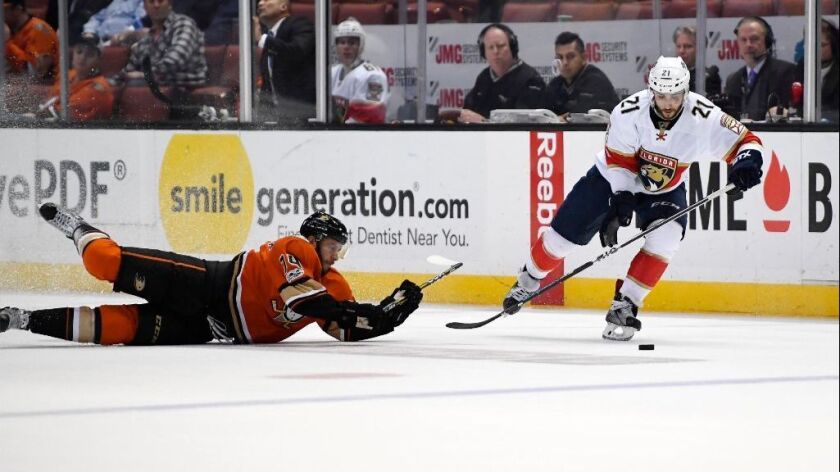 On the night of the worst Southern California storm in years, the Ducks remained stuck in a muddy, inconsistent part of the season.
They let a few minutes get away from them in a 4-1 loss to the Florida Panthers on Friday, continuing to muddle through the final third of the schedule in search of their post-Christmas groove
Here's what we learned:
The second period has gone south. It's been a recurring theme for the Ducks. They've been outscored, 63-51, in the middle frame this season and a lot of it is attributed to brief but crucial breakdowns.
The Ducks have registered nine giveaways, a forgivable number, but team members said it was too many. Andrew Cogliano cited turnovers as the No.1 issue going forward.
"If we want to be a good team, I think as we start getting down to the stretch run here, we've got to limit them, because those are the difference," Cogliano said.
This is a classic late-stage rut. The Ducks have not won consecutive games since Jan.17-19 and have not been able to build on much as they approach Game 60 on Sunday against the Kings.
They have four games to go until their bye week and, given that many NHL teams have fared badly after their break, there is an emphasis on collecting points.
"We need to get back to doing the things we can do," Ducks Coach Randy Carlyle said. "We had a little bit of a pushback for about 12 minutes, but they called their timeout, it settled them down. We didn't get much after that. Our power play didn't really create much. We score a shorthanded goal and you'd think the energy would turn in our favor. It did for a while, but we fed their offense with our turnovers."
Jaromir Jagr could play until he's 50. The play that everyone will talk about was his steal of defenseman Josh Manson behind the net, which he converted to his 760th career goal in a moment that harkened back to, say, 1992.
With plays like that, it's easy to believe the 45-year-old can just keep going. Ducks defenseman Sami Vatanen is sold.
"Of course, he has the longest stick I've ever seen," Vatanen said. "He's very good protecting the puck there. I remember I played my first World Championships in [2010] and he was in front of the net and I was 160 pounds and tried to push him away and had no chance."
---