For Ducks' Cogliano, guarding ironman streak is routine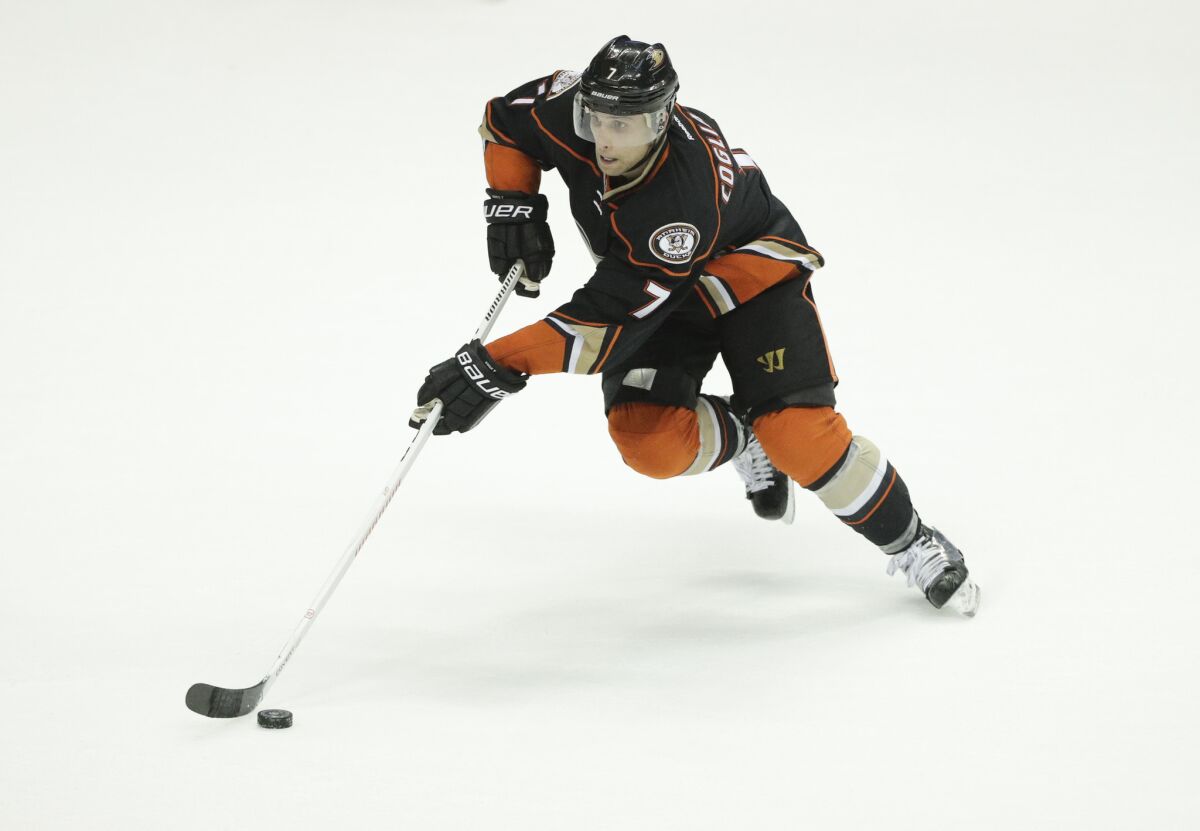 On some days Andrew Cogliano will allow his Italian side to indulge himself. He's well known as one of the fittest, healthiest players in the NHL, but he has guilty-pleasure days like everyone else.
"Pizza, pasta, cheese," Cogliano said. "But I guess who doesn't like that?"
This time of year is when Cogliano allows himself that high-caloric plunge, because when the Ducks go on extended trips he can't always follow his nutrition. But that's part of how he's adapted and evolved his ironman streak to the nuances of age.
"Obviously I'm not 20 or 21 years old anymore," Cogliano, 29, said. "As I've gotten older I've noticed I've had to put in more to do things at a high level. But I've stuck with what's worked."
With 734 consecutive games played going into Thursday's game at the Boston Bruins, Cogliano is closing on fifth place on the NHL's all-time consecutive games played list, a 737-game run by Jay Bouwmeester from 2004 to 2014.
Cogliano is guarded about the streak out of superstition. He's been asked about it frequently over the years but there's no secret to a regimen he says isn't much different from other players.
Ducks Coach Randy Carlyle recently opined that morning skates might eventually be phased out of the NHL, but that players like Cogliano need them. Cogliano typically gets to the rink two hours before a morning skate, has a pregame meal and nap afterward and maybe mixes in a bike ride in the afternoon to stay loose.
"He has a routine," Carlyle said. "He's comfortable with it, and his body responds to it. He's figured that out. A lot of times, a lot of pro athletes take a long time for that to sink in." -
Cogliano would pass Bouwmeester on Tuesday when the Ducks visit Montreal, but Cogliano and his teammates have more urgent matters in the aftermath of a 6-2 loss to the Dallas Stars. Anaheim broke down with five goals allowed in the third period, an uncharacteristic lapse for a team that was 14-0-1 when tied or leading after two periods.
A good sign was that Ryan Getzlaf finally scored his second goal in 24 games as the line of Getzlaf, Corey Perry and Rickard Rakell could be gaining steam. Perry has a six-game point streak.
A bad sign is that the Bruins are in the top third in the NHL in goals against and have won eight games when they've scored two or fewer goals.
The Ducks have responded well after particularly bad losses this season, and the pressure of this six-game trip adds weight to Thursday.
"We need a game where guys need to respond and compete," Cogliano said. "We started off on a note we didn't want. I think going into Christmas everybody wants to be feeling good, and feel good with where we're at. But it's a challenge. They've been good for a while. They make you earn it.
"We've done a good job of never getting too low. I think we need that again. It's a crucial time of this road trip. You don't want to be at the end and fighting for wins and points."
NEXT UP
DUCKS AT BOSTON BRUINS
When: 4 p.m. PST.
Where: TD Garden.
On the air: TV: Prime; Radio: 830
Update: Boston wing David Pastrnak, 20, scored 18 goals in his first 25 games. The Ducks have won five straight in the series and outscored the Bruins, 10-2, in two games last season.
Get the latest on L.A.'s teams in the daily Sports Report newsletter.
You may occasionally receive promotional content from the Los Angeles Times.