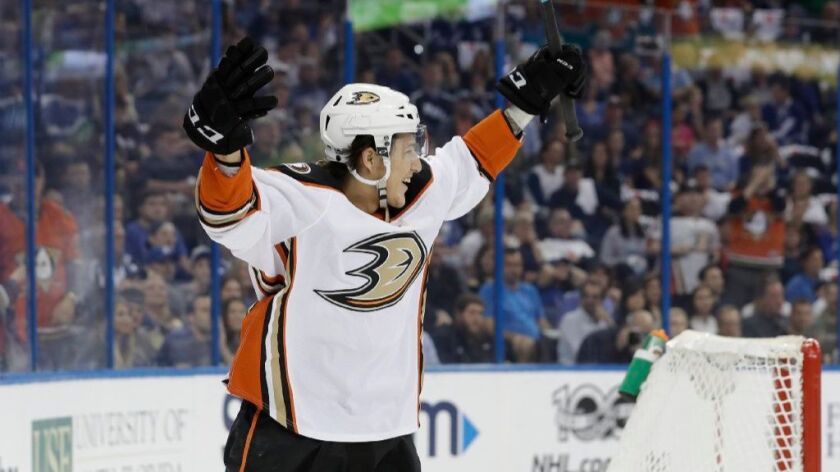 A break in the Ducks' schedule finally allowed Brandon Montour to soak up the sunshine, figuratively and literally.
Montour became a great call-up story over the weekend, when he was summoned from the Ducks' minor league affiliate Friday night for a game Saturday at the Tampa Bay Lightning and scored his first NHL goal.
Montour, a defenseman who scored an overtime goal Friday for the San Diego Gulls in Ontario, Calif., caught a red-eye flight to Detroit, reconnected and later arrived in Florida about four hours before puck drop for the Ducks.
"It was a whirlwind," Montour said in a phone interview from Tampa. "It was a long night, or morning I should say, but it was worth it. I got to the hotel at noon or 12:30 [p.m.] and went to my room quick to try and and get a nap."
The Ducks stayed in sunny Tampa the following two off days and departed for a game Tuesday at the New York Rangers. Montour was recalled following a lower-body injury to Sami Vatanen, who is day-to-day, a team official said. So Montour could go from riding buses in the American Hockey League to the big stage of Madison Square Garden in a span of five days.
Montour has never played in the venerable arena.
"You hear all about it," he said. "It's going to be a pretty wicked night."
Montour's game seems ready for prime time. One of the defensemen gems in Anaheim's system, Montour is an offensive puck mover with a hard shot and would probably crack the lineup regularly on some other NHL teams. He's had an even or plus rating in each of his six NHL games.
His one blemish Saturday was a hooking penalty, one of 14 minor penalties the Ducks have taken the past two games. They were second in the NHL with 211 minor penalties through Sunday.
But Montour has looked right at home and seen power play time. Ducks Coach Randy Carlyle paired Montour with Cam Fowler and also Hampus Lindholm against Tampa Bay, and Montour tried to be a sponge.
"They're top-end players so it's pretty easy," Montour said. "They have different skill sets, but I'm just grateful I can play with those guys. They teach me a lot out there and I learn as much as I can. I'm new out there."
The right-handed Montour has sometimes been paired with fellow dynamic defenseman prospect and left-handed shooter Shea Theodore on the power play during their careers, but they haven't been a regular pairing with the Ducks. Yet.
"Maybe one day," Montour said.
DUCKS NEXT UP
AT N.Y. RANGERS
When: 4 p.m. PST
On the air: TV: Prime; Radio: 830
Update: Free agent signee Michael Grabner leads the Rangers with 23 goals, and New York was second in the NHL with 3.37 goals per game through Sunday. Right wing Kevin Hayes (lower body) is expected to return, while defenseman Marc Staal (flu) is questionable, Rangers Coach Alain Vigneault told reporters. The Ducks haven't defeated the Rangers since 2013, a four-game losing streak.
---