Ducks defenseman Brandon Montour makes his mark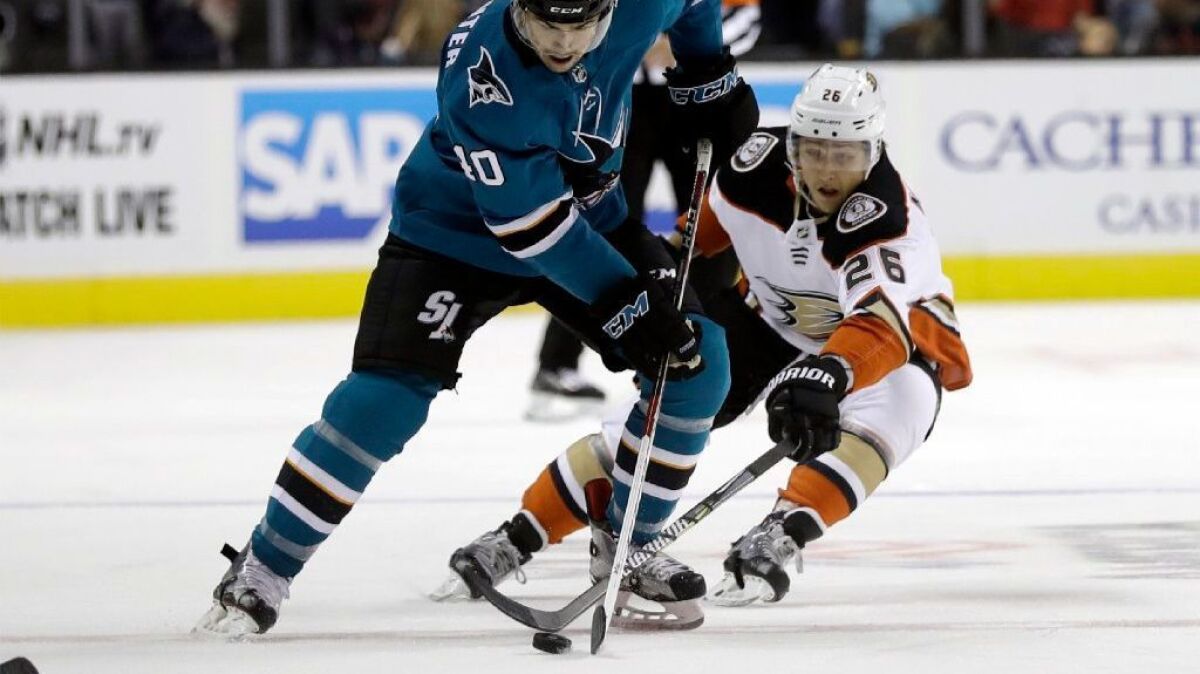 As unappetizing as the prospect of starting the season without defensemen Hampus Lindholm and Sami Vatanen is for the Ducks, Brandon Montour has shown it's not cause for panic.
Montour ranked second in ice time to fellow defenseman Cam Fowler in Thursday night's 3-0 exhibition victory over the San Jose Sharks, illustrating why the Ducks take heart in biding time for Lindholm and Vatanen, who are progressing from offseason shoulder surgeries.
Lindholm practiced with the team for the first time Wednesday.
Montour's "a young kid who's going to continue to have to improve … [and the heavy minutes are] part of the process," Ducks coach Randy Carlyle said after Montour played 22 minutes 28 seconds. "We want to make sure that when they hit the opening of the season, they're well grounded into game mode."
Montour, 23, appeared in 27 games in his debut season, adding seven assists with a plus-12 rating in the playoffs.
His usefulness was seen against the Sharks when he pressed Ryan Carpenter to the boards to set up a possession in the first period.
He also annoyed his foes by poking his stick toward a San Jose player moving toward the net, then pushing puck-carrying San Jose center Chris Tierney in the back.
In the third period, after forward Chris Wagner shimmied from the rear of the net to open the scoring with a backhanded goal, Montour helped preserve the lead by knocking down a San Jose pass on the Sharks' side of the blue line with his left hand.
"You're always happy after a game like that," Montour said. "With guys out, I know I'm prepared. I got a little taste last year, but I feel I'm up for the challenge.
"As we get going here, more experience leads to new challenges. As a smaller guy, I like to play that physical game as much as I can."
Montour worked alongside veteran Francois Beauchemin, who returns to the team this season after helping groom a then-rookie Lindholm while partnering with him.
"It seems like that's what they want," Montour said, "at least until guys get healthy."
Roster cuts
The Ducks trimmed their roster by sending to minor league San Diego centers Sam Carrick and Mitch Hults, wingers Mike Liambas, Scott Sabourin and Corey Tropp and defensemen Brian Cooper, Steve Olesky, Marcus Petersson and Andy Welinski.
One notable survivor was undrafted free agent Giovanni Fiore, who on Thursday night had an assist on Kalle Kossila's empty-net goal and put two shots on goal.
Final cuts are due Monday.
Sending a message
Sharks forward Joel Ward considered kneeling before the national anthem but opted to remain standing near the bench area.
"We need to be working on bridging the gap between people of all color, and between law enforcement and minorities" Ward wrote in an extended Twitter post.
Twitter: @latimespugmire
Get the latest on L.A.'s teams in the daily Sports Report newsletter.
You may occasionally receive promotional content from the Los Angeles Times.