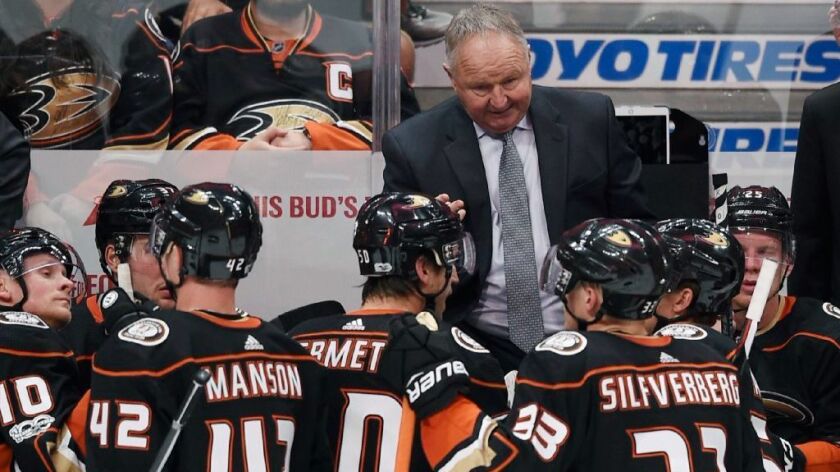 In the throes of a disappointing six-game start (2-3-1) to the new campaign, the Ducks hit reset.
They exchanged sticks for paintball guns; pucks for pellets. They forewent practice Monday and Tuesday and instead engaged in some team-bonding exercises at Camp Pendleton.
With all the injuries taking their toll, player combinations have mostly been a hodgepodge, with little time or ability to create proper chemistry. It remains to be seen whether this two-day break alleviated those issues, but with six games in 11 days, the Ducks simply needed to breathe.
"We haven't created an identity," Ducks coach Randy Carlyle said. "Our identity has to be earned, and it's not something you can just make a statement and go out there and say 'We're going to be this, we're going to be that.'
" … There has been a lot of, I would say, juggling of lines and different players having to play in different positions this year because we knew that there were injuries that were going to take us away, but we did not expect that we were going to lose [Ryan] Getzlaf and [Patrick] Eaves for the extended period of time."
The loss of both top-line players has "really drained on our mentality," Carlyle said, and it's easy to see why. The Ducks already were dealing with the loss of Ryan Kesler (hip), Hampus Lindholm and Sami Vatanen (torn labrums) following offseason surgeries.
Getzlaf and Eaves entered camp healthy, suffered lower-body injuries, and then returned (two games for the captain, one goal in one game for Eaves), only to aggravate their ailments.
Help is on the way, though.
Lindholm, Vatanen and No. 2 goalie Ryan Miller (who hasn't made his Ducks debut while he deals with a wrist injury) fully participated in practice Thursday. Carlyle said two of them are primed to suit up Friday when the Ducks return with a home contest against the Montreal Canadiens.
Lindholm and Vatanen should help immensely on the power play, and also with the offense.
They're adept at moving the puck to the forwards, but the Ducks are still looking for healthy returns there. Getzlaf and Eaves didn't skate Thursday and Carlyle labeled them doubtful to return Friday.
"It's not fun watching, you always want to be playing," said Lindholm, who suffered the injury in the regular-season finale and then labored through the postseason. "You want to get back out there and help right away, but I have to be fair to myself, too. I have to go out there and feel 100%."
With any luck, the Ducks will all feel 100% soon.
UP NEXT
VS. MONTREAL
When: 7 p.m. Friday.
On the air: TV: Prime Ticket; Radio: 830.
Update: The Canadiens (1-5-1) are last in the Eastern Conference with three points, their lone victory via shootout over the Buffalo Sabres on opening night. … The teams split their two games in 2016-17. … Carey Price, one of the game's elite goalies, has struggled for the Canadiens so far with an .885 save percentage and a 3.56 goals-against-average.
sports@latimes.com
---