Ducks head out of town on pivotal road trip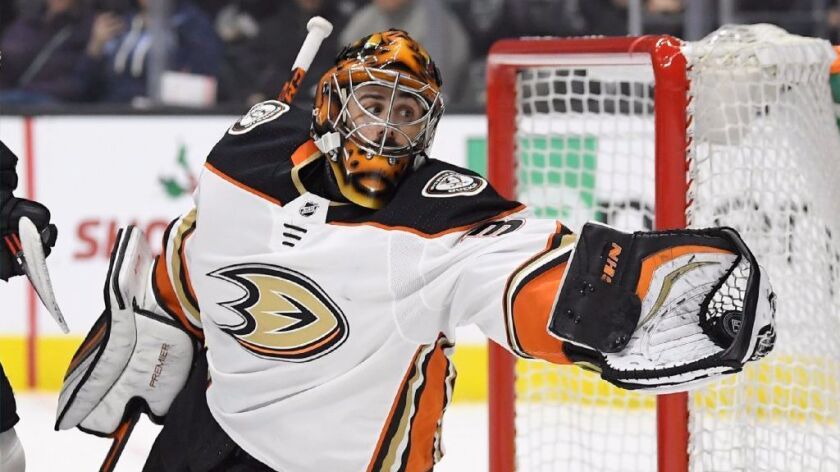 The Ducks' season could easily slip through their fingers during this pivotal road trip, their longest of the season so far.
Including Saturday's shootout defeat to the Kings, the Ducks will play six consecutive games away from home, continuing Monday in Chicago against the Blackhawks.
Each of the Ducks' five road opponents would qualify for the playoffs if the season ended today, and only one of those clubs (the Blackhawks with 25) has accumulated less than 30 points.
And the Ducks (10-9-4, 24 points) know that this road trip could make their recent struggles a distant memory, or it could make their playoff chase an uphill battle.
"We need everything we can get. We know what we got coming down the barrel," said Ryan Miller, who allowed one goal in his return to the net Saturday. "An effort like tonight is going to go a long way. … See if we can keep it going."
Their performance against the Kings was in stark contrast to their consecutive regulation defeats to the Vegas Golden Knights and Winnipeg Jets earlier this week.
In both games, the Ducks were a step slower, fell behind early and allowed a barrage of shots.
On Saturday, their defense was tighter, and they scored first, even if no goals materialized afterward.
Miller acknowledged the Ducks have a "challenge in front of us" and now that top scorer Rickard Rakell (8 goals) is sidelined with an upper-body injury, the road trip could become that much tougher.
Coach Randy Carlyle said the Swede won't make the trip to Chicago, and had no timetable for the winger's return. (He's officially day to day.)
"We know we've stressed our lineup to our bare bones here. … The compete level and the structure and our work ethic and our track, our forecheck, all those were positives for our hockey club," Carlyle said.
"And now we have to find a way to maintain that as we play more games on this road trip."
Another positive: the defensive core is intact after Cam Fowler's return on Monday. "The group that we have is finally now starting to settle in," Carlyle said.
With five of the team's top nine forwards sidelined, Carlyle and Co. need the defense to spearhead the offense with smooth exits, entries and crisp passing.
"I think we've go a really good skating defense and maybe when we're low on forwards," Hampus Lindholm said, "maybe we can help out with the forwards using us a little more — create some offense from our blueline."
There's 10 points out there for the Ducks to grab on this road swing. They're packed tight in the Western Conference standings with at least nine other teams, so points are at a premium.
Sure, they're shorthanded, and they have been for a long time.
But Miller is confident if the Ducks are engaged, they "can push some teams back" with a grinding game.
"We've got some personnel that are now starting to grow more accustomed to their role," Carlyle said, "and it's going to take some growth from their part and it's going to take us providing a game plan they can accomplish."
The growth needs to happen fast. Don't look now, but if the Ducks falter during the road trip, they could find themselves in a hole they're trying to climb out of for the rest of the season.
DUCKS AT CHICAGO BLACKHAWKS
When: Monday, 5:30 p.m. PT
On the air: TV: Fox Sports West; Radio: 830
Update: With Rakell sidelined, former first-round pick Nick Ritchie was elevated to the top line Saturday and scored the team's only goal. … The Ducks were 2-1 against the Blackhawks last season, and this is the first meeting between the clubs this campaign. … Patrick Kane, a former Hart Trophy winner, leads the Blackhawks in goals and assists with 9 and 13, respectively.
sports@latimes.com
---
Get the latest on L.A.'s teams in the daily Sports Report newsletter.
You may occasionally receive promotional content from the Los Angeles Times.