Ducks preview: Projecting the lines, defense pairings and goalies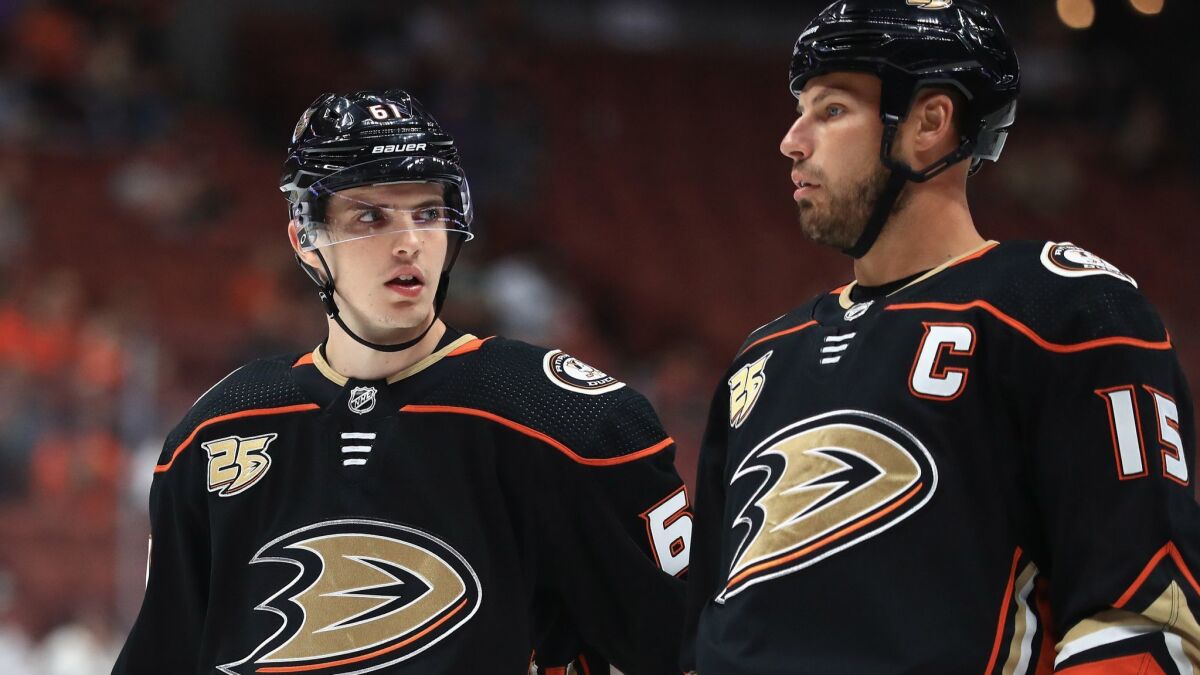 Once again, the Ducks will battle adversity to begin the season. When the puck drops in San Jose on Wednesday, the Ducks will be missing four key forwards, a repeat of last season's injury woes that stretched from summer to fall and beyond. Corey Perry is sidelined for about five months following knee surgery. Ryan Kesler (hip) and Patrick Eaves (shoulder) could be back later this month. Ondrej Kase's status is murkier. He suffered a concussion Saturday and there's no timetable for his recovery. The rash of injuries opened the door for a number of rookies. Six cracked the opening-day roster, the most in the team's 25-year history.
Here are projected lines, defense pairings and goalies, including jersey numbers.
L1 LW Rickard Rakell 67 C Ryan Getzlaf 15 RW Troy Terry 61
With Corey Perry and Patrick Eaves sidelined, the highly touted rookie earns a chance at an extended look on the top unit. Getzlaf is already impressed with Terry's hands.
L2 LW Max Comtois 53 C Adam Henrique 14 RW Jakob Silfverberg 33
Henrique has two new linemates this season including Comtois, the skillful rookie who turned heads during the preseason.
L3 LW Andrew Cogliano 7 C Sam Steel 34 RW Pontus Aberg 20
Aberg was picked up off waivers from the Edmonton Oilers on Monday, and he immediately slides into Ondrej Kase's role. Steel is a dynamic playmaker who could be the best of the rookies.
L4 LW Ben Street 46 C Carter Rowney 24 RW Kiefer Sherwood 64
GM Bob Murray called for the fourth line to receive double the playing time going forward, and the unit is comprised of three guys who will make their Ducks debuts.
D1 Hampus Lindholm 47 Josh Manson 42
The Ducks' shutdown unit remains intact — for now. Coach Randy Carlyle tinkered with a few different combinations during the preseason.
D2 Cam Fowler 4 Brandon Montour 26
Montour established himself as a bona fide top-four defenseman last season and he hopes to provide even more offense this season.
D3 Marcus Pettersson 28 Andrej Sustr 62
Free-agent pickup Luke Schenn figures to see time on the third unit as well, alongside the Swedish rookie.
G John Gibson 36 Ryan Miller 30
The strength of the Ducks is in net. Gibson played at a Vezina Trophy-level last season, and whenever he was sidelined, the team didn't miss a beat with Miller in goal.
Spares: Ryan Kesler and Eaves figure to play top-six roles when they return. Kase will be counted on to score goals when he's in the lineup both at even strength and on the power play. Perry won't be back until around the trade deadline, but he was skating on the top line. Free-agent pickup Brian Gibbons and first-round pick Isac Lundestrom figure to sit on opening night. Nick Ritchie is a restricted free agent and is unsigned.
Special teams: The Ducks hope their stagnant power play (23rd a season ago) is much improved with the addition of five rookie forwards, namely Steel, Terry and Comtois. The penalty kill, No. 5 in the NHL last year, figures to be a strength again.
Who's new: The Ducks failed to make a splash in free agency, opting for low-cost additions to the fourth line like Rowney, Gibbons and Street (Pontus was claimed off waivers Monday.) The other newcomers are all rookies from within the system. Comtois, Steel and Lundstrom were drafted amid high expectations, but Sherwood's success is a surprise.
Who's gone: Consider it addition by subtraction when it comes to the Ducks' blue line. Kevin Bieksa, who is an unsigned unrestricted free agent, was a liability. Francois Beauchemin, who retired, was well past his prime. Fourth-liners Derek Grant and J.T. Brown signed elsewhere.
DUCKS SCHEDULE
All times Pacific and p.m. unless noted. Home games in capital letters. Games televised on Prime Ticket unless noted.
(* NBCSN; # Ch. 13; + FSW)
Oct. 3 at San Jose* 7:30
Oct. 6 at Arizona 6
Oct. 8 DETROIT 7
Oct. 10 ARIZONA 7
Oct. 13 at Dallas 5
Oct. 14 at St. Louis 4
Oct. 17 N.Y. ISLANDERS+ 7
Oct. 20 at Vegas 7
Oct. 21 BUFFALO+ 5
Oct. 23 at Chicago 5:30
Oct. 25 at Dallas 5:30
Oct. 28 SAN JOSE+ 5
Oct. 30 PHILADELPHIA+ 7
Nov. 1 NY RANGERS 7
Nov. 4 COLUMBUS 6
Nov. 6 at Kings 7:30
Nov. 7 CALGARY 7:30
Nov. 9 MINNESOTA 7
Nov. 12 NASHVILLE+ 7
Nov. 14 at Vegas* 7:30
Nov. 16 TORONTO 7
Nov. 18 COLORADO 5
Nov. 21 VANCOUVER 7
Nov. 23 EDMONTON+ 1
Nov. 25 at Nashville# 5
Nov. 27 at Tampa Bay 4:30
Nov. 28 at Florida 4
Nov. 30 at Carolina 4:30
Dec. 2 at Washington noon
Dec. 5 CHICAGO* 7:30
Dec. 7 CAROLINA 7
Dec. 9 NEW JERSEY 5
Dec. 12 DALLAS 7
Dec. 15 at Columbus# 4
Dec. 17 at Pittsburgh 4
Dec. 18 at NY Rangers 4
Dec. 20 at Boston 4
Dec. 22 at Buffalo+ 4
Dec. 27 at San Jose 7:30
Dec. 29 ARIZONA+ 7
Dec. 31 TAMPA BAY 5
Jan. 4 VEGAS+ 7
Jan. 6 EDMONTON 5
Jan. 9 OTTAWA 7
Jan. 11 PITTSBURGH 7
Jan. 13 at Winnipeg 3
Jan. 15 at Detroit 4:30
Jan. 17 at Minnesota 5
Jan. 19 at New Jersey 10 a.m.
Jan. 20 at N.Y. Islanders noon
Jan. 23 ST. LOUIS+ 7
Feb. 2 at Winnipeg 4
Feb. 4 at Toronto 4
Feb. 5 at Montreal# 4:30
Feb. 7 at Ottawa# 4:30
Feb. 9 at Philadelphia 10 a.m.
Feb. 13 VANCOUVER+ 7:30
Feb. 15 BOSTON 7
Feb. 17 WASHINGTON 6
Feb. 19 at Minnesota 5
Feb. 22 at Calgary+ 6
Feb. 23 at Edmonton 7
Feb. 25 at Vancouver+ 7
Feb. 27 CHICAGO# 7
March 1 VEGAS+ 7
March 3 COLORADO+ 1
March 5 at Arizona 6
March 6 ST. LOUIS# 7
March 8 MONTREAL+ 7
March 10 KINGS# 7
March 12 NASHVILLE+ 7
March 14 at Arizona 7
March 15 at Colorado+ 6
March 17 FLORIDA+ 6
March 20 WINNIPEG# 7
March 22 SAN JOSE+ 7
March 23 at Kings 7:30
March 26 at Vancouver 7
March 29 at Calgary 6
March 30 at Edmonton 7
April 3 CALGARY# 7:30
April 5 KINGS 7
---
Get the latest on L.A.'s teams in the daily Sports Report newsletter.
You may occasionally receive promotional content from the Los Angeles Times.