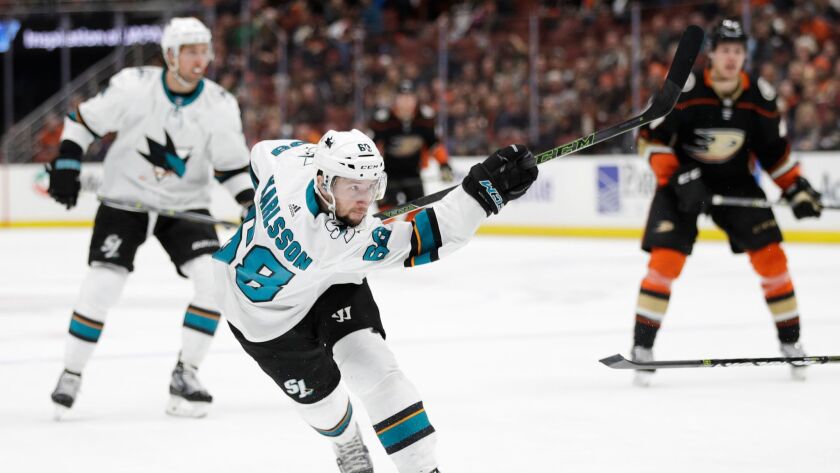 The Ducks dominated possession, but an errant pass here, one stick infraction too many there, and it all added up to a plethora of odd-man rushes for the San Jose Sharks.
The Pacific Division rivals converted those Grade A scoring chances into goals, and found the net three times in the final period to grab a 6-2 victory Sunday before 17,347 at Honda Center.
It's the first conclusive ending between the clubs this season after two November meetings were split, with both games requiring a shootout.
Not on this night.
The Ducks ensured the contest would be competed in 60 minutes with a lethargic backcheck and generally low-energy outing that sent the home faithful headed to the exits, and goalie John Gibson to the bench, after Mikkel Boedker's second goal made it 5-2.
Brandon Montour fell as he attempted a one-timer, creating a three-on-one break for the Sharks that crushed any hope of a comeback at the midway point of the period.
"We did too much standing around I guess," said Ryan Getzlaf, whose goal 1 minute 47 seconds into the third period cut the deficit to one following his assist on Rickard Rakell's power-play marker in the final minute of the second.
"The intensity wasn't there with our legs. ... We have to talk within our room and figure out what we're doing or not doing or whatever it is.
"Because the rest and the legs should have been ours tonight, they were coming off a back-to-back and we didn't take advantage of that."
The Ducks were on the heels of a day off following a 2-1 victory over the Kings on Friday, and looking to grab points in eight of their last 10 games.
Early on, they were able to cycle and play catch in the offensive zone, but nary a high-level scoring opportunity arose.
They also owned the physical advantage with a 16-5 edge in hits over the opening period, but it didn't set a tone that would last and the Ducks were forced to chase the game after Marc-Edouard Vlasic scored the game's first goal.
Tomas Hertl streaked into the zone past Francois Beauchemin and then slid a drop pass through Montour's skates to a trailing Vlasic on the doorstep at the 13:53 mark.
Less than four minutes into the following frame, Kevin Labanc let loose with a wrister in traffic to make it 2-0.
Ducks coach Randy Carlyle lamented the team's play around both creases, with too much traffic in front of Gibson, and not enough bodies in front of Sharks goalie Aaron Dell on the other end.
"We gotta do a better job moving people in and out of [the crease] and give a clear line of sight for our goaltender," Carlyle said, " that's for sure. ... I didn't really like our execution, we were fumbling with the puck, we weren't executing with it.
"There were some signs of frustration. We were doing a little bit too much communicating with the officials and all that, that's a distraction and that leads you to not stay focused on what you should be focused on."
Carlyle called that lapse of attention "signs for us that we aren't in the game the way we should be."
With two more games remaining on this homestead, the Ducks have some time to do more communicating in the locker room to figure out how to avoid off-nights like this as they seek to build some momentum.
After all, points are at a premium in a crowded Western Conference playoff picture, and the Ducks can't afford too many more such performances.
---