The Ducks' offense is clicking so well that it put the NHL's highest-scoring team in a hole so big it couldn't recover.
It was probably a matter of time before Anaheim found its groove offensively, but lately it has shown how good it can be when it pairs it with its defense. The Ducks picked up where they left off in their last game (a 4-1 win over Ottawa) and scored two goals in 31 seconds and another two in 34 seconds in the first period of a 4-2 win Friday against Dallas at Honda Center.
Their defense held up the rest of the way against a slumping Dallas team. But the Stars went into the game averaging 3.34 goals a game with two of the NHL's top three scorers in Jamie Benn and Tyler Seguin.
"Our first period, I thought it might have been our best period of the year," Ducks Coach Bruce Boudreau said. "For energy, and just overall playing the way we're supposed to play."
Jakob Silfverberg led 11 players on the scoresheet with a goal and an assist, and Anaheim got goals from defensemen Hampus Lindholm and Sami Vatanen. The Ducks' four goals in each of the last two games are a bounty for a team that went into the game averaging 1.90 goals a game, last in the NHL.
It's the ideal run-up to Sunday's game against the Kings, but Boudreau said "it's probably a confidence builder more than a measuring stick."
Anaheim held Dallas to 13 shots through two periods and made some history along the way when it recorded a franchise-record 33 consecutive penalties killed, on a Josh Manson minor.
The streak passed the mark set in 1998 and stretched 10 games. It was ended at 34 on Benn's third-period goal, his 26th of the season to bring Dallas to 4-2.
Corey Perry capped the four-goal opening period with his 17th goal. He drew two defenders with him to the right circle and went to the net to tap in Ryan Getzlaf's pass.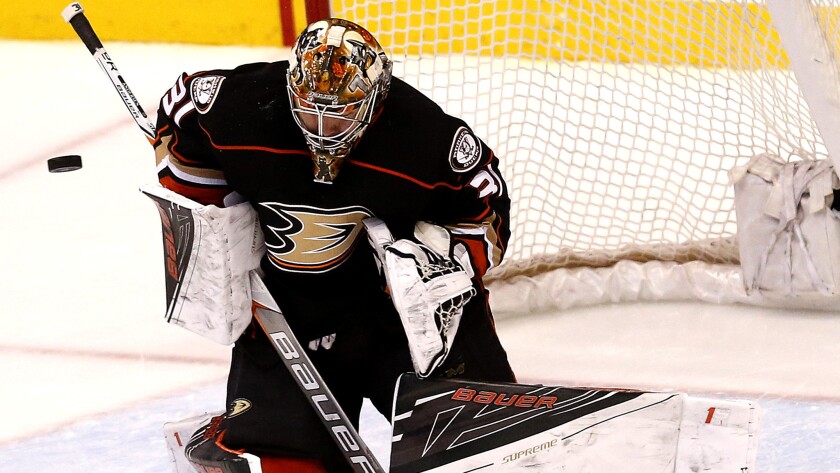 When the first period buzzer sounded, Anaheim had four goals on 19 shots and its first four-goal opening period since December 2013 against Detroit.
Silfverberg, Ryan Kesler and Carl Hagelin were matched up against Benn's line for most of the night and turned in one of their better all-around games.
It was just a matter of their offense getting going.
"You try not to overthink it," Silfverberg said. "But I don't think it's happened overnight. I think it's something that's been kind of going the past couple of games, playing with Kesler and Hagelin. But lately we've been successful."
Perry made a big turnover in the second period in the neutral zone that resulted in a breakaway goal by Mattias Janmark. It was the third straight game that Anaheim's top line committed such a gaffe. Getzlaf did so against Ottawa and Detroit. But, considering the Ducks' trend of poor second periods, they were glad to get out of this one with the one misplay.
Perry's goal came 34 seconds after Lindholm sneaked down the right side on the power play and swiped in Kesler's pass off Dallas goalie Kari Lehtonen's stick and into the net. It was Lindholm's first goal since Oct.29.
Silfverberg scored on a deflection of Manson's shot for his second goal in as many games to begin the scoring.
---