Ducks hope Shawn Horcoff's leadership, experience can help in Cup quest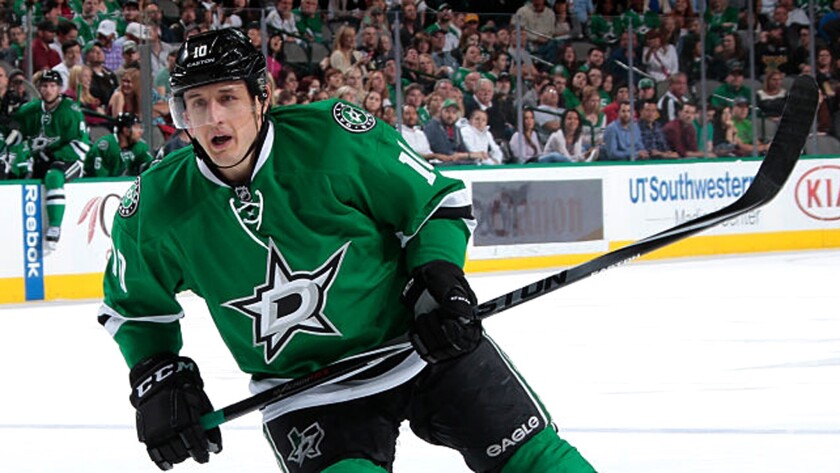 Veteran forward Shawn Horcoff, who signed a one-year contract as a free agent in July, knows what his role will and won't be with the Ducks this season.
"I can't go out there and try and be Ryan Getzlaf because that's never going to happen," Horcoff said of the team's No. 1 center. "But there's certain areas of the game I think I can help out."
Coach Bruce Boudreau has already made Horcoff part of the Ducks' leadership group, five or six players Boudreau consults when making decisions on travel, practices and other matters. It's significant that Horcoff earned that honor so quickly, reflecting the respect the Ducks have for his 14-season career and their belief he can make an impact beyond his versatility as a penalty killer and bottom-six center or winger.
Horcoff said he chose the Ducks because he thought they'd give him the best possible chance to finally win the Stanley Cup, a quest he missed out on with the runner-up Edmonton Oilers in 2006. The Ducks chose him because they think he can help lead them to the championship that has eluded them the past few seasons.
"To play at 37 you have to do something right a lot," Boudreau said. "You have to stay in great shape. You have to be a good player. You have to be a good team player. You've got to be smart, and isn't that what you want in a leader as well?"
It sums up what the Ducks expect from Horcoff, who spent most of his NHL career with the Oilers — including three seasons as their captain — before spending the last two seasons in Dallas. Boudreau has had Horcoff center for Patrick Maroon and Max Friberg in training camp, and Horcoff has held up well through days designed to be grueling.
"Bruce had a meeting with five or six of us before the camp started and said, 'Listen, we're going to be hard. We're going to go hard. We want to be the best in-shape team. We want to be the fastest team out there, and camp's going to be tough and we want the older guys to lead the way in intensity,' " Horcoff said. "And I've seen that. It's been hard. It's been a tough camp so far, but that's the best way to have it."
Horcoff's transition in the locker room has been relatively easy. He has played with Andrew Cogliano before and has known Getzlaf and Corey Perry for a long time. Over the years, he has had his battles against Kevin Bieksa and Ryan Kesler — and hated them.
"Yeah," Horcoff said with a laugh, "but respected them and their competitiveness and knew how good players they were."
The arrival this season of rugged Bieksa and speedy winger Carl Hagelin should bring elements the Ducks had lacked, and the maturation of defensemen Sami Vatanen and Hampus Lindholm creates intriguing possibilities. Where Horcoff comes in is as a voice of experience, encouragement and, when necessary, urgency.
The team's potential, he said, "is high but you never like potential. You want results. Really, it's going to be up to those players to fulfill that.
"In order for us to take that last step here that this team is missing, everyone is going to have to have their best year. Everyone is going to have to be a little bit better and guys are going to have to take that next step. That doesn't' happen individually. It happens together, as a team. Everyone needs to support each other out there. But there's a lot of things to be optimistic about here."
Notes
Center Nate Thompson's recovery from surgery on two labral tears in his left shoulder was estimated at five to six months after the procedure was performed in June. He said Sunday that his rehabilitation is going well but wouldn't say if he's on schedule. He hasn't resumed skating. "It's going to be one of those things where we just play it by ear and see how things go," he said. "I've just been doing my working out and rehabbing and going from there.
"Definitely I'd like to be on the ice and part of camp and be skating, but injuries happen. It's part of the game. It's just a little more adversity and you deal with it and come back healthy."
And fresher. "I should be real fresh when I come back," he said, smiling.
Defenseman Clayton Stoner (upper body) still hasn't practiced and remains day to day. Forward Harry Zolnierczyk needed stitches after taking a blow to the mouth Sunday….Boudreau said the best player in camp so far has been Friberg, a 2011 fifth-round draft pick who spent most of last season in the American Hockey League. "You watch his practices, you watch his games, and he's telling everybody, 'Hey, look at me.'" Boudreau said. "If I'm a player, I'm saying, 'Hey, look at him.'"
The death Saturday of retired NHL enforcer Todd Ewen, a member of the 1993 expansion Mighty Ducks team, was a surprise to employees of the Ducks. A TV station in Calgary reported that Ewen, 49, died of a self-inflicted gunshot wound to the head. In a statement, the club said: "The entire Ducks family mourns the loss of Todd Ewen, an original Duck that we will remember forever. Our thoughts and prayers are with his family and friends at this difficult time."
Twitter: @helenenothelen
---
Get the latest on L.A.'s teams in the daily Sports Report newsletter.
You may occasionally receive promotional content from the Los Angeles Times.