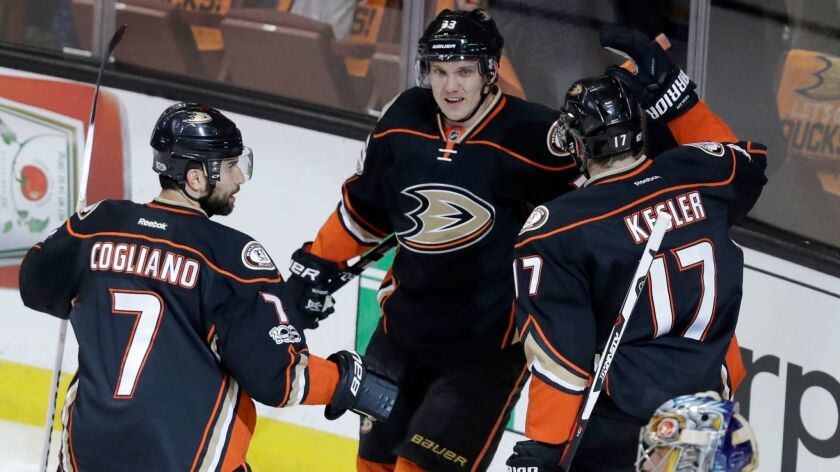 For as much as NHL teams like to turn the page, this was one heavy chapter for the Ducks.
Just when they looked ready to go to the Stanley Cup Final, injuries hit as forwards Rickard Rakell, Patrick Eaves and goalie John Gibson each went down during a playoff run that stopped at Game 6 of the Western Conference final last season.
"We felt we deserved a better fate, but we didn't get it done," coach Randy Carlyle said.
At the start of the upcoming season, the Ducks might be without two members of one the best defensemen units in the NHL, plus one of the best two-way centers. But nearly everyone returns for a rewrite as the Ducks open training camp Friday at Anaheim Ice. The team looks like a championship contender but with these questions to answer.
When will Hampus Lindholm, Sami Vatanen and Ryan Kesler return?
The Ducks are expected to have updates on Friday. Defensemen Lindholm and Vatanen each had shoulder surgery on torn labrums in the offseason, and Kesler had right hip surgery to clean out bone fragments.
Lindholm and Vatanen have been seen skating on their own but both were initially expected to miss the start of camp.
The Ducks brought back veteran Francois Beauchemin, and Carlyle said they will probably tap into their minor league system in the interim.
Kesler was expected to need three months to resume full activity from his procedure in mid-June.
Will Max Jones or Sam Steel make the team?
The franchise's top two forward prospects must make the Ducks or go back to their junior teams because they are not yet eligible to play in the American Hockey League.
Steel tore up junior hockey with 50 goals and 131 points in 66 games with the Regina Pats. Jones added 10 pounds of bulk and in July sounded ready for bigger things.
"I think it's time to move on and try to win a Stanley Cup," Jones said. "That's kind of what my idea is."
Will Corey Perry rebound?
Nineteen goals and 53 points would be a career year for a lot of NHL players. That represents a disappointing campaign for Corey Perry, and that can't happen again for the Ducks.
By late last season, Perry, a former 50-goal scorer, was on the third line, and Patrick Eaves fit like a glove beside Ryan Getzlaf. Perry did score 11 points in the playoffs, and perhaps that's a prelude to a better regular season.
How will the new staff responsibility shake out?
Assistant coaches Steve Konowalchuk and Mark Morrison were hired in the offseason as Carlyle brought in more of his own staff.
The Ducks' power play was a disappointment, and Carlyle said that will be overseen by committee.
"We've delegated responsibility and tried to share some of the areas in the power play, and I will participate," Carlyle said. "It's a three-pronged approach."
Assistant Trent Yawney will continue to run one of the league's top penalty-killing units and mentor the defensemen.
How much are the Ducks motivated by last season?
Kesler called Game 6 of the conference series the worst loss of his career, and the sting was evident with teammates. Carlyle wants that to linger slightly.
"Just remember that feeling that you had in the dressing room afterward," Carlyle said.
Carlyle's main takeaway is that the Ducks must continue to grind, injuries or not.
"The one thing we're going to have to develop right off the bat is that we're going to have to be a structured hockey club that's going to win the 2-1 hockey game," Carlyle said. "We're not going to beat people with skill alone. That's one of the biggest learning curves we had to go through last year."
---