The gang's (almost) all back as the Ducks prepare for training camp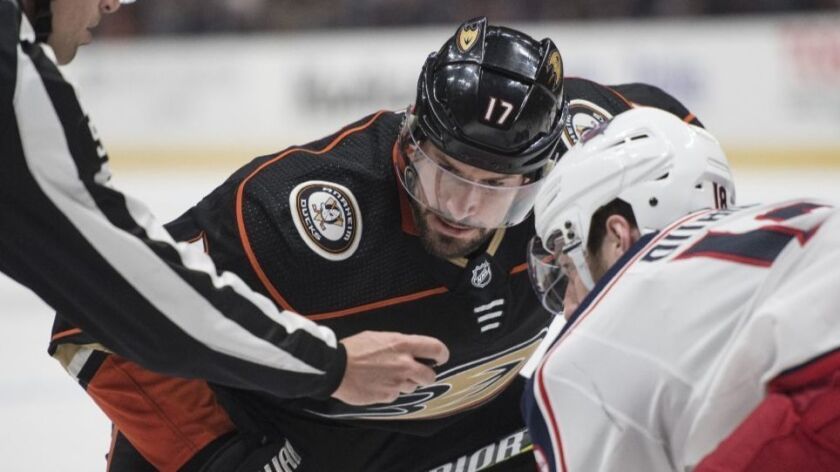 The Ducks battled adversity all season as injuries seemingly took down a key player each week.
As the team reached March, there was plenty of uncertainty surrounding their playoff hopes. Somehow, the Ducks reeled off victories when they needed them most, and a hot finish earned them home-ice advantage in the first round of the Stanley Cup playoffs.
It was all for naught.
The Ducks were swept by the San Jose Sharks to complete their worst season since they failed to quality for the postseason in 2012. The series included an 8-1 laugher in Game 3, and it was evident the Ducks' issues extended beyond one lousy playoff performance. NHL teams are favoring speedy skaters who can move the puck quickly up ice; the Ducks are lagging far behind.
Bob Murray bemoaned the point at his exit interview in April and vowed the club would evolve with the rest of the league. The general manager said that it wasn't necessary to infuse the veteran-heavy roster with fresher legs; that coach Randy Carlyle could instead employ a style of play less reliant on physical play, and more centered on an up-tempo attack.
True to his word, Murray didn't make any major moves in the offseason; the Ducks will enter training camp Friday at Anaheim Ice returning every key player from last season. Same coach, same nucleus, but plenty of questions abound as the team's Stanley Cup window, once wide open, inches closer to the sill.
1. What is Ryan Kesler's status?
The former Selke Trophy winner underwent major hip surgery in June of 2017 and was sidelined through Christmas. When Kesler finally hit the ice, he didn't resemble the tenacious skater — especially on the offensive side — that earned two All-Star appearances.
Kesler was far from full strength. He was forced to learn how to stride all over again following a procedure to remove scar tissue and bone fragments. He frequently was absent from practice, maintenance days for his ailing hip.
He scored only eight goals in 44 games, and Sportsnet reported in May that it's possible Kesler could miss the entire 2018-19 season. The 34-year-old is listed as injured on the Ducks' camp roster, and any lengthy absence would serve a damaging blow to their depth down the middle.
2. Will Nick Ritchie join the mix?
The 22-year-old forward hasn't lived up to expectations as a former No. 10 overall pick, but his union with Adam Henrique and Ondrej Kase on the third line delivered night after night. Ritchie won't be at camp Friday. He's a restricted free agent and remains the lone Ducks player who is unsigned entering the season.
Ritchie earned less than $1 million in each of his three NHL seasons, and with just under 30 points per campaign, Murray might be hard-pressed to hand him a substantial raise. If Ritchie's absence rolls into the regular season, the Ducks have a few prospects — Troy Terry, Kevin Roy and Sam Steel — who could fill his role.
3. Which young players will grab a roster spot?
There are few slots open on the roster. The duo of starter John Gibson (with a lucrative contract extension) and Ryan Miller (one year remaining on his deal) return in net. The Ducks' top four defensemen are set: Hampus Lindholm, Cam Fowler, Josh Manson and Brandon Montour.
There is room for a young defenseman — or three — to make the squad. Marcus Pettersson, Andy Welinski and Jacob Larsson (all younger than 26) will battle with veterans Luke Schenn and Andrej Sustr, both of whom joined the club on budget deals over the summer, for playing time.
If the Ducks keep eight defensemen on the roster, the entire trio could make the club. Terry, Steel and Roy will jockey for position on offense, and management hopes one of them breaks out.
4. Will Patrick Eaves return to form?
The winger scored 32 goals during the 2016-17 season (split between the Dallas Stars and Ducks), and he was firmly entrenched on both the top line and No. 1 power-play unit when camp opened last season. The Ducks never saw what he could do in a full campaign in Anaheim.
Eaves played only two games before he was diagnosed with Guillain-Barre syndrome, a rare autoimmune disorder, putting his playing career into jeopardy. He was shut down for the rest of the season, but the Ducks received good news earlier this year when it was revealed there was a misdiagnosis; doctors deemed his illness a post-viral syndrome.
Eaves is no longer ill, but he suffered a shoulder injury during rehabilitation and underwent surgery. He opens camp on the injured list, but could be ready for the season opener.
5. Where does Corey Perry fit in?
The former 50-goal scorer isn't being counted on to produce like that anymore, but the Ducks need more from the veteran winger. Now 33, Perry has failed to reach the 20-goal mark in consecutive seasons.
He was relegated to the fourth line at one juncture last season before he bounced between the first and third units. Perry carries a cap hit of $8,625,000 into each of the three years remaining on his deal, money that calls for top-line play.
"Corey's got to buy into some more things in the offseason," Murray said in April. "He's got to buy into playing fast."
---
Get the latest on L.A.'s teams in the daily Sports Report newsletter.
You may occasionally receive promotional content from the Los Angeles Times.