Column: Teemu Selanne and Paul Kariya are headed to the Hockey Hall of Fame
Teemu Selanne was a kindergarten teacher for three years in his native Finland, which might help explain the childlike joy he brought to the rink every day during a career that spanned more than 1,500 NHL regular-season and playoff games and six Olympic tournaments before he retired in 2014 as a member of the Ducks.
Selanne's sunny attitude and strong bond with fans were as natural as his quick release and his explosive speed, setting him apart as he set rookie records with 76 goals and 132 points in 1992-93 and scored the 11th-most goals in NHL history (684) and 15th-most points (1,457). His scoring exploits — which also include an Olympic-record 43 points and the tournament MVP award at the 2014 Sochi Games when he was 43 years old — made him a sure selection to the Hockey Hall of Fame, which on Monday announced he had been elected in his first year of eligibility.
"It's just something you don't really think about when you play. I could never dream of the Hockey Hall of Fame until people started asking me about it," Selanne said from his home in Finland.
"You look at the people that are in it and realized you're going to be one of them, for sure it's going to be some kind of crown to my career."
Also elected was Selanne's friend and longtime Mighty Ducks linemate, Paul Kariya, who had been eligible since 2013. The other three players elected were Dave Andreychuk, Mark Recchi and Canadian women's hockey star Danielle Goyette. Former Canadian coach Clare Drake and Boston Bruins owner Jeremy Jacobs were selected in the builders category.
Kariya's election was a bit of a surprise. He had 402 goals and 989 points in 989 games during a career that was cut short by repeated head injuries.
Kariya, who lives in southern California, was out surfing this morning before returning home to find a message from Lanny McDonald, chairman of the Hockey Hall of Fame. "I didn't get eaten by any sharks so it was a positive day," Kariya said.
He also said he got a call from Selanne to tell him the good news. "I don't know how he knew before me," Kariya said. "Never in my wildest dreams did I even think this was possible. This is an incredible honor."
Selanne called the Hall class "a very special group," and said his selection was "unbelievable." He added that he was especially happy to share the honor with Kariya, with whom he had great chemistry. "It's great that you were inducted with me, Paul, so we can fly together and you can pick up the tab for the private plane," Selanne said. "I'm so proud about Paul also. I played my best years of hockey with Paul."
Kariya returned the compliment. "He made me a better person and I appreciate everything he did for me off the ice as well as on,"
Players, referees and linesmen must have concluded their careers for a minimum of three seasons before they can be elected by the 19-member selection committee. The 2017 inductions will take place in Toronto on Nov. 13.
Chosen 10th overall by the Winnipeg Jets in the 1988 NHL entry draft, Selanne stayed in Finland to continue his development. When the swift right wing reached the NHL he made a huge splash by scoring 76 goals, which gave him a share of the NHL goal-scoring title that season. He smashed Mike Bossy's previous rookie goals record of 53 and Peter Stastny's rookie record of 109 points by scoring 132. Selanne was nicknamed "The Finnish Flash," and he won the Calder Trophy as the NHL's rookie of the year in 1993. He never came close to that number again, though he won or shared the goal-scoring lead on two more occasions.
He was a huge fan favorite in Winnipeg, but rising salaries and other economic factors threatened the Jets' future. He joined a campaign aimed at keeping the team there, but as it turned out, he left in a trade to the then-Mighty Ducks on Feb. 7, 1996, a few months before the Jets moved to Phoenix.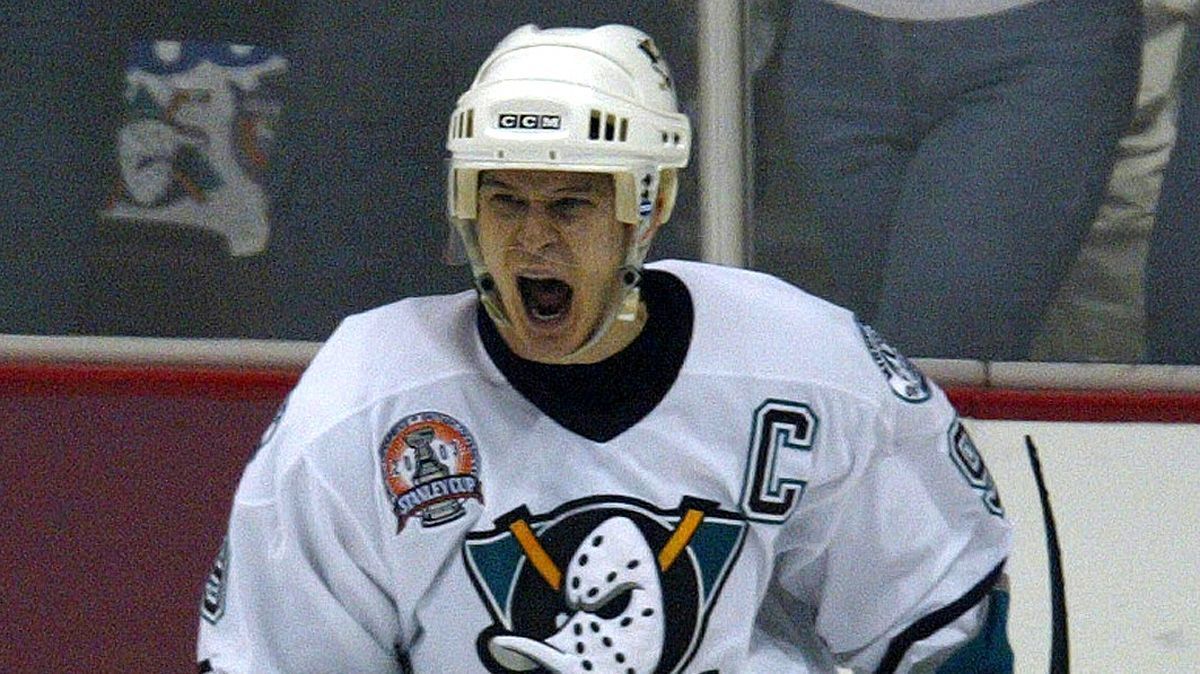 By that time, the Ducks had lost their expansion-team novelty and had to become winners. Selanne came highly recommended by Kariya, his linemate in an All-Star Game, and the Ducks took a risk by trading youngsters Chad Kilger and Oleg Tverdovsky for Selanne. "I have a feeling that I just became about 20% smarter in the NHL as a head coach," Ducks Coach Ron Wilson told The Times after the trade. "I think this is going to boost everybody's confidence. He's going to make everybody better."
Selanne was shocked by the trade but became determined to settle in. "It's a new start," he said. "I'm more than happy to go somewhere where a team really wants me. I wanted to go to a team that needs me." The Ducks missed the playoffs in 1996 but qualified for the first time in 1997, Selanne's first full season with them. They defeated the Phoenix Coyotes but lost to Detroit in the second round.
Selanne was traded to San Jose in 2001, and he later signed as a free agent with Colorado, where he was reunited with Kariya. They considered the Avalanche a Stanley Cup contender, but that didn't work out. And by then, knee problems had taken a toll on Selanne's speed and mobility. "I learned that year that you can't try to find your happiness," he said. "It just has to come naturally."
He underwent surgery and took advantage of extra recuperation time when the NHL canceled the 2004-05 season because of a labor dispute. He rejoined the Ducks as a free agent and rediscovered his speed and deadly shot to score 40 goals in 2005-06 and 48 goals and 94 points in 2006-07. The Ducks had built a championship-caliber team, and Selanne was in the thick of it. He was a sentimental favorite too.
"Teemu's been in the league for 15 years and he's never had a chance to play for the Cup," teammate Jean-Sebastien Giguere told the Canadian Press. "We couldn't have any better teammate. He deserves this. I'd just love to see Teemu win this thing."
The Ducks and Selanne defeated the Ottawa Senators in five games, giving Selanne his long-awaited championship. "It's the biggest dream of my life," he told The Times that day. "It's unbelievable. It's everything I hoped it would be. I'm so proud of my teammates. We made this happen as a team."
Having reached the pinnacle, he decided to step away from the game but left open the chance he would return. He rejoined the Ducks late the next season, but the team's chemistry and lineup were off-kilter and the Ducks were eliminated in the first round of the playoffs.
But Selanne continued to shine. He scored 31 goals at age 40, in the 2010-11 season, and scored 26 goals the following season in addition to thriving on the international stage. He won an Olympic bronze medal playing for Finland at the 2010 Vancouver Games and bronze again four years later at Sochi, Russia, where he was voted the MVP of the tournament. He scored twice in Finland's 5-0 victory over the U.S. in the bronze-medal game, 22 years after his Olympic debut. Then 43, he had no trouble keeping up with 18-year-old Aleksander Barkov and 21-year-old Mikael Granlund on Team Finland's top line. "I always said that the young guys keep me young too," he said. "The funny thing, I think mentally, we are the same age. … I'm a little kid still. That's why I'm still playing. I don't consider this a job. It's a game that I love to play."
But time eroded his once-explosive speed and his ability to finish, and then-Coach Bruce Boudreau began to reduce Selanne's ice time. Boudreau also took him off the power play, which had been Selanne's bread and butter. In a book published in 2014 he criticized Boudreau's coaching decisions, especially scratching him from Game 4 of the Ducks' playoff series against Dallas.
"I yelled right to his face what I was thinking, that since he became our coach he has not respected me one bit," Selanne wrote. He also said that, "If we had any other coach, I'd still play." Selanne later issued a statement saying frustration had led him to say things "that I shouldn't have said" after the team's second-round elimination at the hands of the Kings in his finale. "As I've said many times, Bruce is a nice guy, but we simply had a different view on my role with the Ducks," Selanne said. "I'm sorry if I hurt Bruce or anyone else. That was not my intent."
That flare-up didn't diminish fans' affection for Selanne, whose number 8 was the first to be retired by the Ducks. Fans loved him because he'd never leave the rink without signing autographs for all who waited for him, and they knew he loved them back. "He's a pretty special player and person. I've played with a lot of guys, not a lot who have the connection to the fans that he has," Scott Niedermayer said before the 2015 ceremony. "That's one of the great things about him, beyond the stats."
Ducks owner Henry Samueli captured his essence. "We don't need statistics to confirm that Teemu has led our team in hospital visits, school visits," Samueli said during the 90-minute ceremony. "Teemu's star shines even better in his off-ice activities, and no record book exists for that … We salute you, we thank you, we love you."
Selanne returned that affection. "I would not trade my experience in Winnipeg for anything. I played four years there and have great memories of how the people and the city took to me. I can't describe it," he said on the eve of the Hall of Fame announcement. "But Anaheim turned out to be my happy place. I'm so thankful they gave me the chance to win the Stanley Cup. It feels like a home."
Asked a while ago how he'd like fans to think of him, Selanne had one wish. "I hope that people remember me as a guy with a lot of passion and joy," he said, "and every day when I came to the rink, I really enjoyed coming the rink."
Now, they can remember him as a Hall of Famer too.
Follow Helene Elliott on Twitter @helenenothelen
---
Get the latest on L.A.'s teams in the daily Sports Report newsletter.
You may occasionally receive promotional content from the Los Angeles Times.