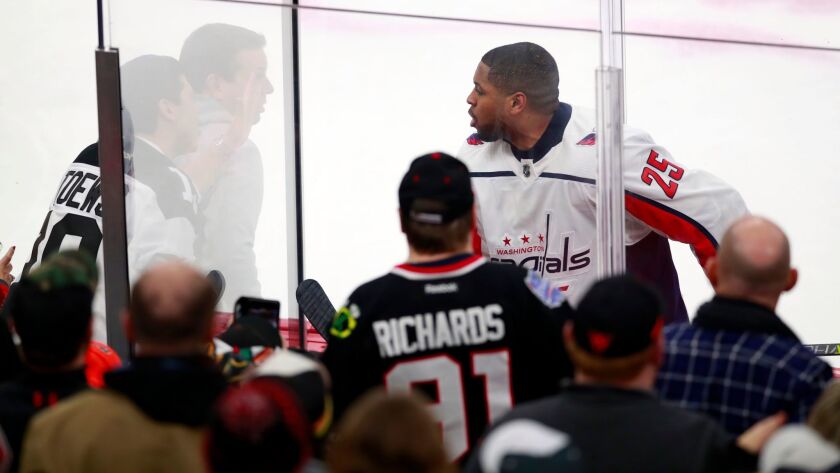 Reporting from CHICAGO —
An incident involving Washington Capitals forward Devante Smith-Pelly was addressed Monday before the Kings and Chicago Blackhawks played at United Center.
Smith-Pelly was subjected to racial taunts during Saturday's game against the Chicago Blackhawks at that arena. The incident was promptly condemned by the Blackhawks and the NHL, which has been proactive in its You Can Play and Hockey Is for Everyone initiatives to promote inclusivity and diversity.
Members of the Blackhawks addressed the Smith-Pelly incident for the first time since the former Ducks player was taunted by a reported four fans when he was in the penalty box.
"I think that reflects poorly on not only the fans, but the players, and I think we're all in that together," Chicago captain Jonathan Toews said. "Obviously we don't support that kind of behavior. In this day in age, I think it's time to start moving past that and realize that we don't want to stoop to those levels to try and instigate or get under anyone's skin and obviously that's the wrong way to go about it."
Said teammate Patrick Kane, "I think all of us feel that there's just no place for that in society and sporting events. It's terrible."
Kings forward Dustin Brown, the team's ambassador for Hockey Is for Everyone, has been active in the initiatives since he began helping with the You Can Play movement around 2012.
"Unfortunately we live in a world where there are people who are ignorant," Brown said. "I don't think there's ever going to be a world where we don't have people that are ignorant on certain issues … I think it was the response, how the Blackhawks handled it, how the league handled, how Smith-Pelly handled it, is what we should be focusing on."
The Kings will hold Hockey Is for Everyone Night on Thursday at Staples Center.
Twitter: @curtiszupke
---