Column: To become contenders again, Kings and Ducks have to get up to speed with rest of the NHL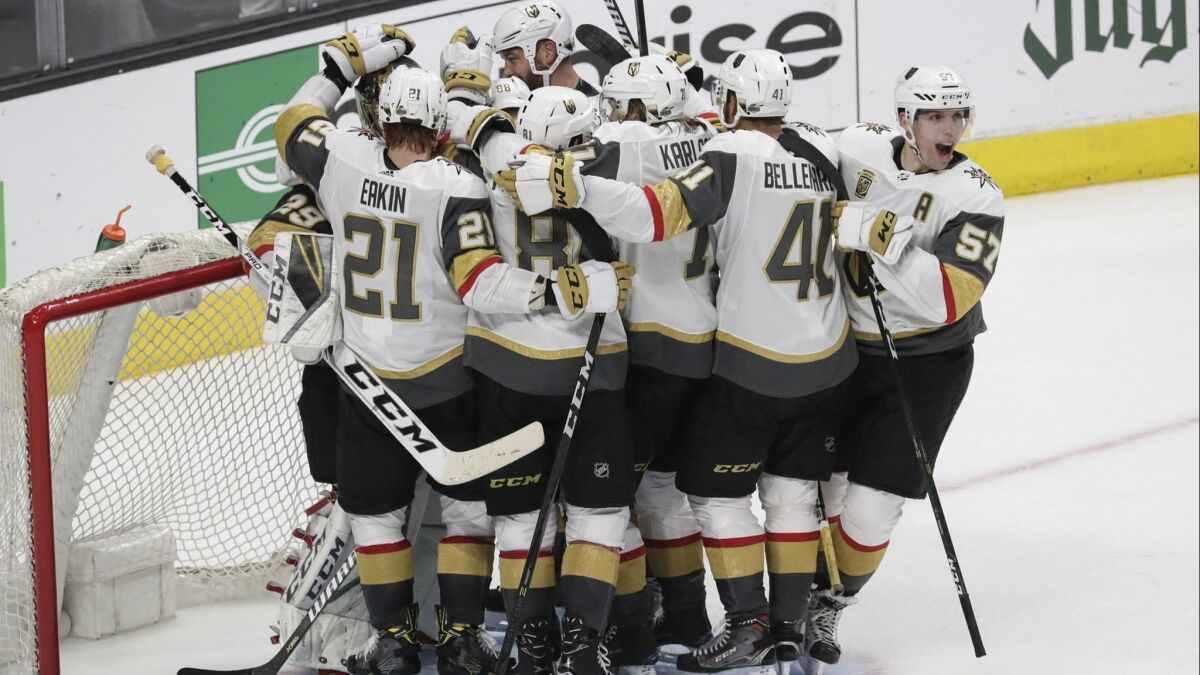 The Kings were swept out of the Stanley Cup playoffs by a team that didn't exist a year ago. The Ducks were swept by a team they had passed in the Pacific Division standings during a late-season surge that fizzled when the playoffs began.
We've gone from a glorious Ice Age in Southern California to being frozen out of Cup contention just when things are getting interesting.
The 82-game regular season is essentially a rehearsal for the playoffs, when three-on-three overtime and the gimmicky shootout are replaced by unlimited, nerve-fraying, knee-weakening sudden-death play. There's nothing like it, a two-month test of will and pain thresholds, of players taking pucks to the face or shin and taping an aspirin to it before they go back out for more. It's all to earn a slice of immortality and get your name etched on the Cup alongside players who made the same sacrifices you did, players who willingly and routinely put their teeth and their bodies on the line.
It's grueling. It's glorious. And it's sad that we won't see more of it in Southern California this spring. "I don't think anybody saw that coming," Ducks defenseman Francois Beauchemin said of his team's quick exit, a sentiment that also applies to the Kings.
We've been spoiled. The Ducks, part of the NHL's 1993 expansion class, one-upped the Kings (class of '67) by winning the Cup in 2007. The Kings matched that in 2012, reached the Western Conference finals in 2013, and did the Ducks one better by winning the Cup again in 2014. Although the Kings have won only one playoff game in two series since then, the Ducks had kept local ice frozen into late May by reaching the West finals in 2015 and again last season.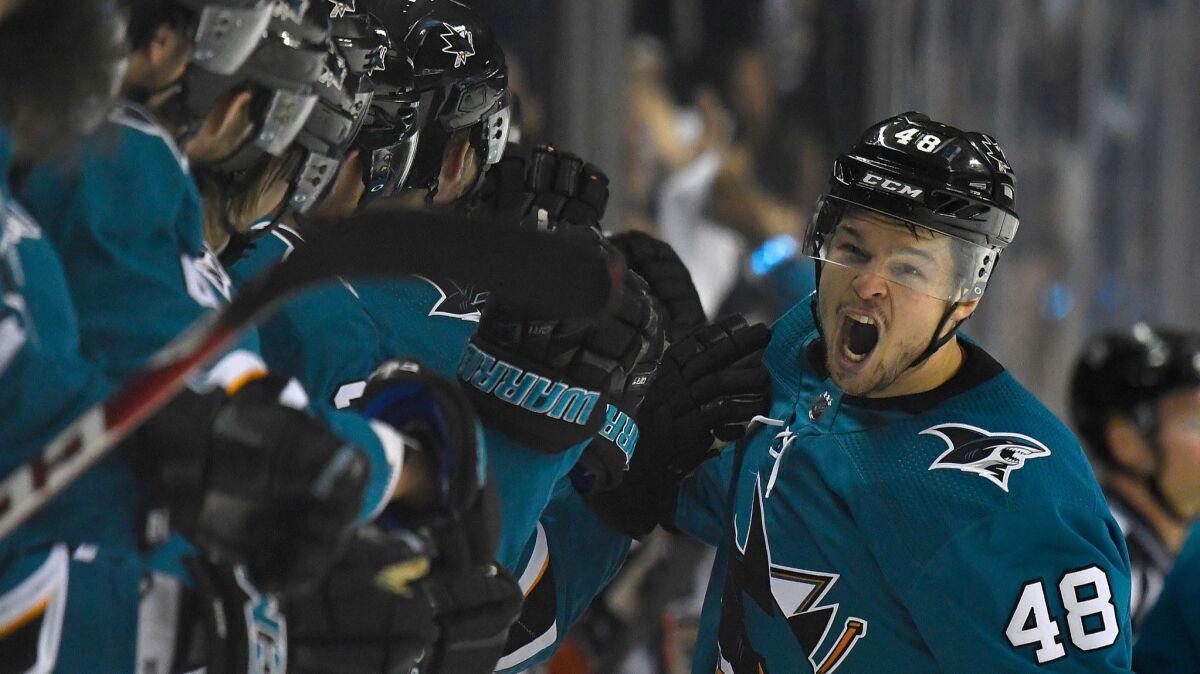 The dismissal-by-broom for both teams this week means it's time to melt the ice until September.
Enjoy the next leg of your already incredible journey, Vegas Golden Knights. Calling them an expansion team sells them short now that they've finished first in the Pacific Division and gotten otherworldly goaltending from Marc-Andre Fleury in a tight-checking elimination of the Kings. They get on opponents quickly and they have the cohesiveness of a team that has been together for years, not thrown together after an expansion draft last June.
"Vegas is a deep team. I think the coaches have done a terrific job with that team, building an identity," Kings coach John Stevens said.
Hey, San Jose Sharks. You also benefited from outstanding goaltending when you dismissed the Ducks, thanks to Martin Jones' saving 128 of 132 shots. Balanced scoring and opportunistic play served the Sharks well. The Ducks helped by taking the undisciplined penalties they've perpetually committed. The Ducks were slow to react under pressure, slow to control their frustration and just plain slow in being outscored 16-4.
"Our production from our group was way down from what our expectations are," coach Randy Carlyle said. "I think they got five goals from their fourth line. That's a lot from depth in their lineup."
The lesson for the Kings and the Ducks is simple. The era of "heavy" hockey is over. To be competitive again they must add speed. Look at the teams that have had the most success the past few seasons and those still playing. Stevens thought moving the puck quickly would be sufficient, but it wasn't.
The Kings also lacked scoring from the left side — nothing new there — and suffered when Tanner Pearson and Tyler Toffoli didn't step up to become core players and when Adrian Kempe's scoring tailed off. A career-best season by Anze Kopitar, a strong bounceback by Dustin Brown, Drew Doughty's Norris Trophy-caliber performance, and stellar goaltending by Jonathan Quick were wasted because there was no secondary support layer. Just as worrisome, the early exit moved Doughty a year closer to possible free agency. Among the positives for next season is the likely debut of forward Gabe Vilardi, their first-round pick and 11th overall in 2017, but he can't be expected to boost the offense by himself.
The Ducks' problems are philosophical and financial. Carlyle and general manager Bob Murray are old-school proponents of a slow, physical game that doesn't work anymore. This could be the right time to move Carlyle into the post-coaching consultant job he was promised and find a coach who can instill a sense of discipline. Murray must find more depth, but he's stuck with an $8.625-million salary-cap hit through 2020-21 on a slow and ineffective Corey Perry and a hit of $6.875 million through 2021-22 on a hurting Ryan Kesler. Ryan Getzlaf's cap hit is $8.25 million through 2020-21, but he's still a fine setup center. All three have no-move clauses. The bright notes are Ondrej Kase (20 goals), Rickard Rakell (a career-best 34 goals), the development of defenseman Brandon Montour and having Cam Fowler healthy next season.
The only good offshoot of the local teams' swift exits is Murray and Kings general manager Rob Blake gained extra time to seek ways to bring the Ice Age back to Southern California. It was fun while it lasted, every last agonizing, exhilarating second of it.
Follow Helene Elliott on Twitter @helenenothelen
---
Get the latest on L.A.'s teams in the daily Sports Report newsletter.
You may occasionally receive promotional content from the Los Angeles Times.